Workvivo TV is Workvivo's in-built digital signage solution which enables you to display Workvivo content on screens across your organization. Setting up Workvivo TV in a staff common area or an open plan office, provides the opportunity for colleagues to see what's happening across the business in an easy-to-consume way.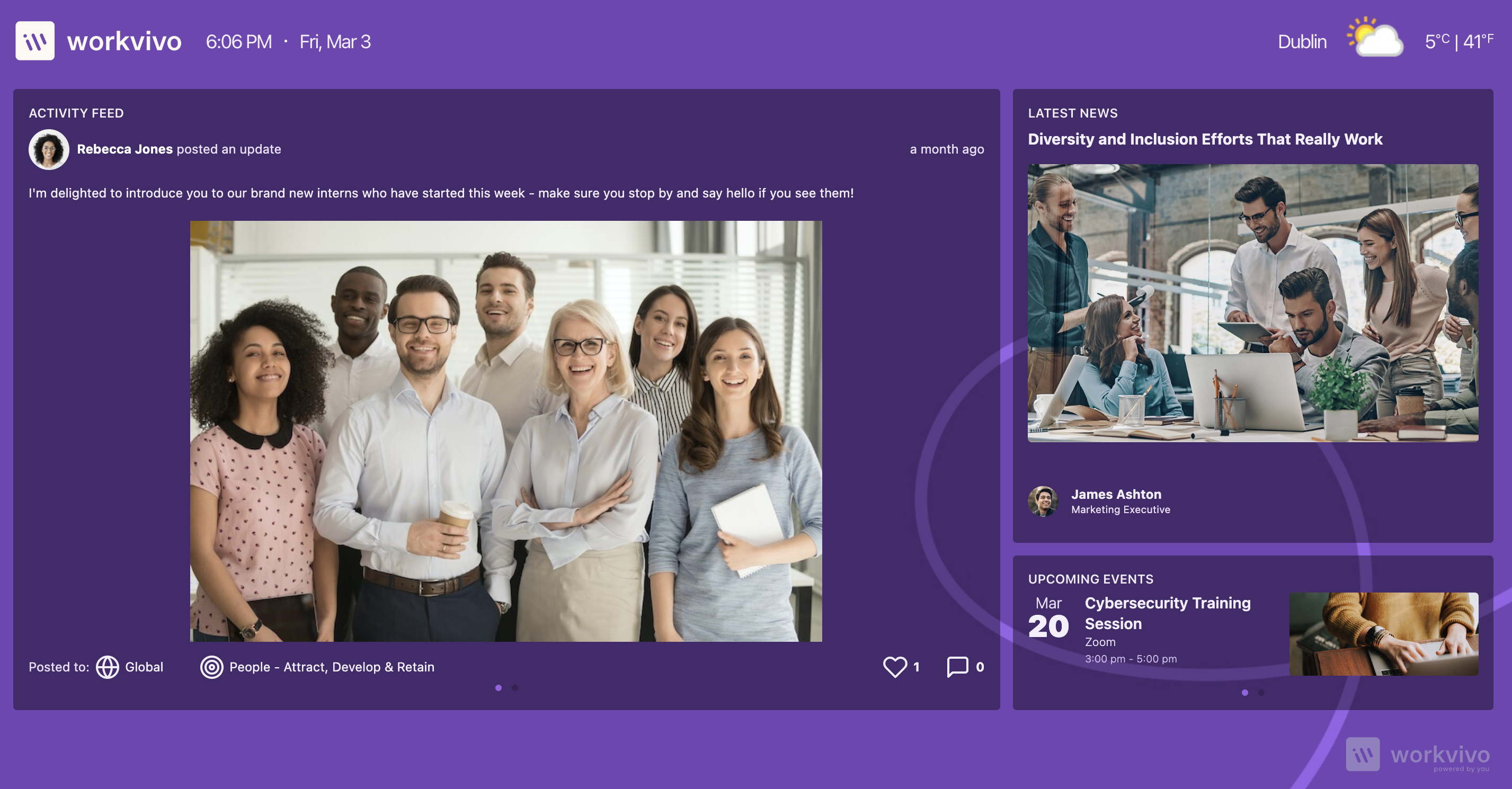 Note: Workvivo TV is an add-on feature to the business Workvivo package. To learn more, please reach out to your Workvivo CX Manager or submit a request on our Help Center.
---
Device(s): Desktop for setup, TV screen for displaying (see requirements below)
Roles / Permissions: Admins, or Dashboard Manager
---
Content on Workvivo TV
Workvivo TV is the only way to display Workvivo content on digital screens throughout your organization. When selecting content to display, there are two options:
Auto feed - Show the latest updates, articles and events for a global audience or from one or more spaces and teams. This is the perfect option for highly localized content or for showing content from special purpose spaces related to campaigns or competitions.
Manual feed - Handpick the updates, articles and events that are displayed on your screens. This is a great option for communicating the most important corporate communications across the organization.
If you have two or more TV screens at the one location, why not take a hybrid approach? Use one screen to automatically display localized space content and the other screen to display manually selected corporate content.
Workvivo TV will also display daily birthdays and work anniversaries (if enabled for your organization) as well as the option to add a configurable QR code to the screen.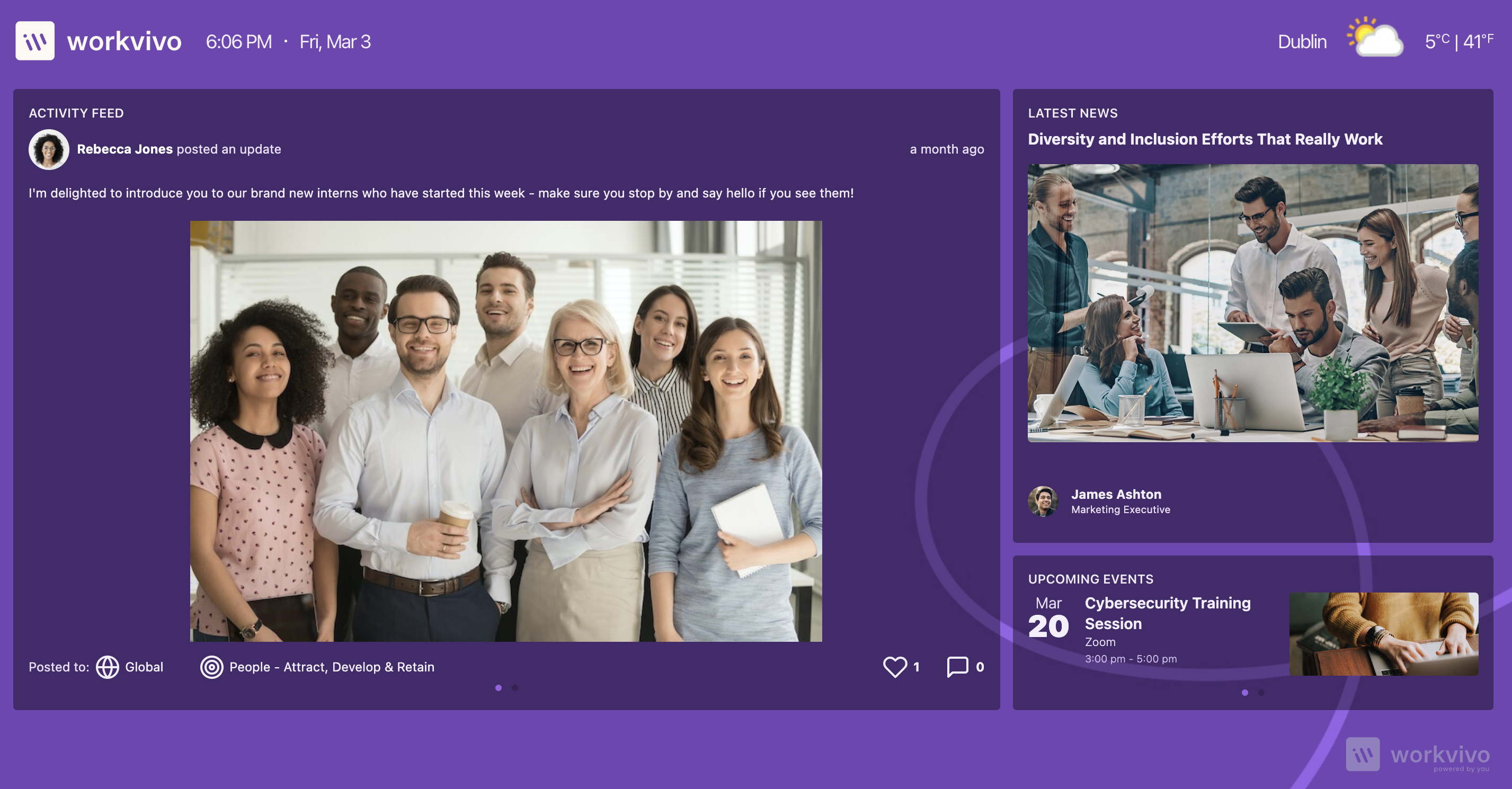 ---
Creating a Workvivo TV Dashboard
What you see on screen is referred to as a Dashboard. Dashboards are highly configurable and easy to set up.
Open the Administration panel on Workvivo (web)

Click on "Workvivo TV"

Click the "Add New Dashboard" button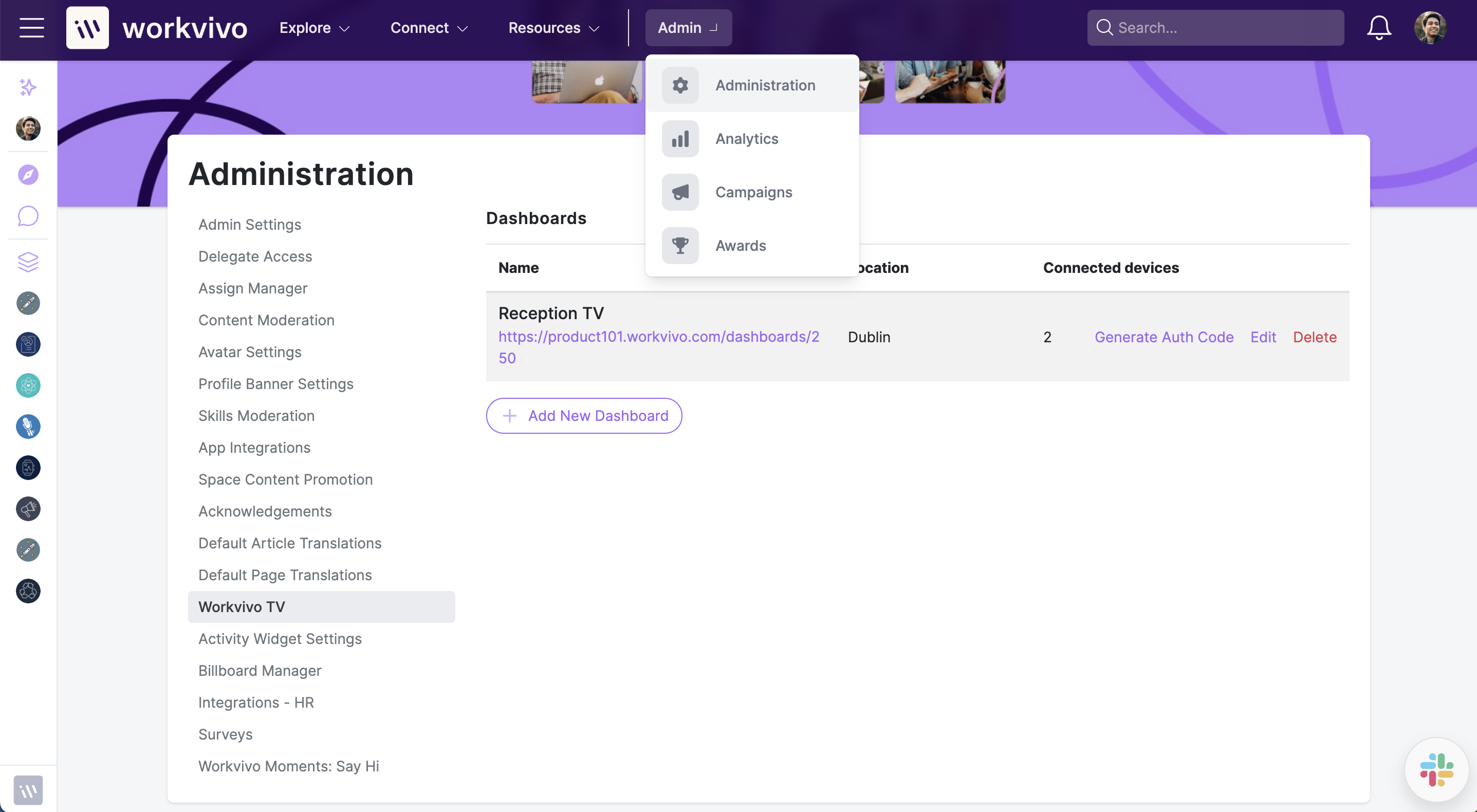 Once you are in the dashboard creation screen you will be presented with four tabs:
Details - This allows you to setup and configure the dashboard.
Content - This is where you define the content that will be displayed on the dashboard.
Additional - This is where you can configure extra functionality such as the QR code generator.
Connected Devices

- Once created this is where you can view and manage all devices connected to your dashboard.
---
'Details' Tab
In the details tab you will have the ability to modify the appearance of your dashboard. Configuration options include:
Name - The name given to the dashboard (example: Staff Break Room).
Weather Location - Display weather information for any town or city location, this will display weather conditions and temperature on screen.
Timezone - Set a timezone for your dashboard, all content on the screen will reflect that timezone. This is important when advertising upcoming global events such as town halls.
Background Image - Make your digital screen your own by adding a background image to reinforce your organization's brand.
Background Color - The color picker allows you to match the color of the dashboards to your exact brand color using simple Hex codes.
Audience - Choose an audience and tailor the content displayed. Based on your selection, the dashboard will surface content posted to Everyone and or from selected Spaces/ Teams.
Language - The language selector allows you to set a language for each dashboard ensuring that everyone can enjoy the same great content in their local language.
Display Options

- Depending on the content you want to broadcast to your screens you have the ability to hide "likes & comments" as well as hiding when the content was posted.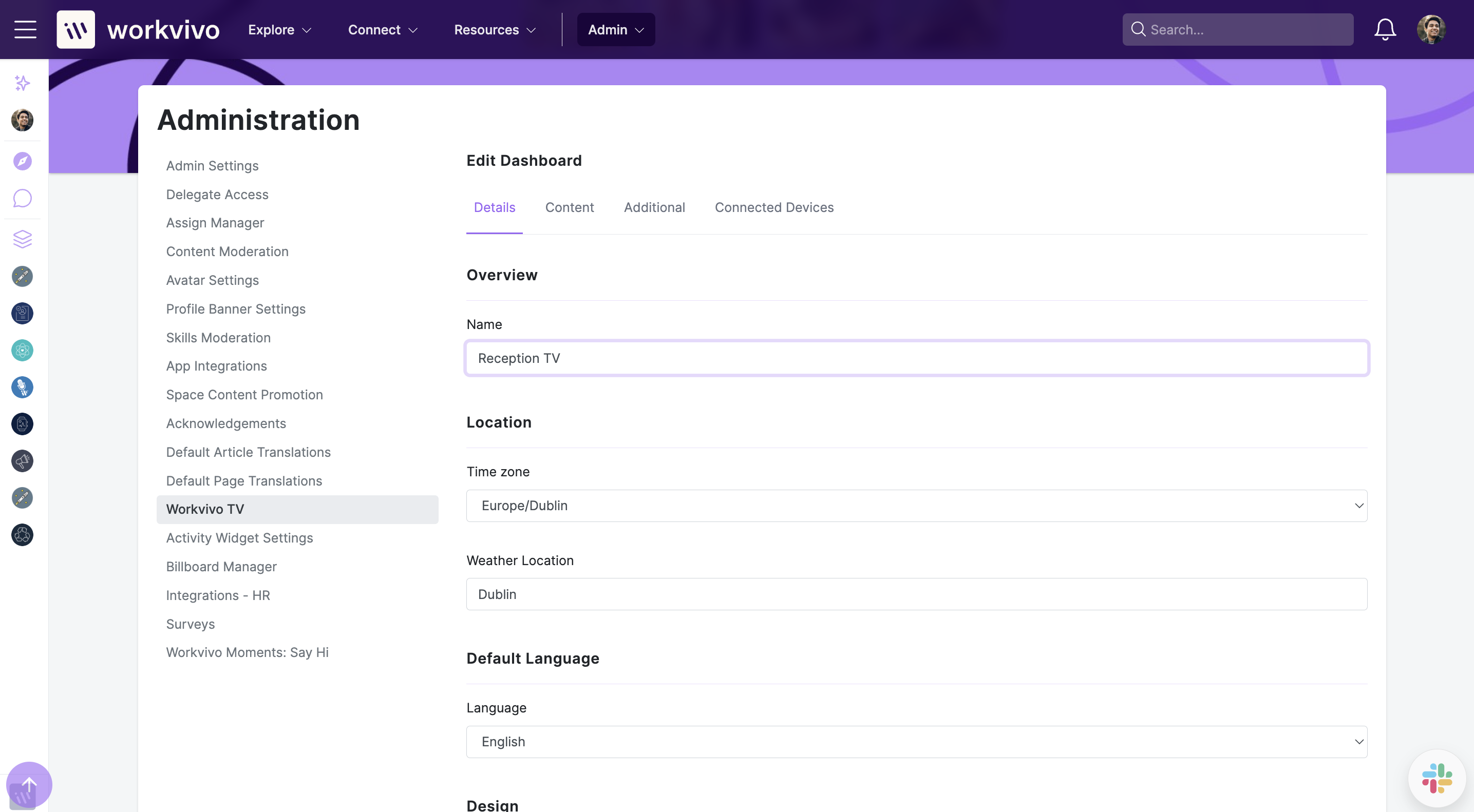 ---
'Content' Tab
In the content tab you have the ability to add some restrictions if using the auto-feed option or else switch to fully manual content control.
Exclude Accounts
If you are feeding content automatically from spaces to the screens but still want to have some control, you have the ability to exclude content from specific users from appearing on screen. Note: This functionality is not available if using the manual content selector.
To exclude a user account:
Click on the "Select Exclude Accounts" input field

Select one or more user accounts to exclude

Click "Ok"

Review excluded accounts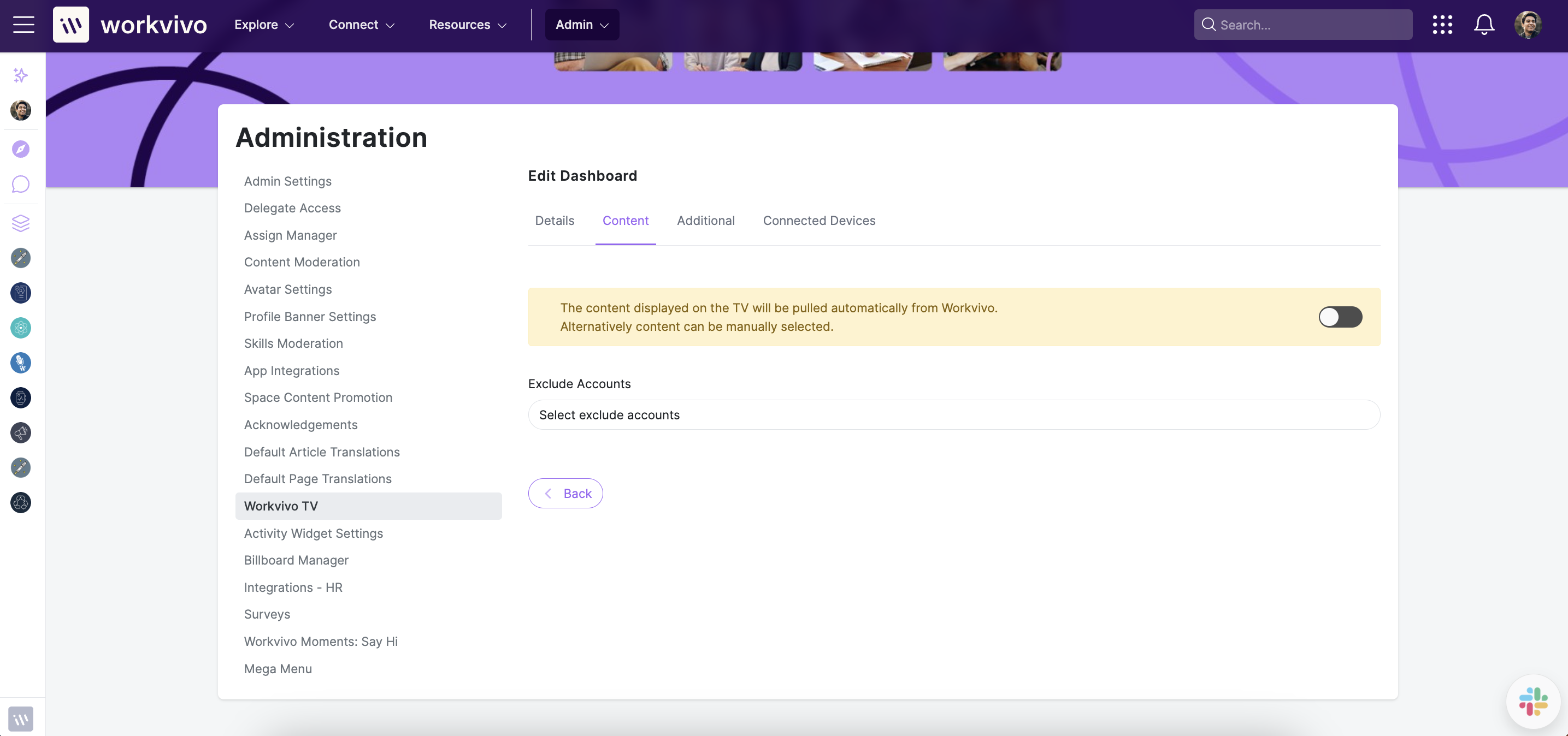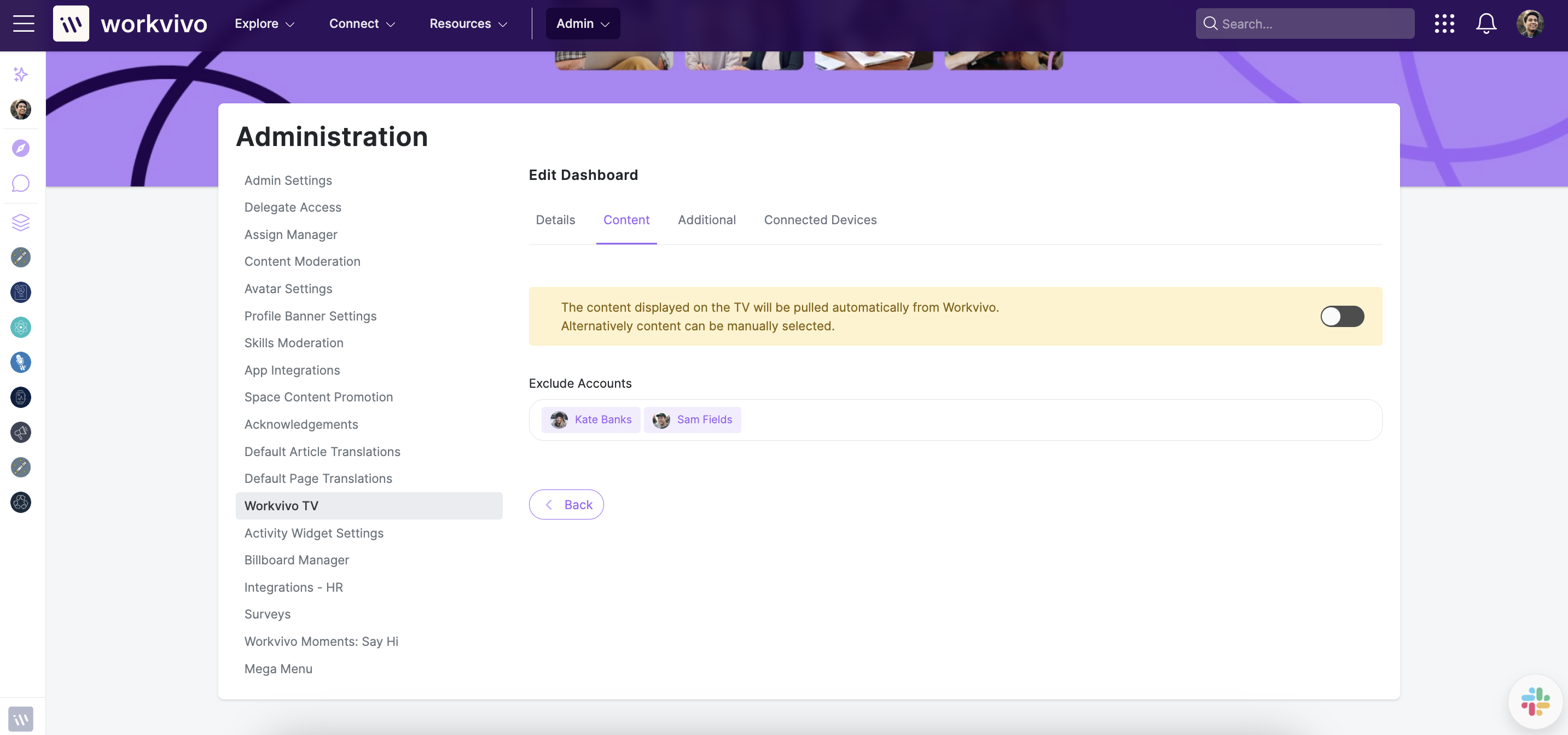 Manual Content Selection
Manual content selection is a great option when you want full control over what appears on Workvivo TV and how long it stays there. Unlike the auto-feed option, content is not limited to an audience meaning you can use any Workvivo content, therefore it is advisable that only comms professionals within your organization manage this.
Enable the manual content toggle. Once this is done a table will appear.

The table will have three tabs: Updates, Articles and Events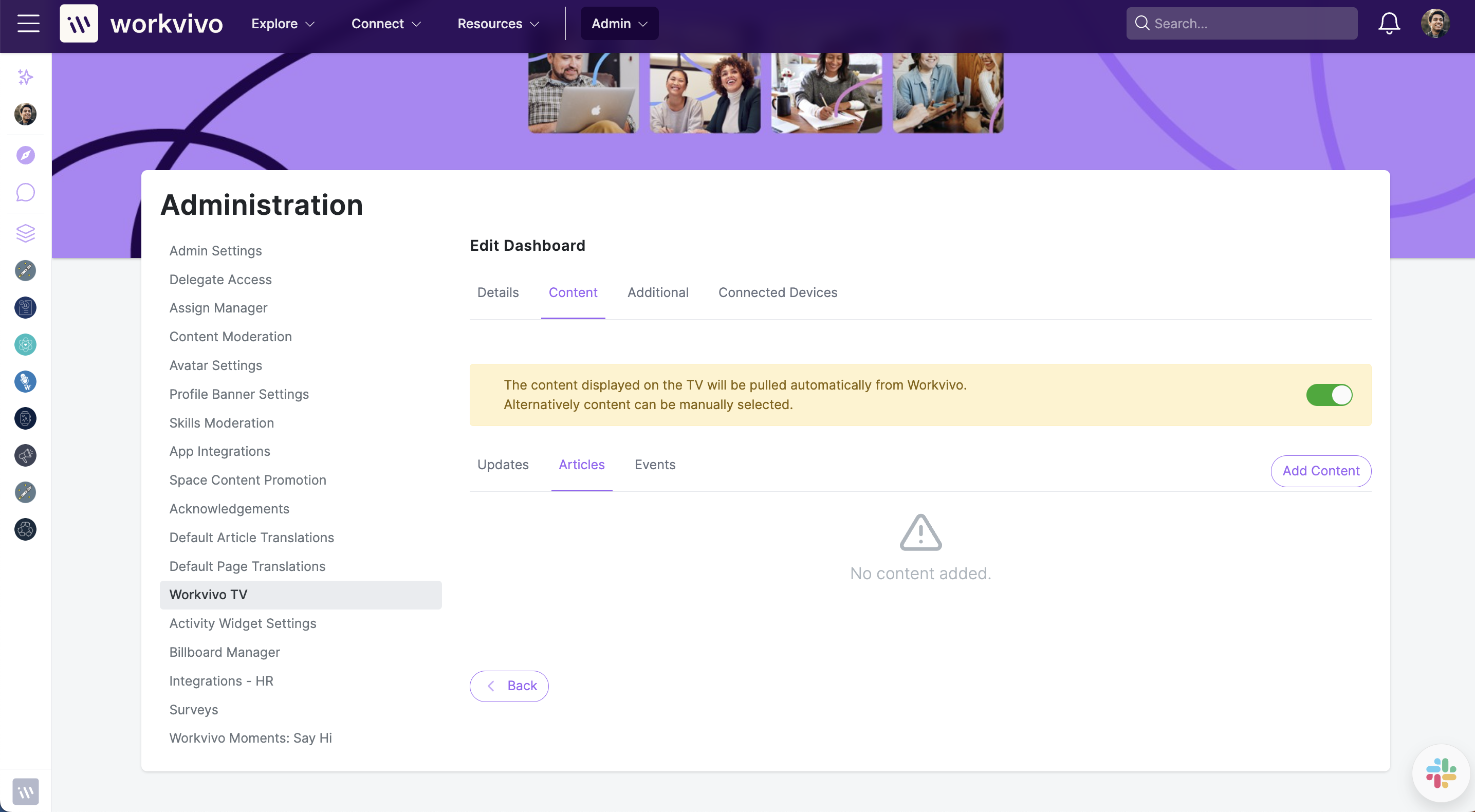 To add a piece of content, select the relevant tab and click the "Add Content" button.

To add a piece of content use the modal and provide the following:

A title (to easily reference the content)

URL (any valid update/event/article url within Workvivo)

Expiry Date (the content will no longer show once the expiry date is reached)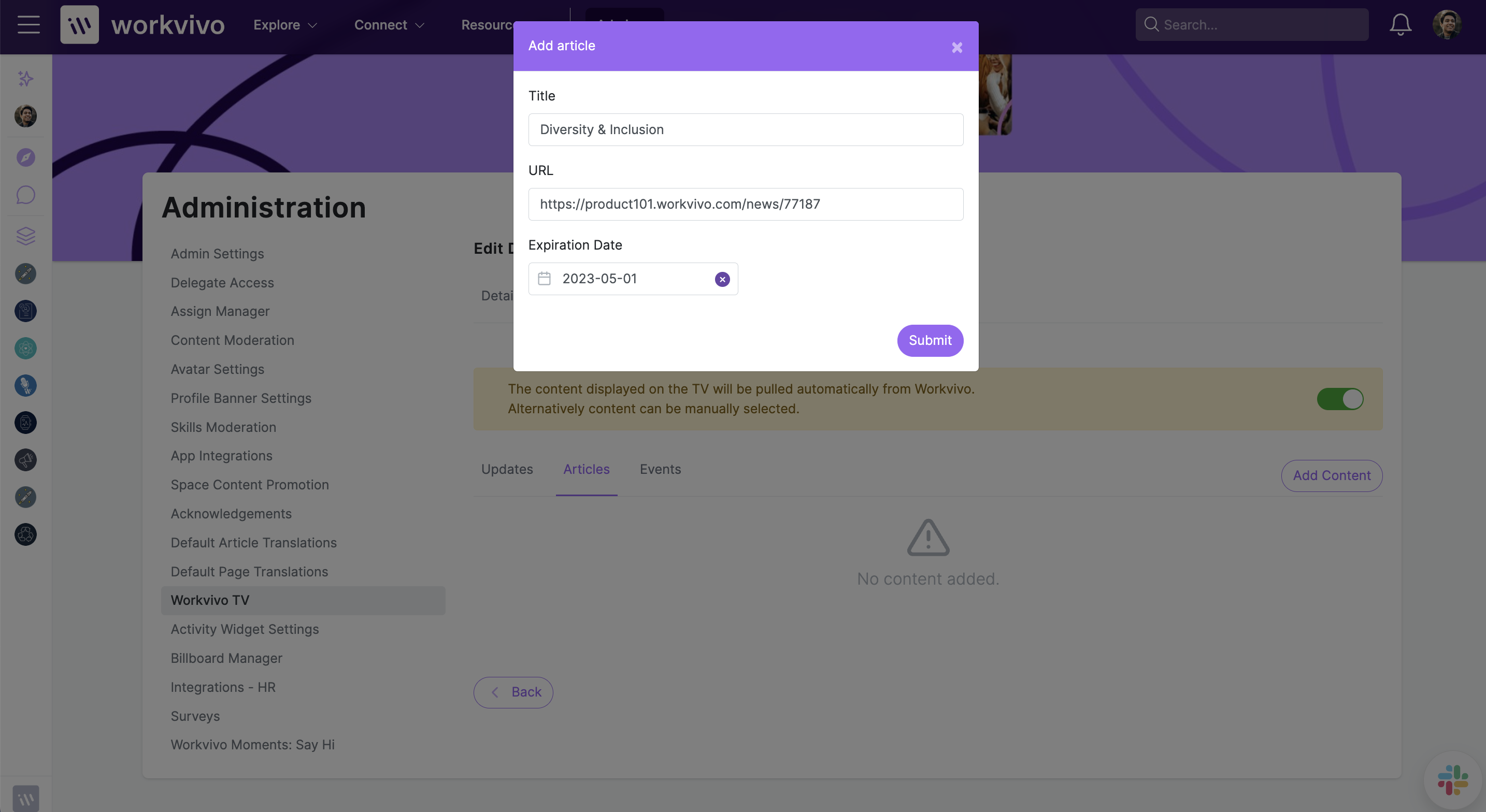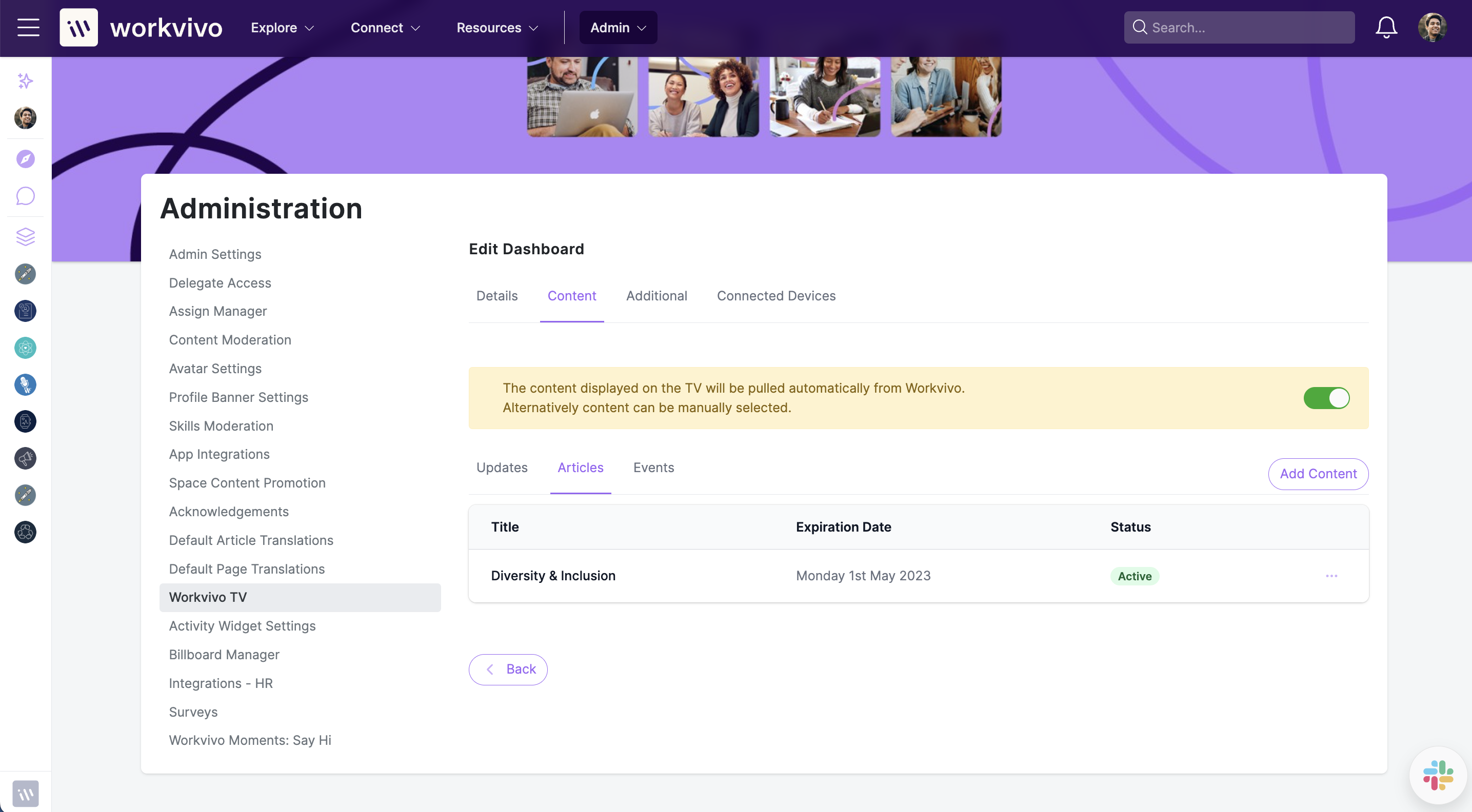 Note: The table will display the current status and expiry date of content to make it easily manageable. If no content is active, Workvivo TV will display content based on the audience selected in the details screen.
---
'Additional' Tab
The additional tab is used to add non standard components to the dashboard. The only additional component available is the QR code.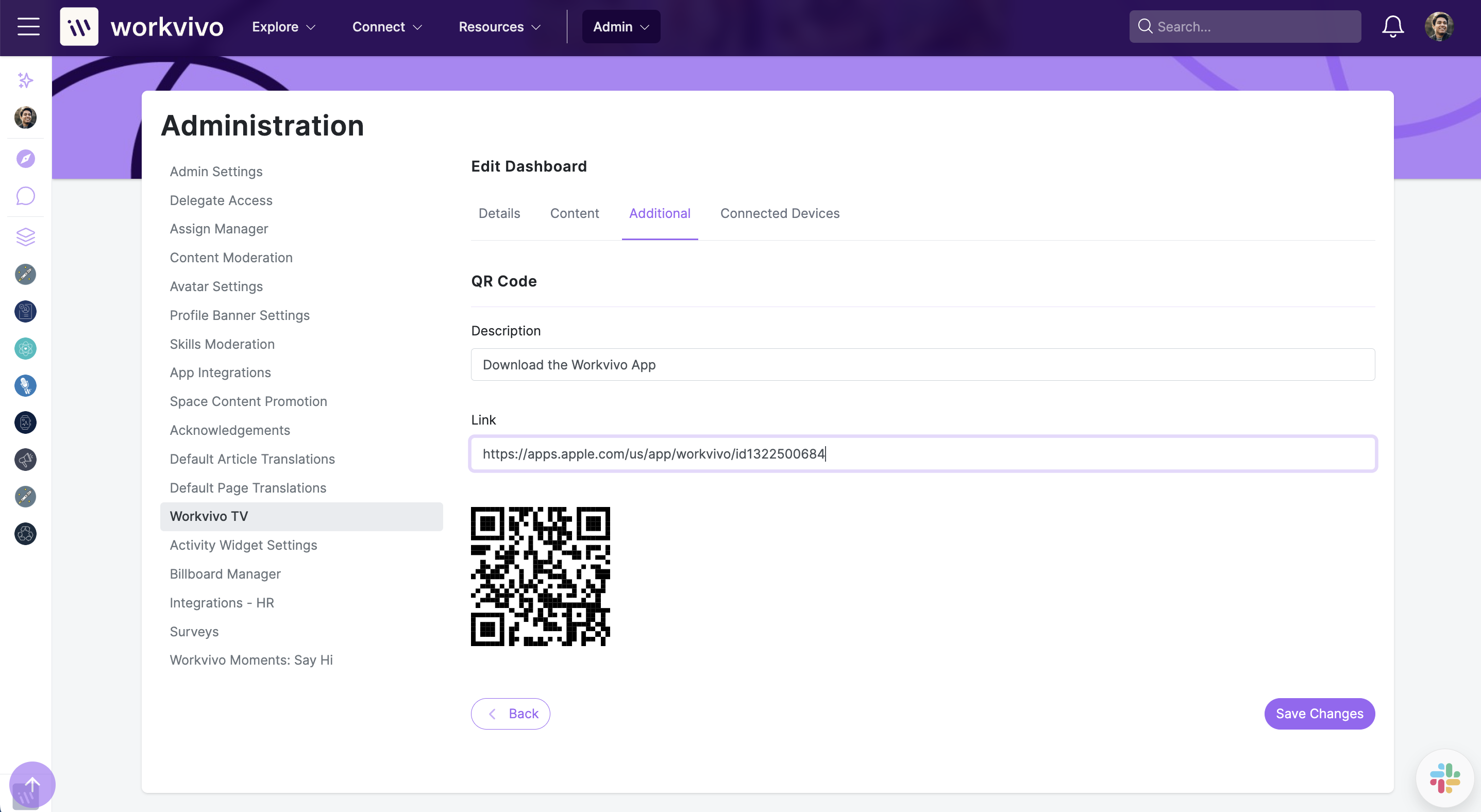 Adding a QR code
The QR code is a powerful tool for promoting content and driving behavior. Common use cases for the QR code include:
Driving downloads of the mobile app

Linking to surveys

Running competitions

Linking to award nominations
To generate and display a QR code, provide the following:
Description (this will be displayed on screen to provide more content to the employee)

Link (this can be a url for any content and does not need to originate within Workvivo).

Once a URL is entered a QR code will be automatically generated.
---
'Connected Devices' Tab
The connected devices tab provides a list of all devices currently connected to the dashboard. This table includes the device IP Address, Name, initial connection date/time and the time that the device was last active. From this screen, you have the option to rename the device and revoke access to the device.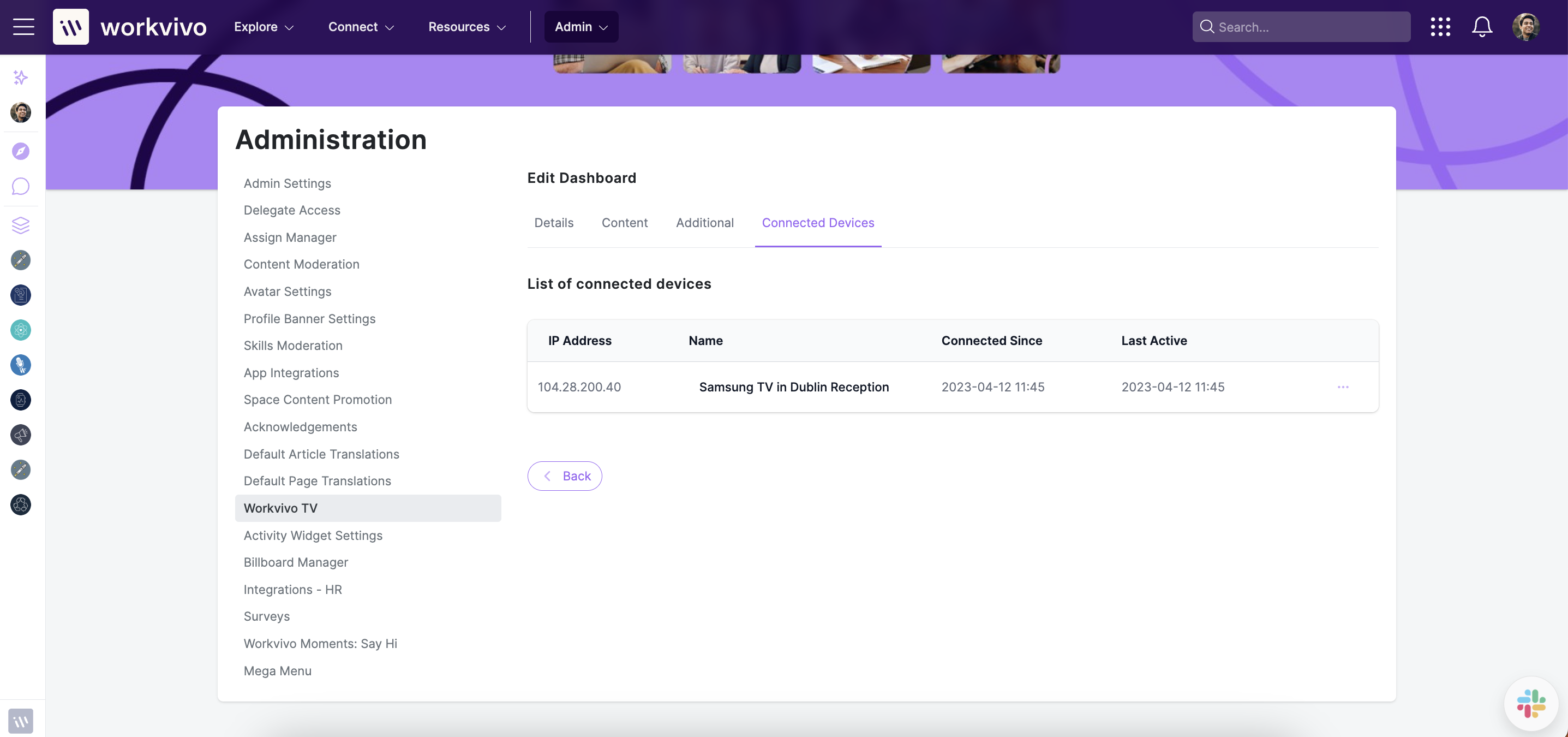 Connecting a device to Workvivo TV
To connect a device to your Workvivo TV dashboard:
Copy and paste the dashboard url into the browser of the internet enabled display device (such as a smart tv).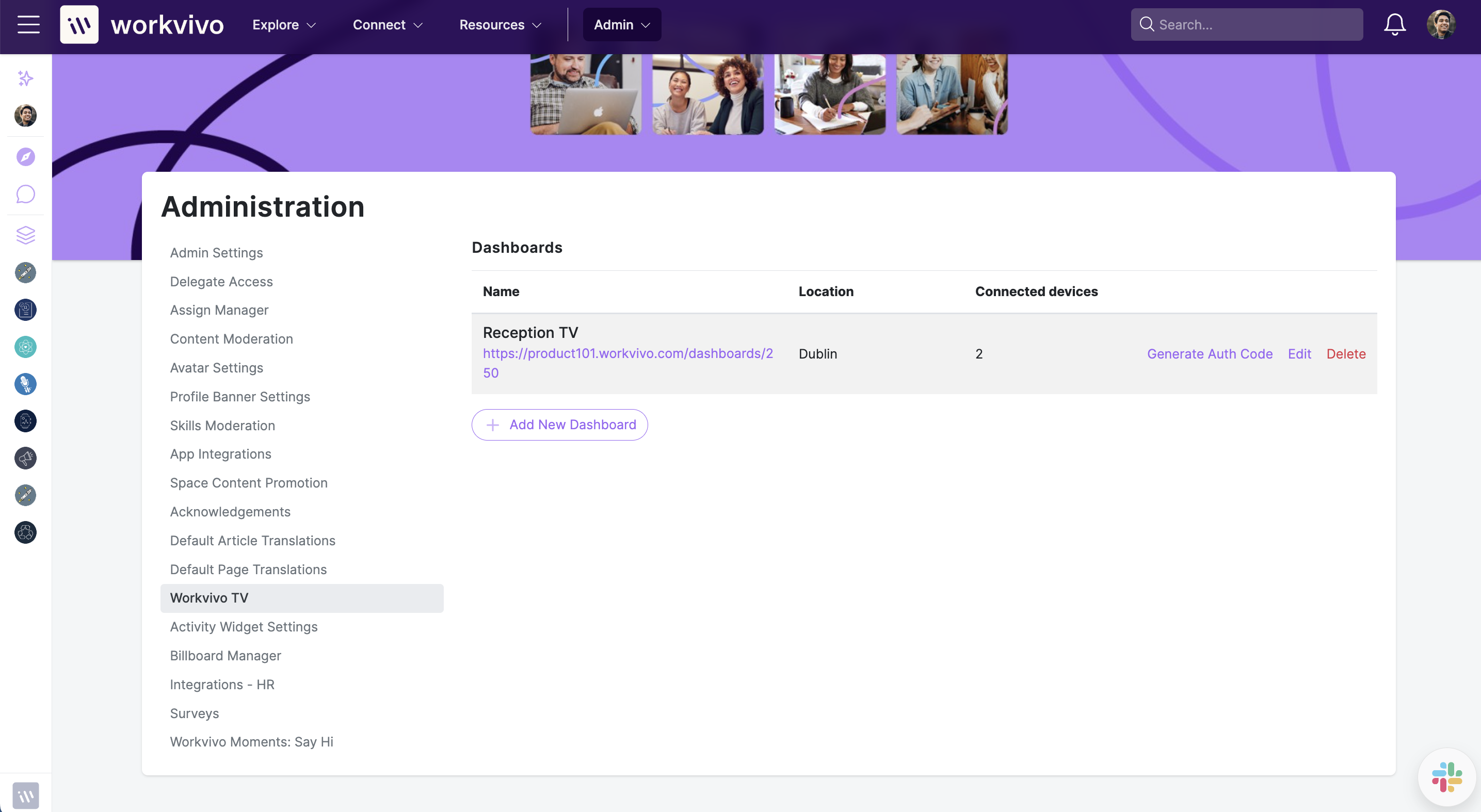 When the url loads, an authentication screen will appear.

In order to authenticate you must enter a four digit code.

To generate this code click on the "Generate Auth Code" link.

Note - this code will expire after five minutes.

Enter the code.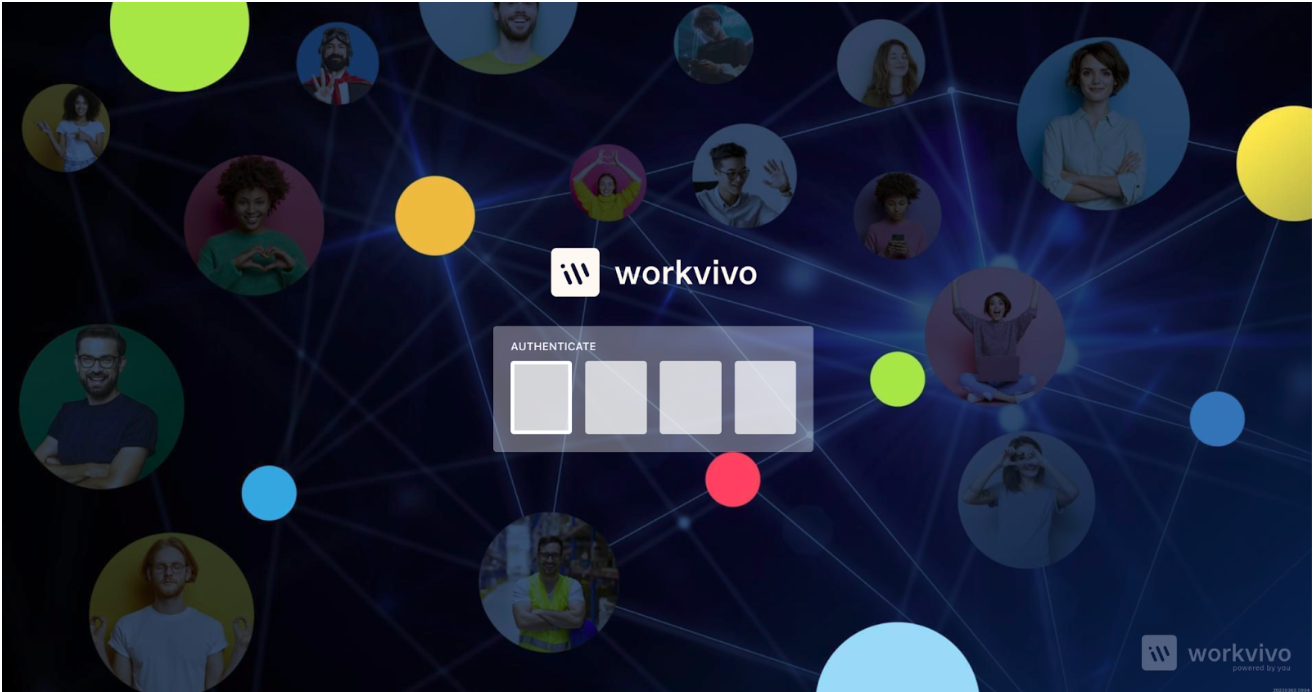 Once authentication is complete, your newly configured Workvivo TV Dashboard will display on screen.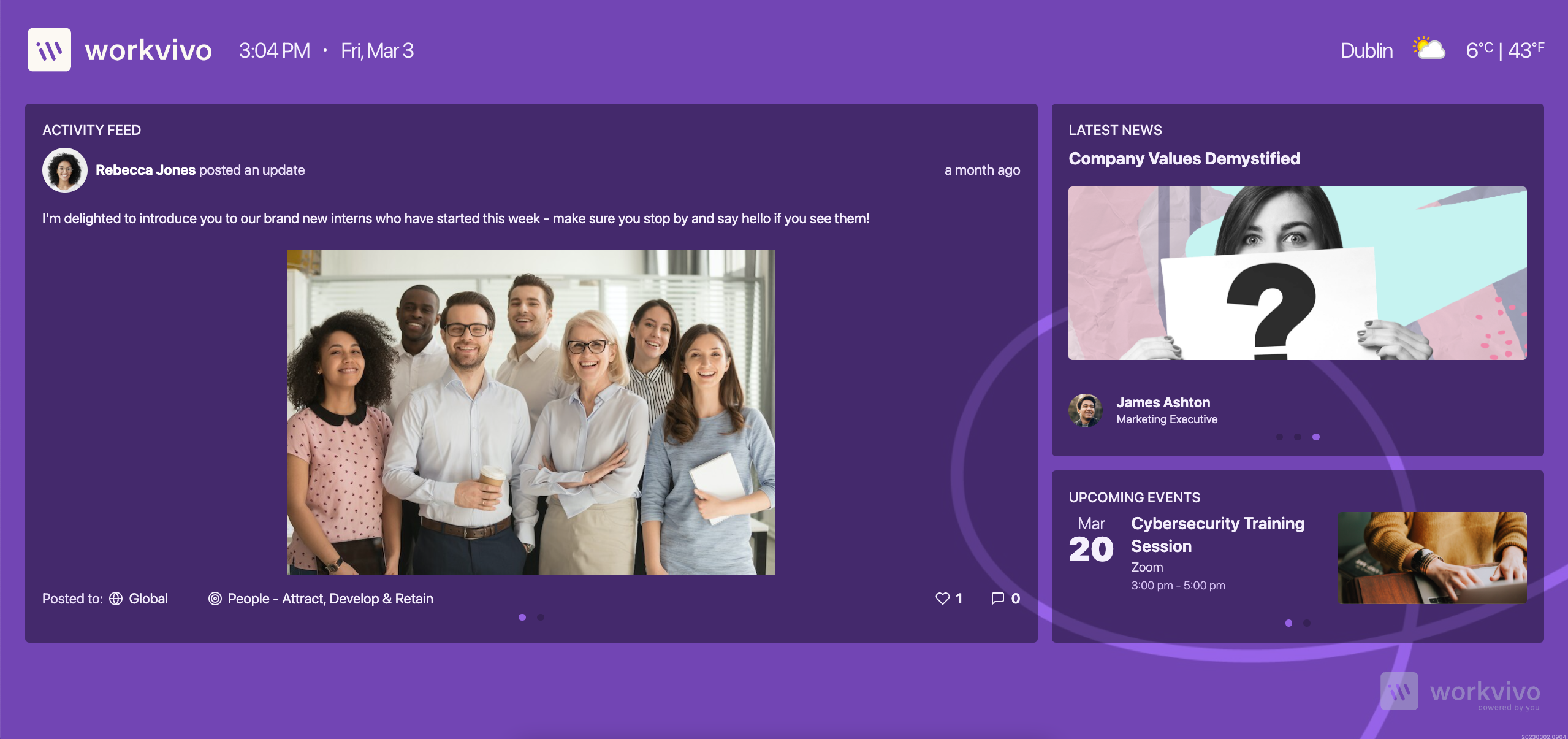 ---
Images Dimensions and Guidelines
Background Images
Dimensions: 500px x 1000px

Format png, jpg
Activity Feed Images
For best results when displaying a post with a single image, choose a landscape oriented image as portrait oriented images will always display blank space to the left and right of the image.

For posts containing multiple images, both landscape and portrait oriented images are acceptable.
Article Images
Follow the standard article image guidelines

Dimensions: 800px x 330px. Safe Space for text and important elements of an image: 490px x 330px (centered)
Event Images
Follow the standard article image guidelines

Dimensions: 500px x 330px. Safe Space for text and important elements of an image: 500px x 255px (centered)
---
Note: Workvivo TV is an add-on feature to the business Workvivo package. To learn more, please reach out to your Workvivo CX Manager or submit a request on our Help Center.