Search across Workvivo using our Search capabilities!
---
Device(s): Desktop
Roles / Permissions: All users
---
How to search for content or people
On the nav bar, type in your search term

Some results may appear in a drop down menu

If the result you are looking for does not appear, click on Advanced Search


In this example we are searching for the term 'Book'
The Advanced Search page will show you a full list of results associated with 'Book'.
You also have the option to refine your search by adding filters.
To further refine your search to help you find what you're looking for easily you can filter:
By Space

By People

By Goal

By Team

By Date Range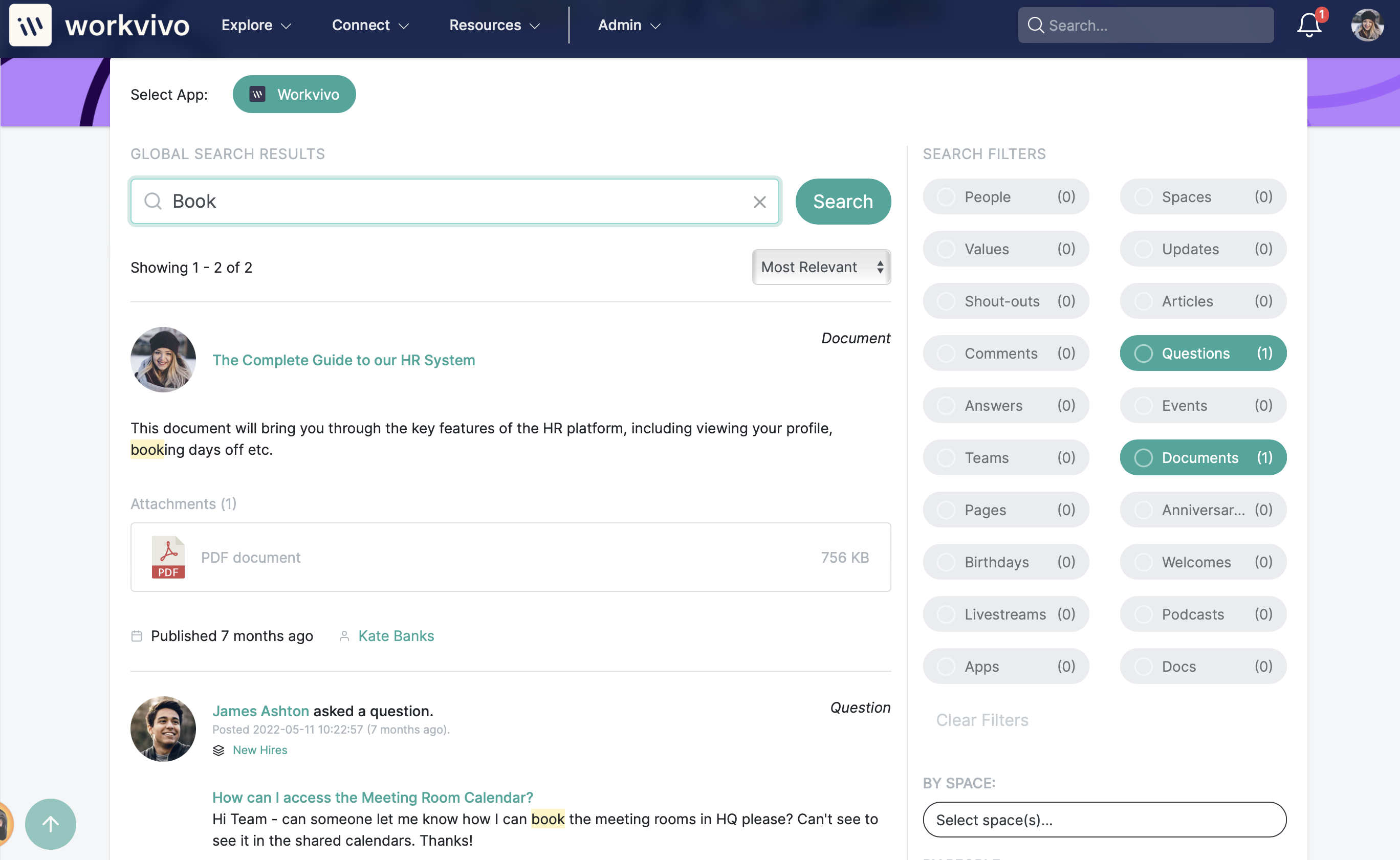 In August 2021, we delivered the below enhancements:
Smarter Search: Search results are more precise and intuitive, e.g. "IT Updates" and "I.T. Updates" are the names of two different Documents and searching for one does not result in the other appearing in the results.
Improved People Search: When searching for a person, you no longer need to know their full name to find them, e.g. "Colum Nugent" and "Colum N" results in the correct person appearing in the results regardless. Likewise, if there are two people called "Colum N", searching for "Colum Nu" will remove the other person, e.g. "Colum Nelson", from the results.
Special Character Search: When a person, document, update, etc., has a special character, e.g. "Áine" searching for both "Áine" and "Aine" should mean the same results appear. As such, users will no longer need to include special characters in their search terms.
Suggested Spelling: Similar to Google's suggested search terms, when using Advanced Search, users will be suggested terms that may improve the search results, e.g. searching for "I.T. Upgrades" will present the user with "I.T. Updates" instead.
Note: The search will only return global or public content, it won't bring back any private space content if you're not a member of that space and it will only return content from Teams which you are a member of.
---
Search Using Productivity Suite Integration
Integrations such as Google Workspace, Microsoft 365, and SharePoint are available to access directly from Workvivo. These additional connected applications can be searched through internally using filters to find specific files. For more information, refer to the Productivity Suite Integration article.