Unlike written content, which must be read, or videos that must be watched, podcasts are a great way to engage an audience as they only have to listen, something they can easily do while they work or play. To help engage your audience, you can now share Podcasts with people through Workvivo!
Once enabled for your organization, colleagues can access podcasts in the News section on their laptop / PC and mobile app.
They'll also see a 'Featured Podcast' widget beside the main activity feed.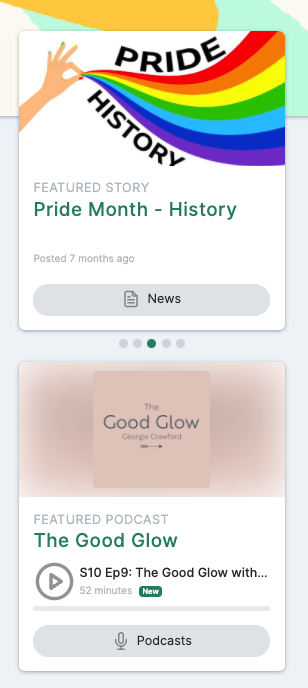 ---
Device(s): Desktop
Roles / Permissions: Admin or Editor (There is also a separate Podcast Manager permission that can be granted to other colleagues.)
---
How it works
You can import podcasts from an existing podcast RSS or upload a podcast for hosting on Workvivo!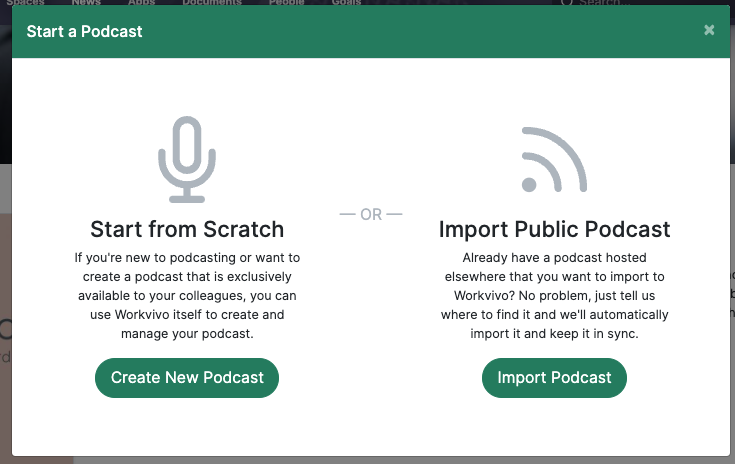 Employees can listen to a podcast through an audio player that follows them around Workvivo.
For Workvivo-hosted podcasts, you can manually add cover art, MP3 files and titles/descriptions for episodes.
When you add a public podcast RSS it will fetch the metadata for existing episodes, download and process cover artwork and every 30 minutes it checks for new episodes via RSS feeds and loads them in automatically!
Notes:
Podcast RSS feeds are made publicly available for consumption by a whole host of consumers. Workvivo does no authorization with the feeds, we simply present the feeds so that they can be more easily consumed by your employees

Any uploaded podcast (mp3 file) will only be accessible within Workvivo
Podcasts are not tied to spaces but teams and global only.
When selecting a publish date/time, if a specific date/time is selected it will not result in the podcast episode being published at the chosen date/time. Regardless of the date/time picked, once the podcast episode has been saved it will be available to everyone on the platform.
---
Step-by-step
1. In the News section of your Workvivo, click 'Podcasts'
2. Once you are brought to the podcasts page, select 'Add Podcast'
3. Choose whether you would like to upload a podcast or import one using an RSS Feed.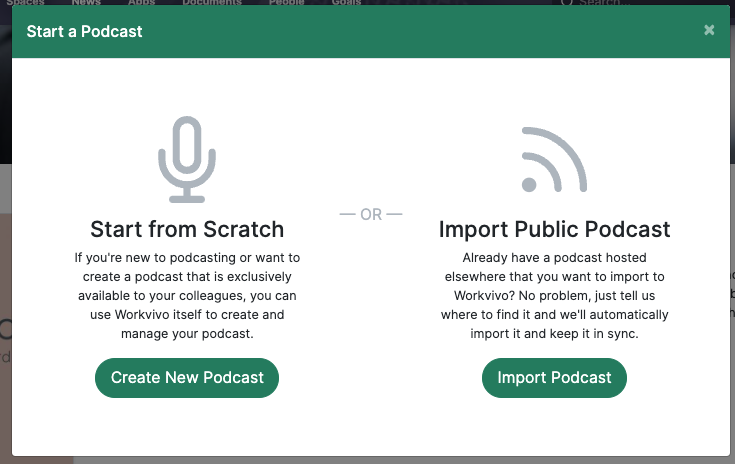 ---
Option 1 - Create (mp3 File Upload)
Starting from scratch allows you to add your own title, description, author, cover image and website link. (cover image should be 300px x 300px .png or .jpg)
Once you click "Save", you will be able to upload your first episode as an attachment in mp3 format and choose a publish date.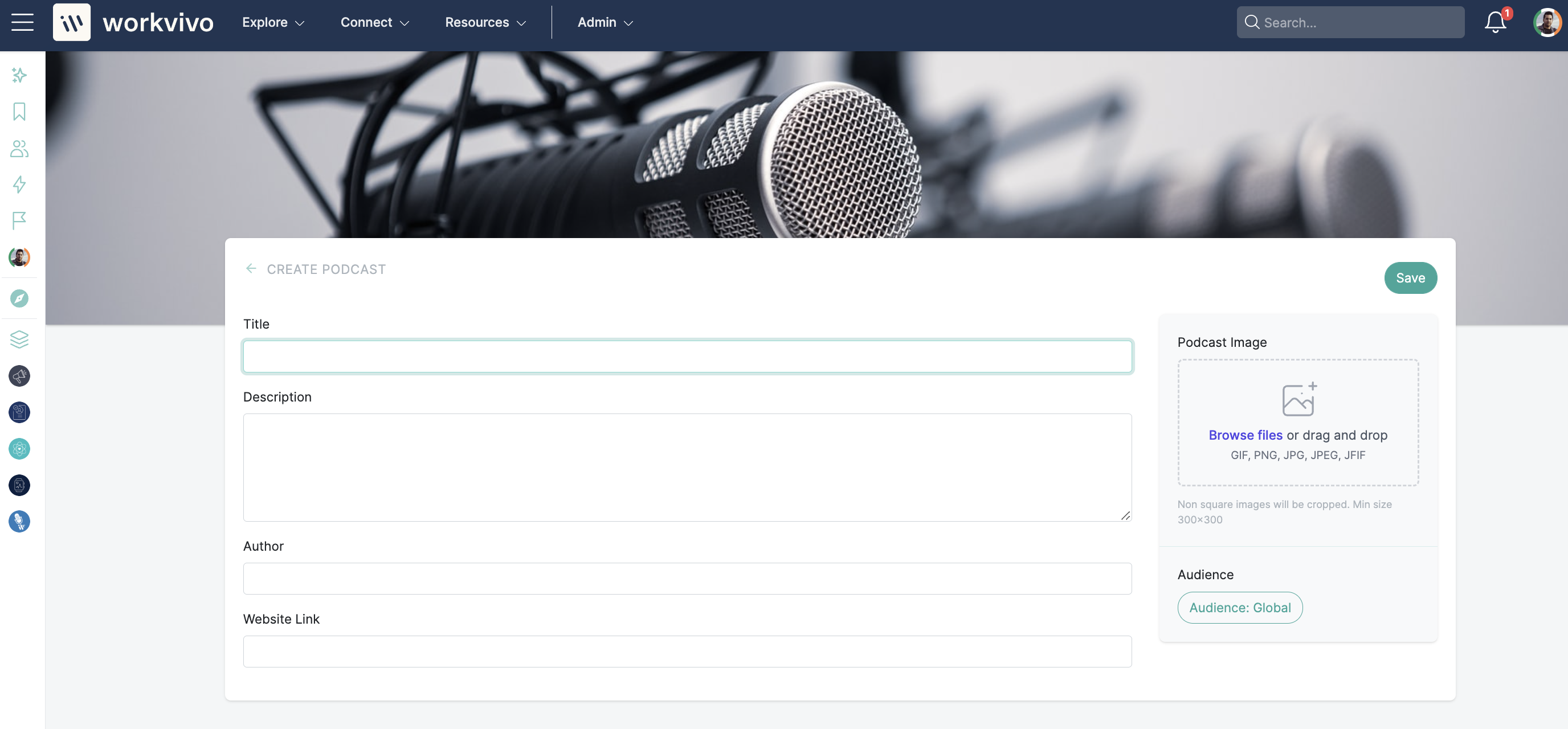 ---
Option 2 (Recommended) - Import (an RSS feed URL)
The Import option requires the RSS Feed URL a podcast. The brilliant thing about having an RSS feed is that once it's saved, the full podcast series is immediately available on Workvivo, and every time a new episode is added to the series, it will automatically get added to Workvivo!
Where do I get the RSS feed?
The RSS feed is typically available from the webpage where the Podcast is hosted so search online.

Some RSS feeds are not

publicly

available so if it's in an internally produced podcast within your organization, you should ask the team responsible.

---
Featuring a Podcast Series
To feature a podcast series in the widget on desktop for all users, open all podcasts by clicking "View All".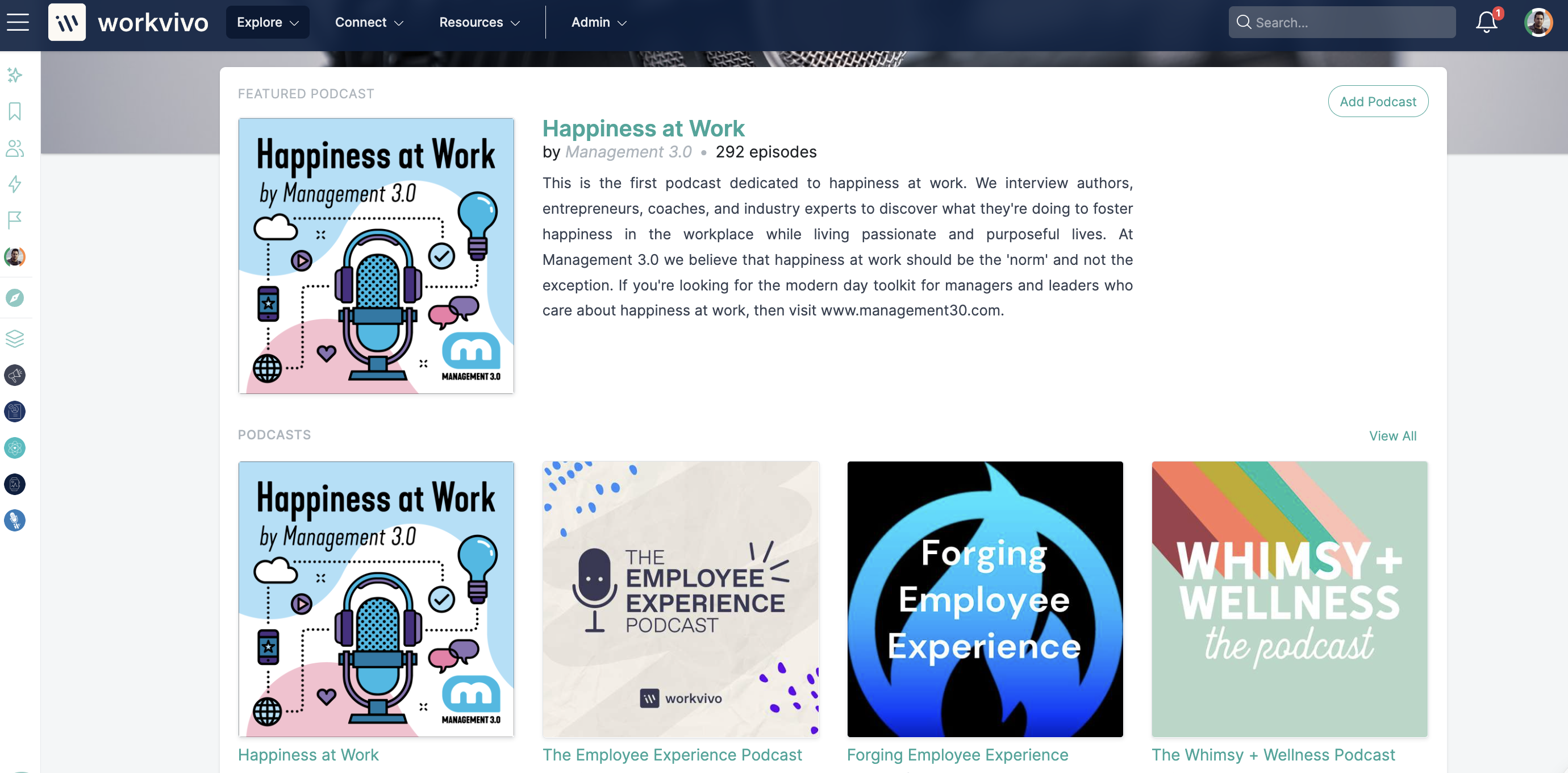 Open the desired Podcast by clicking on its title.

On the Podcast Feed screen, use the admin drop down menu and select 'Feature Podcast'.

---
Podcast Ideas
Publicly available RSS Feeds
To help get you started, popular podcasts we've seen are:
TED Talks Daily - "Every weekday, TED Talks Daily brings you the latest talks in audio. Join host and journalist Elise Hu for thought-provoking ideas on every subject imaginable — from Artificial Intelligence to Zoology, and everything in between — given by the world's leading thinkers and creators. With TED Talks Daily, find some space in your day to change your perspectives, ignite your curiosity, and learn something new."
http://feeds.feedburner.com/TEDTalks_audio
Real Health with Karl Henry - "The show that cuts through the nonsense about healthy living and tells you what you need to be doing to live healthier each and every day. Join Karl each week for tips and practical advice to help your real health journey. Plus, find out the science behind the advice and get some inspirational and honest stories for healthy living." The Real Health podcast is in association with Laya Healthcare.
http://feeds.soundcloud.com/users/soundcloud:users:431608719/sounds.rss

The Big Tech Show - "Every week we analyse the big tech issues, interview industry leaders and review the hottest gadgets." Hosted by Adrian Weckler
http://feeds.soundcloud.com/users/soundcloud:users:364436861/sounds.rss

Win Happy Podcast - "In this podcast Greg chats with some of the interesting people that he meets along the way from many different walks of life, about their lives, what it means to achieve their goals and hopefully with a smile on their faces! #WinHappy "
http://fuzionwinhappy.libsyn.com/rss
Mental Health Foundation (UK) - Podcasts focussing on good mental health for all. Dedicated to finding and addressing the sources of mental health problems.
https://www.mentalhealth.org.uk/podcasts-and-videos/podcasts-for-your-wellbeing
BBC Health and Wellbeing Podcasts
https://www.bbc.co.uk/podcasts/category/factual-healthandwellbeing
MP3 Uploads
Potential themes that you could use the manual MP3 file upload for are:
Post All-Hands Q&A with Leadership

Weekly overview of company news & events

Leadership Corner – get to know your leaders

Innovation Station – For those creative geniuses in your company who love to know what developments are coming down the line

A summary of all weekly written news articles for any visually impaired colleagues (if applicable)
---
Announcing Podcasts
Introduce your team to Podcasts with a news article or pinned post. Here's an image you could use: