Quickly connect with colleagues and start a conversation in Slack directly from Workvivo!
Our Slack integration allows you to:
Send a Slack message to a colleague directly from Workvivo (see below)

Post to Slack from Workvivo and post to Workvivo from Slack (see related article

)
---
Setting up the Slack integration for your Company
To set up the Slack integration for your organization's Workvivo, there are a couple of steps to follow by your Slack Workspace Owner.
In your Slack Directory, under Manage App Installation Settings, make sure that Only allow apps from the Slack App Directory is unchecked / disabled. Without this, users will be unable to connect their Slack account to their Workvivo profile. (Related Slack article)

Connect one Workvivo user account to Slack and check that you can start a chat with a colleague.
To connect Slack to your profile:
Go to Workvivo on Desktop

Open your User Menu

Click Edit My Profile

Open the Connected Apps section

Click the "Connect Slack" button, follow the steps and authorize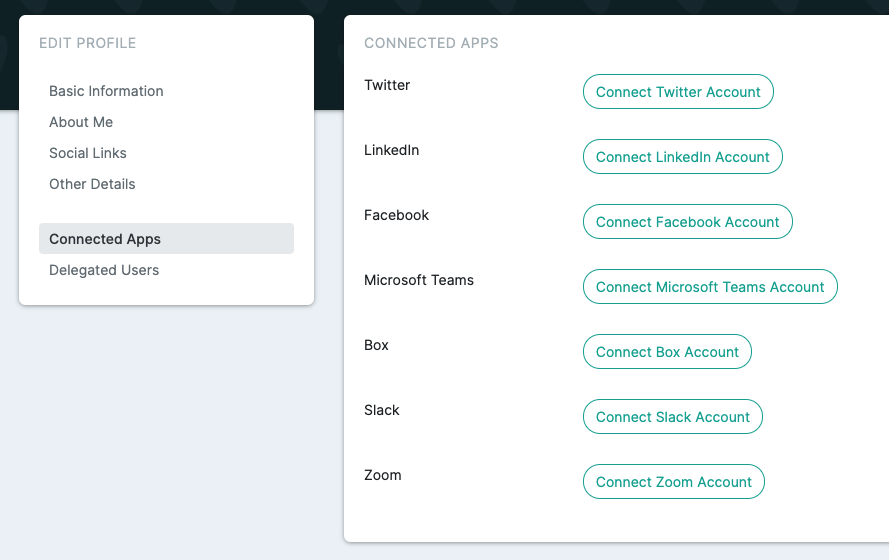 The following screen will appear, click "Allow"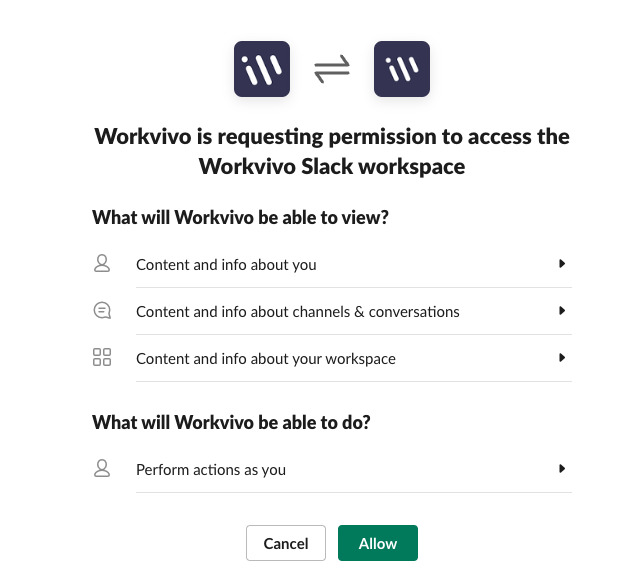 You should then see the Slack chat widget on the bottom right of your screen.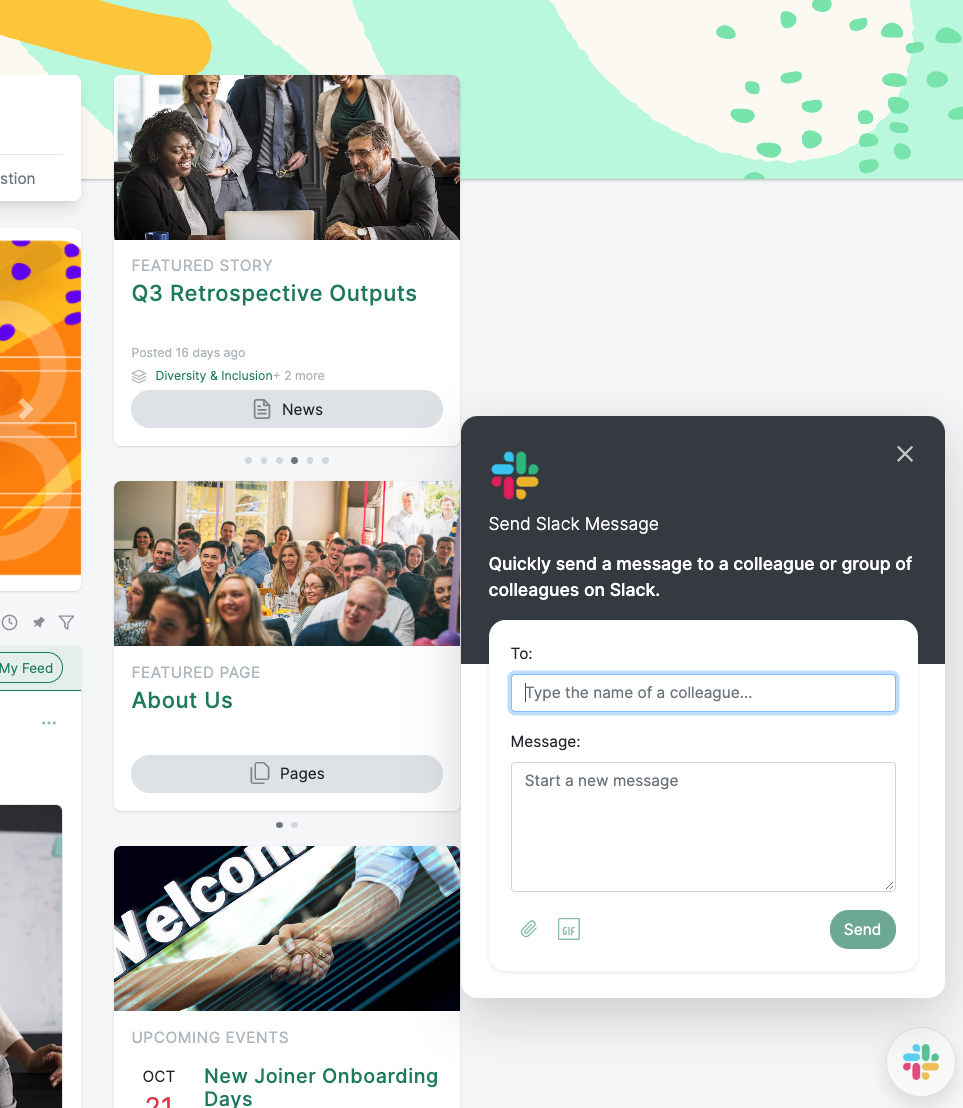 Click on the chat widget, choose a colleague, type your message and send.
When successful, other colleagues can now start connecting their Slack accounts too and chatting with colleagues!
---
How do I message a colleague?
Once connected to Slack, there are two ways to chat with colleagues:
Option 1
When viewing a person's profile on Workvivo you have the option to chat with that person on Slack.
For example in the below you would click "Chat with Eimear" to start a conversation in Slack.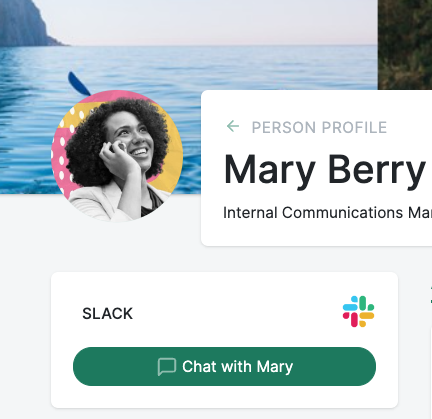 Similarly, when viewing a space on Workvivo you have the option to navigate directly to a Slack Channel by clicking on the channel name in the Workvivo Space.
---
Option 2:
You can quickly send a direct message to a colleague or group of colleagues without leaving Workvivo. Click on the Slack icon on the bottom right of your screen. Let's start a conversation with Amy here.
Search for your colleague's name

Type your message, you can add attachments and GIFs

Send your message. You have the option to send another message or continue the conversation on Slack.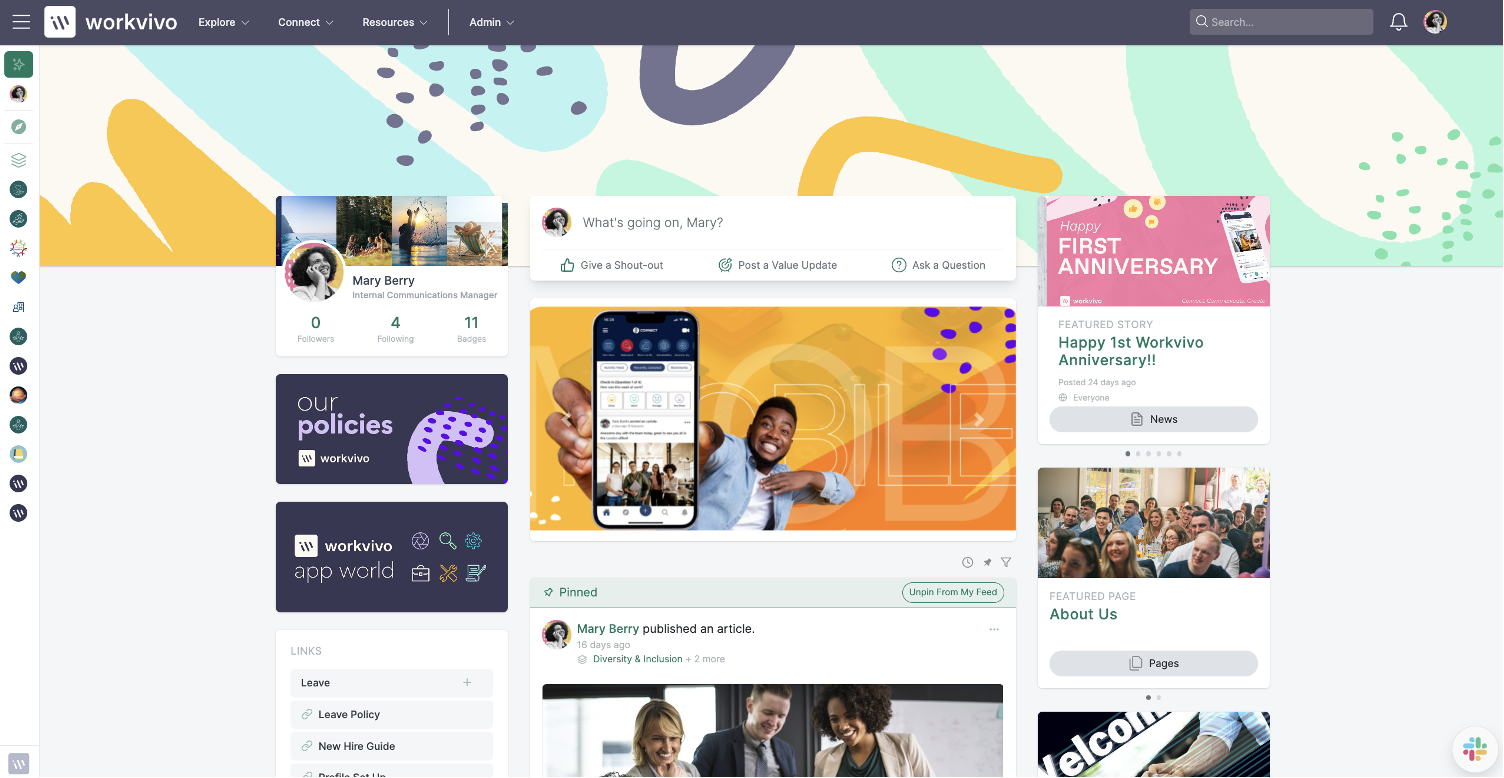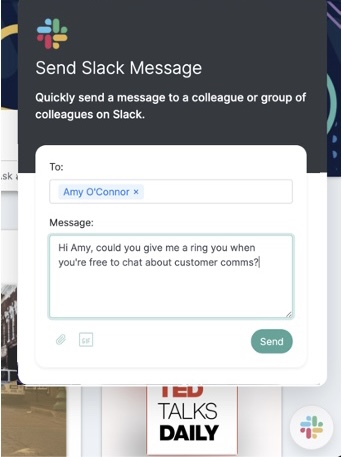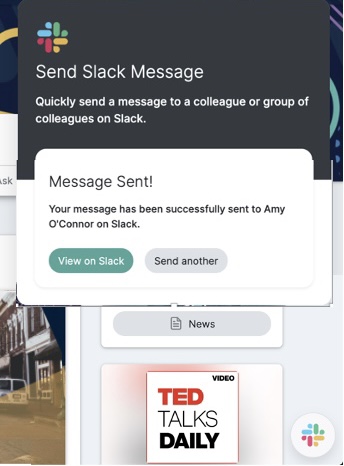 ---
Introducing Slack to your Team
The below image and explanations can help when rolling out the Slack integration.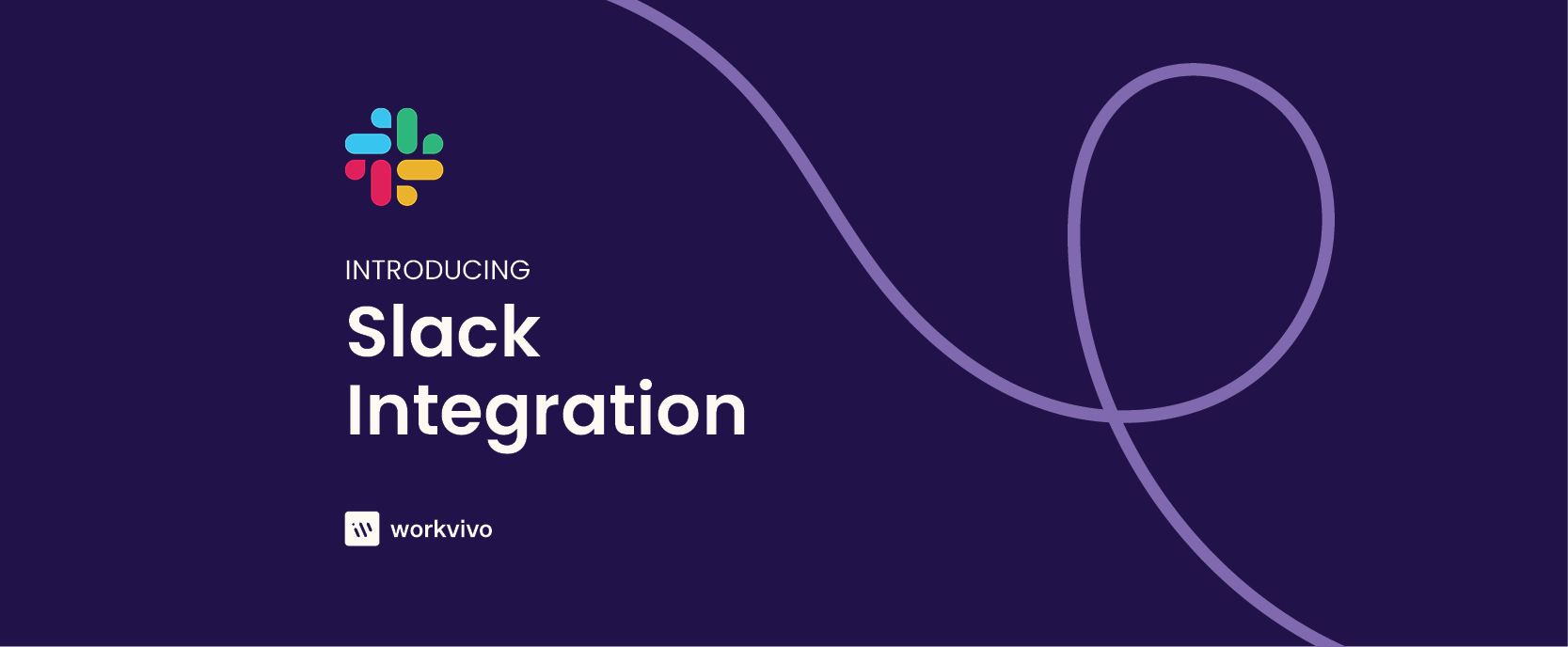 When do I use Workvivo?
To help coach your team on the use of Workvivo vs Slack, we've put together some guidelines for you.
Post to Workvivo when you want to:
Share Ideas / Questions / Updates

Maximize views / engagement of content

Share content that deserves a longer shelf life
Workvivo is a little more formal than instant messaging tools. It follows a community structure and supports spontaneous peer-to-peer recognition through shout-outs.

When do I use Slack?
Post to Slack when:
you want an instant response to your message or query

your content only needs a short shelf life

when there isn't a requirement for a lot of people to see or engage with the content
Slack is informal and works best for conversational /real-time communications.
It primarily follows a 1:1 chat structure but also allows Group Chat Structure.