Workvivo provides organisations with a communication platform designed to increase employee engagement and centralise internal communications. It enables employees across the organisation to share announcements, positive stories, updates and recognition.
A number of Workvivo customers use both Workvivo and MS Teams as part of their digital employee experience where MS Teams is often used for instant messaging or a quick phone call to a colleague.
By integrating Workvivo and MS Teams you can enable employees to navigate to a centralised location where they can check out any company updates along with instantly connecting to other colleague's using MS Teams for transactional, real-time communication.
This also gives organisations the opportunity to share content across both applications again enabling faster, real-time communication and productivity, elevating employee engagement to a new level.
Our MS Teams integration enables the two platforms to work side-by-side; MS Teams for real-time instant messaging and Workvivo for updates, recognition, news and event posts.
The capabilities of the integration are:
Initiate an MS Teams Chat from Workvivo with a Colleague

Share a Post from Workvivo to an MS Teams Channel

Automated Sharing of Workvivo Digests
---
When to use Workvivo
Engage in public conversation with a team or the entire company

Build a community

Share thoughts on topics of personal importance

Share my thought leadership

Have dialog with Executive Leadership

Publicly celebrate and recognize colleagues and teams
When to use MS Teams
Get a hold of colleagues in real-time

Manage a project

Collaborate on documents

Store/manage files
---
MS Teams Chat
When viewing a person's profile on Workvivo you have the option to chat with that person on MS Teams which will bring them directly to the conversation in the MS Teams native application.
Ask your Workvivo point of contact to enable this setting for all users in your organisation today.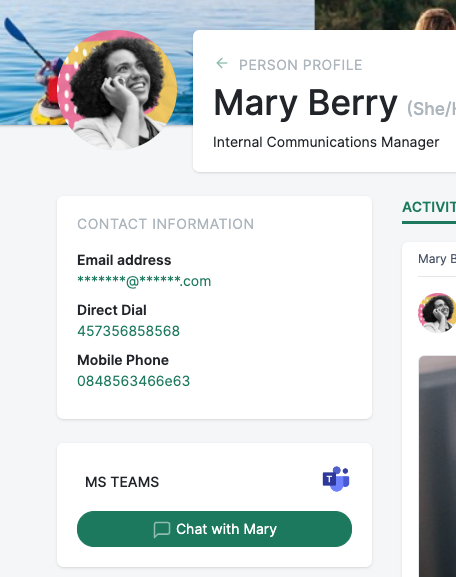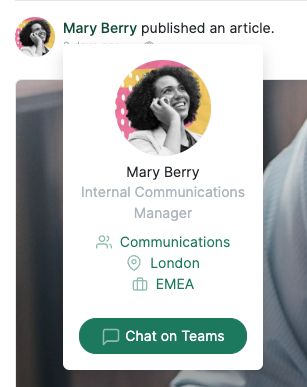 ---
Post Sharing
This integration allows users to share content from Workvivo to an MS Teams Channel, extending the reach of their content as well as raising awareness of the Workvivo application as users will be redirected to Workvivo from the MS Teams post.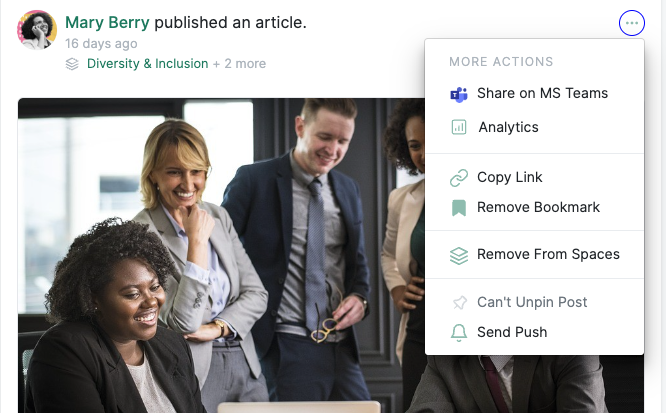 Setup
To implement MS Teams sharing we require a client to create a 'Webhook URL Connector'.
A Webhook Connector needs to be created on each MS Teams Channel that wish to allow sharing from Workvivo.
Below are the steps required to configure this in MS Teams:
Set up a 'Connector' - Select Teams tab in MS Teams, click on the option button that can be found in the menu dropdown of a channel, and select 'Connectors'

Configure an 'Incoming Webhook' Connector -

Once you select Connectors on step 1, you will see a list of available Connectors.

You need to find the 'Incoming Webhook' Connector.

Click on Configure button on the Incoming Webhook

Once you click configure, you will be asked to provide:

Name for Incoming Webhook: Recommend to name similar to the Space in Workvivo *(The name provided here will be what will appear in the chat in MS Teams when someone shares a post from the Workvivo platform)*

Upload Image: For the Webhook Connector you will have the option to upload an image. Workvivo logo is recommended

When the name and image are provided, just click 'Create'

A screen will then open, here there will be a URL that has been created for this Webhook - copy the URL provided as this is what is required for the Workvivo application.

Enable MS Teams Integration parameter in Workvivo

Within Space Admin you will need to enable MS Teams Integration for the selected Workvivo Space

Once this option is enabled, you will have to paste the Webhook URL which was created in Step 2

You will be required to do this for each Workvivo Space that you wish to integrate to the MS Teams Channel

This will active the integration between the Workvivo Space and the MS Teams Channel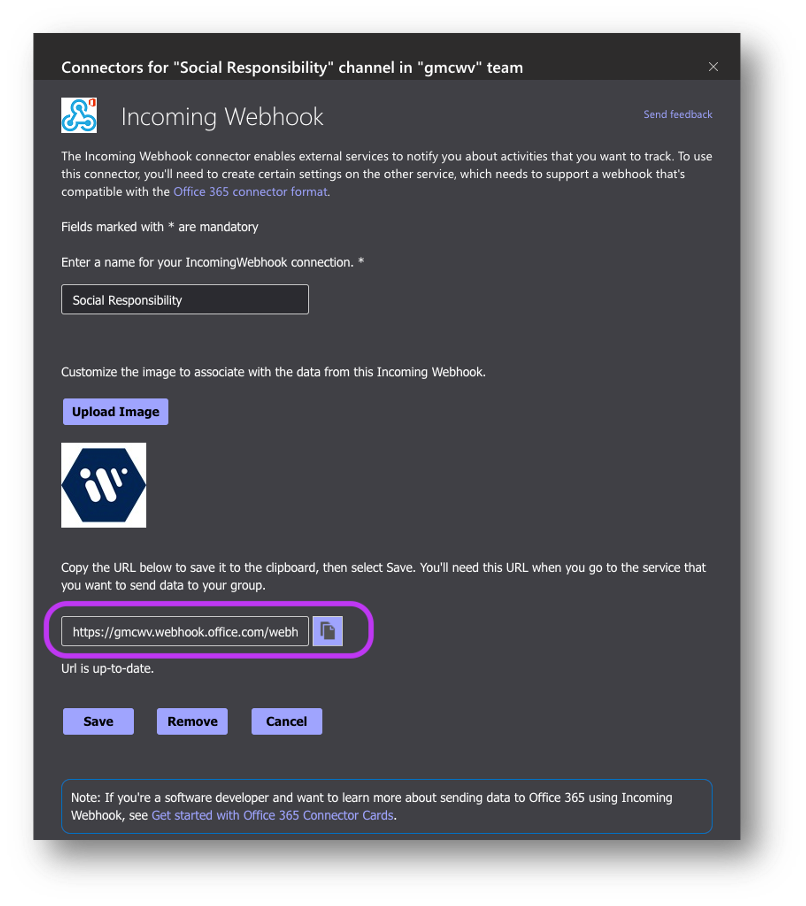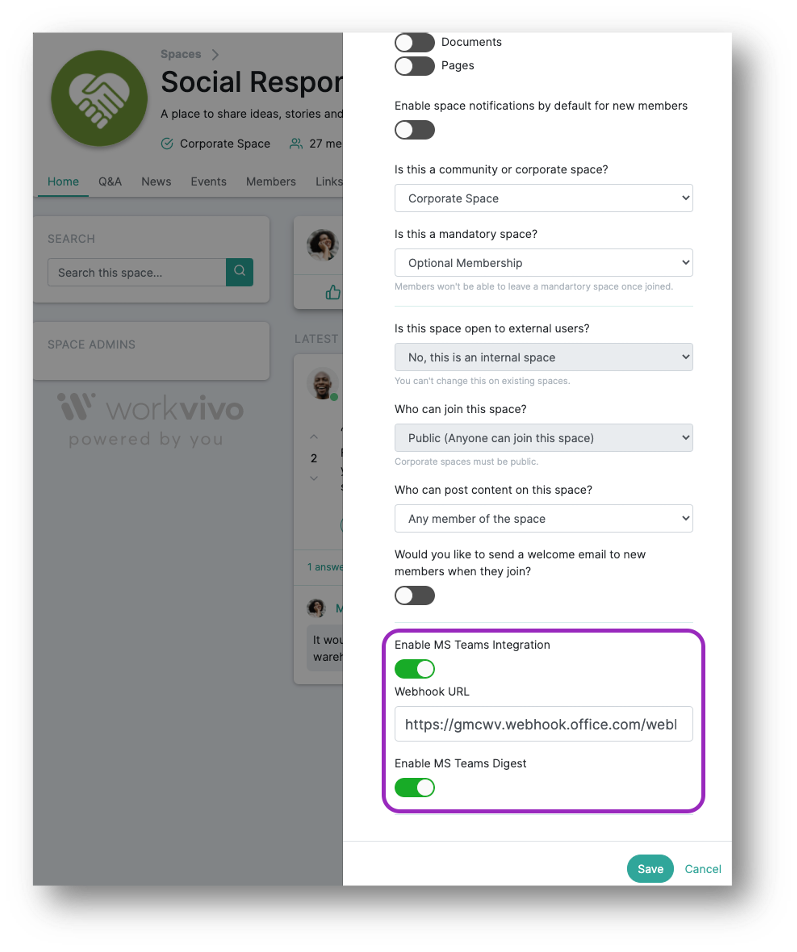 User Sharing Experience - Global Post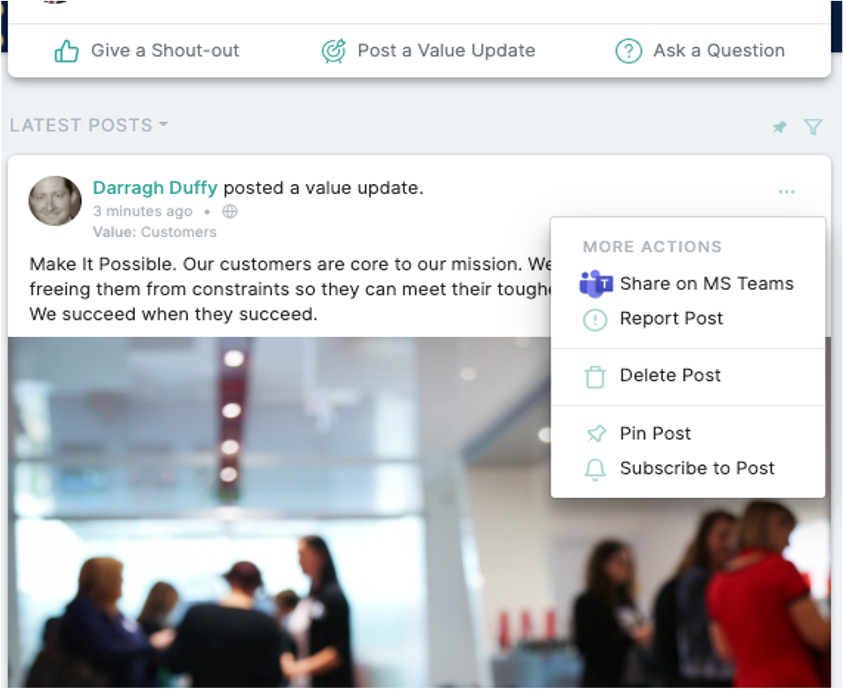 User Sharing Experience - Space Post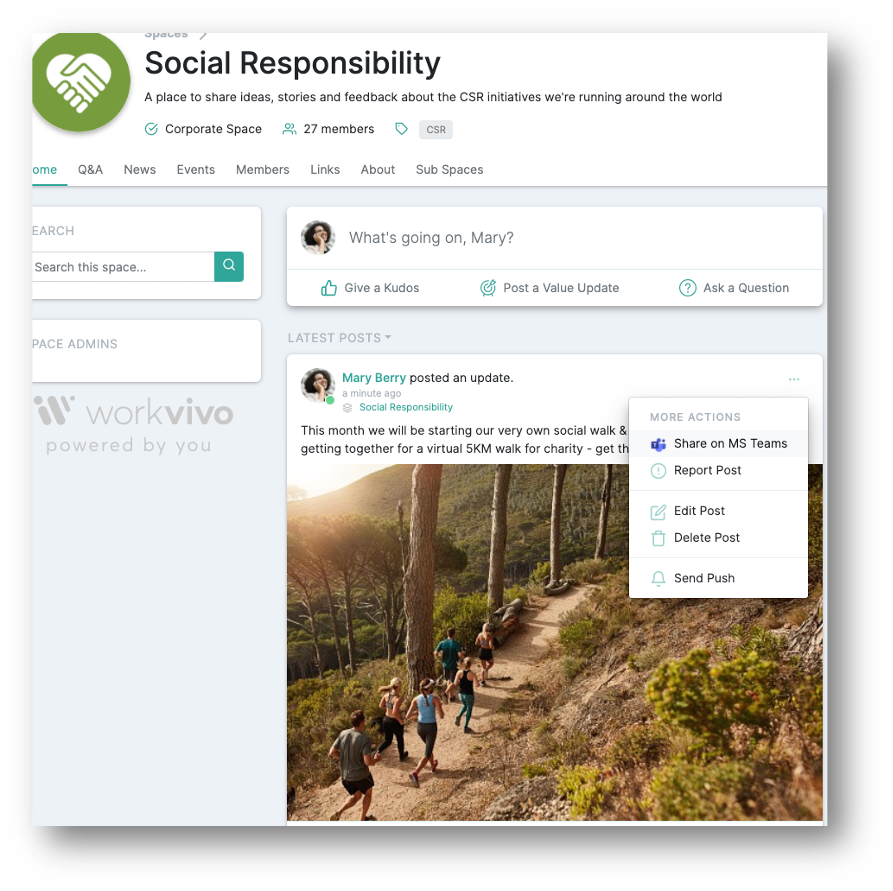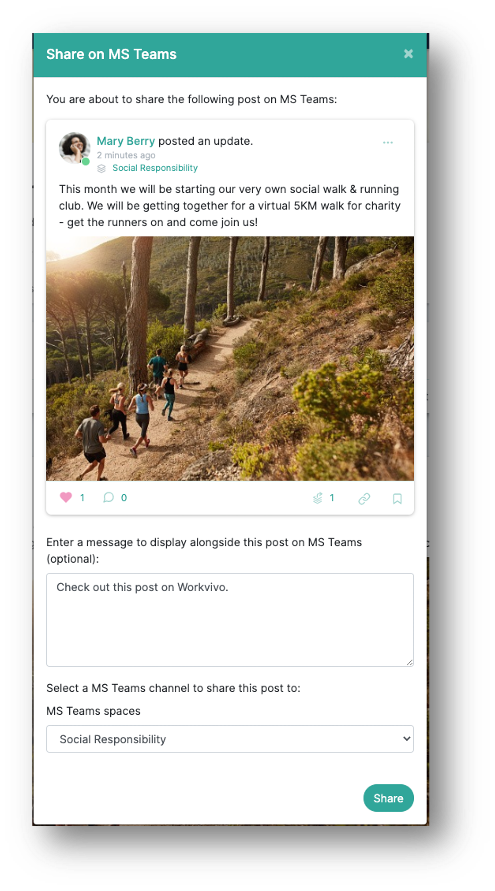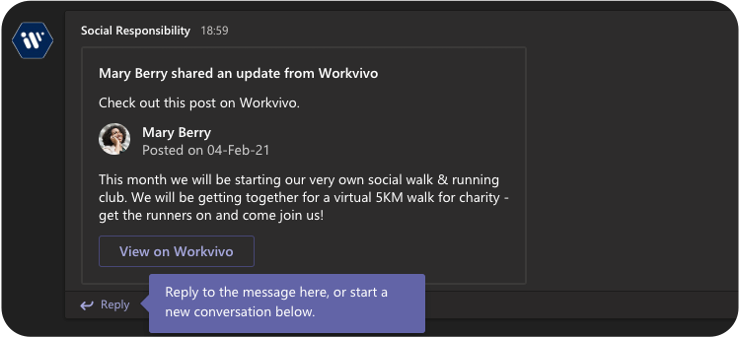 ---
Automated Sharing – Workvivo Digests
This integration can also be configured to automatically send weekly and daily digests from Workvivo to Microsoft Teams.
These digests can be configured at a Space level and will automatically send a summary of top posts, news articles, upcoming events etc. into a Microsoft Teams Channel.
This will keep users of MS Teams up to date on the activity happening in the Spaces within Workvivo and it will help raise awareness and promote usage of Workvivo.
---
FAQs
User Access – Who can post update to MS Teams Channel?

Sharing is based on access to the Workvivo Spaces that have 'MS Teams Enabled' and Webhook URL Connector provided

What roles / permissions are required in MS Teams and Workvivo to setup the integration?

An Administrator in MS Team with access to configure a 'Connector' on the MS Teams Channel

Is the setup different for the mobile application?

No, the same setup applies, and access to the MS Teams mobile application is also required

Are images / videos / gifs supported with the integration?

Not currently. The text portion of the post / message will be shared to MS Teams with the image/video/gif left out

What device(s) are supported for the integration? i.e., web / mobile / iPad?

Chat feature is supported on Workvivo mobile application and on the web application

Sharing feature is supported on the web application only

Digests are supported on Workvivo mobile and web application

Is a Webhook URL Connector required for each MS Teams Channel to integrate with Workvivo?

Yes, a generated Webhook URL Connector is required for each MS Teams Channel which integrates to a Workvivo Space

Can any Space be linked to one MS Teams Channel?

Yes, any Space(s) in Workvivo can be linked to one or many MS Teams Channel(s)

Does the Webhook URL Connector and the Workvivo Space name have to match?

It is recommended to name the Webhook URL Connector similar to the Workvivo Space, so users can identify where the post is originating from

It is not mandatory to name the Connector the same as the text from the Workvivo Space

If you post an update to a specific Space in Workvivo, will this post be available to all MS Teams Channels?

Each post in Workvivo will have an audience, either a specific Space audience or a global audience

If the post is specific to a Workvivo Space, then the post will be only available to the corresponding MS Team Channel

If a post in has a global audience (no specific Space), the post will be available to all MS Teams Channels who have the URL Webhook Connector setup