Data Retention
Workvivo supports two policies for Data Retention
Removal of content and interactions for deactivated users
Retention of content and interactions under an anonymised profile (Alumni capability) for deactivated users
---
Policy 1 - Removal of Leavers' Content and Interactions
We take care to ensure that we do not store or maintain data that is not required by the Workvivo platform to provide its functionality. We generally do not delete data specifically unless requested to, or in the following events:
When a user is deactivated on the platform, their data is not immediately permanently deleted. The only reason for this is to allow for data to be restored in the event of a user being deactivated in error. Administrators have the option of permanently deleting a user once they have been deactivated. Otherwise, inactive users are automatically permanently deleted after 30 days of becoming inactive.
Where a customer has decided to cancel their Workvivo account, their account enters an "inactive" state. If the customer decides to change their mind, it can be reactivated again within 30 days of becoming inactive. On request, we can forego this grace period altogether and permanently delete all data as required.
Note: You can choose to increase the retention period for your organization e.g. 60 / 90 / 180 days
What data is deleted when a user is deleted?
We delete all data relating to the user in question that is specifically tied to that user, which comprises:
Their account credentials (email, password, user identifier, and any login related data such as session credentials, forgotten password reset tokens, API access tokens and so forth).
Their profile information (first name, last name, job title, hire date, contact information, etc).
Any media uploaded by the user – images, videos, documents, etc.
Any updates, goal updates, shout-outs posted by the user.
We disassociate any shout-outs that the user received from the user.
Any likes and comments made by the user.
Usage tracking data – article views, API requests, etc.
All key system data related to the user – notifications, permissions/roles, delegated user associations, anniversaries, welcomes, team associations, external integrations such as connected Twitter accounts
The following non-personally identifiable data is retained after the user account is deleted:
News articles and events posted by the user – we disassociate the user from these items but we do not delete the items themselves
Survey responses – to ensure the integrity of survey reporting data and metrics we do not delete response data. We always protect the anonymity of users in the survey reporting and analytics functionality in the platform. However in order to be able to facilitate features like anonymous feedback conversations we do have a system-level association between the response and the user. When the user is deleted, we also delete this association.
---
Policy 2 - Retention of Anonymised Content and Interactions (Alumni)

Instead of deleting leavers and removing their content, there is an alternative policy you can choose for your organization - the 'alumni' feature.
This is where the user is deactivated but all their content remains visible on the platform under an anonymised profile.
If you choose to enable the Alumni feature, you can provide the Firstname Lastname and an avatar.
Examples:
Former Employee
Alumna User
Previous Employee
Company Alum
Before: Chad is an active user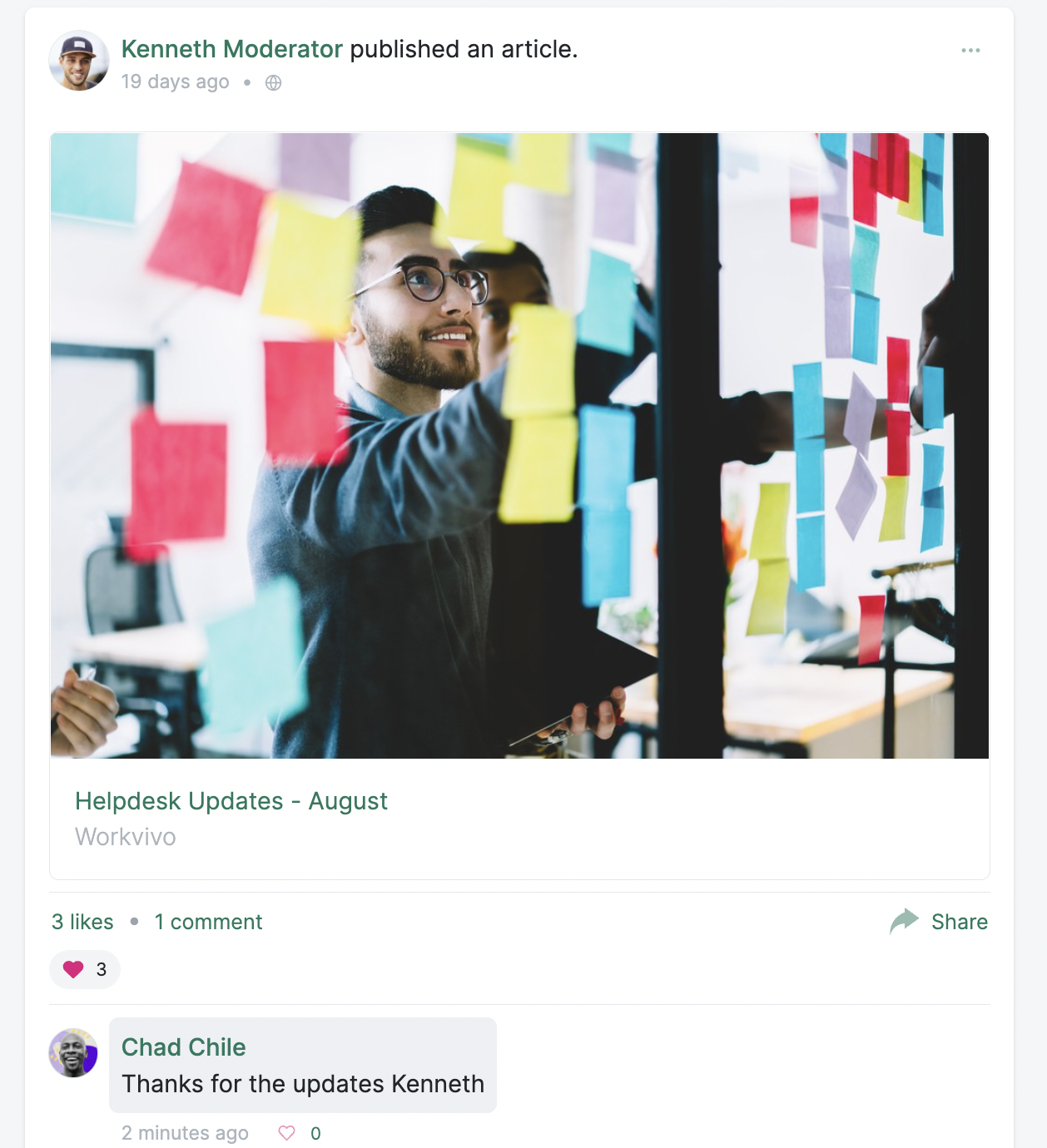 After: Chad is a leaver, he is deactivated as a user but his content and interactions remain.