Welcoming New Joiners and Celebrating Work Anniversaries with automated posts on the global activity feed.
If you're able to provide employee Hire Dates as an attribute for each of your employees, there is different content that the Workvivo system can generate automatically. These are:
Welcome Wednesday posts - a weekly post mentioning new joiners

Work Anniversary posts - a post announcing a person's work anniversary
Workvivo requires the HireDate to be in the format YYYY-MM-DD.
---
Device(s): Desktop and Mobile
Roles / Permissions: N/A, these are automated from the Workvivo system
---
Work Anniversaries
Once you provide the hire date, confirm the anniversary period you would like to celebrate and your Workvivo point of contact will configure this for you. This could be every 1 year of service or every 5 years of service for example.
This is what a work anniversary post will look like:

Note: Anniversary posts can be set-up for any number of years. However, it's important to note that they will then be posted in multiples of that year.
For example:
If anniversary posts are set to five years; a post will go out for each users' 5 year anniversary, 10 year anniversary, 15 year anniversary, 20 year anniversary etc.
If it's set to two years; posts will fire for their 2 year anniversary, 4 year anniversary, 6 year anniversary, 8 year anniversary etc.
If it's set to one year, anniversary posts will go out for every single anniversary period. E.g. 1 year, 2 year, 3 year, 4 year anniversaries etc.
---
New Joiner Posts
If hire dates have been provided for your users, the system will check who has a hire date within the last 7 days and include them in the Welcome Wednesday post. The post is issued at 7am GMT on Wednesdays.
For example, Mary's Hire Date is Monday 23 March 2020 (2020-03-23) and she was set up on Workvivo on the day she joined. 23 March is within 7 days of Wednesday 25 March so Mary is included in the Welcome Wednesday post.
This is an example of a Welcome Wednesday post: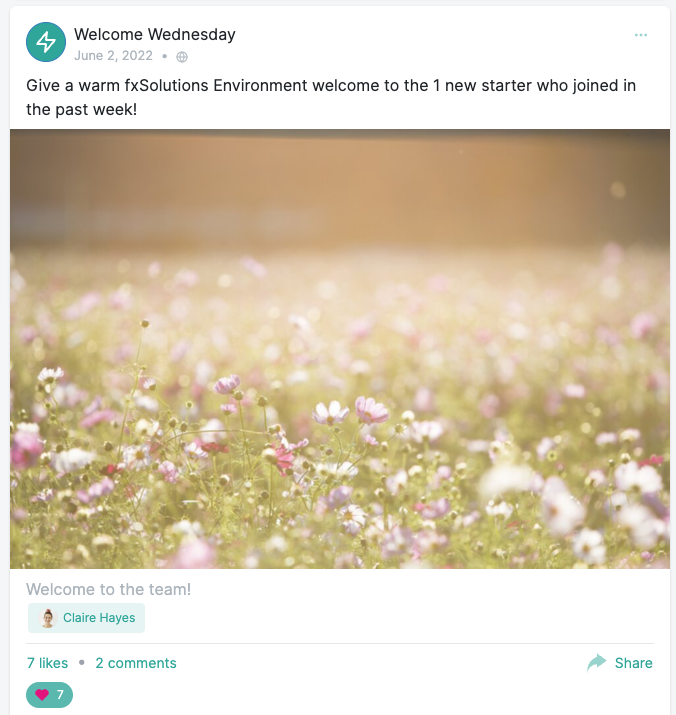 If you are unsure why someone didn't appear in the Welcome Wednesday post, check when they were set up on the Workvivo system through your user provisioning process. Sometimes there can be a lag between a new joiner being setup on your HR System and the file upload into Workvivo for example.
If Mary's hire date is 23 March but she was not set up on the system until 4pm on Wednesday 25 March, Mary will not be included in the post as she was setup after the system checked for users with hire dates within 7 days at 7am GMT. Mary will also not be included in the next week's post as 1 April is more than 7 days from her Hire Date of 23 March.
---
Birthday Posts
Workvivo can also issue Birthday Posts, marking employees' birthdays, if their Date of Birth is provided in the provisioning process.
Workvivo requires the DateOfBirth to be in the format YYYY-MM-DD.