You can integrate with Google Workspace, Microsoft 365 and SharePoint productivity suites directly from Workvivo
Organizations can use several different applications to store and manage company information. As part of our mission to be the centre of gravity for employee communications, we want to make it easier for your colleagues to find that information directly from Workvivo, helping to improve productivity and save time.
With our integrations into Google Workspace, Microsoft 365 and SharePoint you can access your drive, email and calendar information directly in Workvivo.
---
Device(s): Desktop & Mobile
Roles / Permissions: General Users
---
Enabling the integration
As an Admin you can control what apps are available to connect to from the admin settings.
These will all be on by default when the feature is enabled for the first time. If you do not want Gmail available for example, you'll need to manually disable it.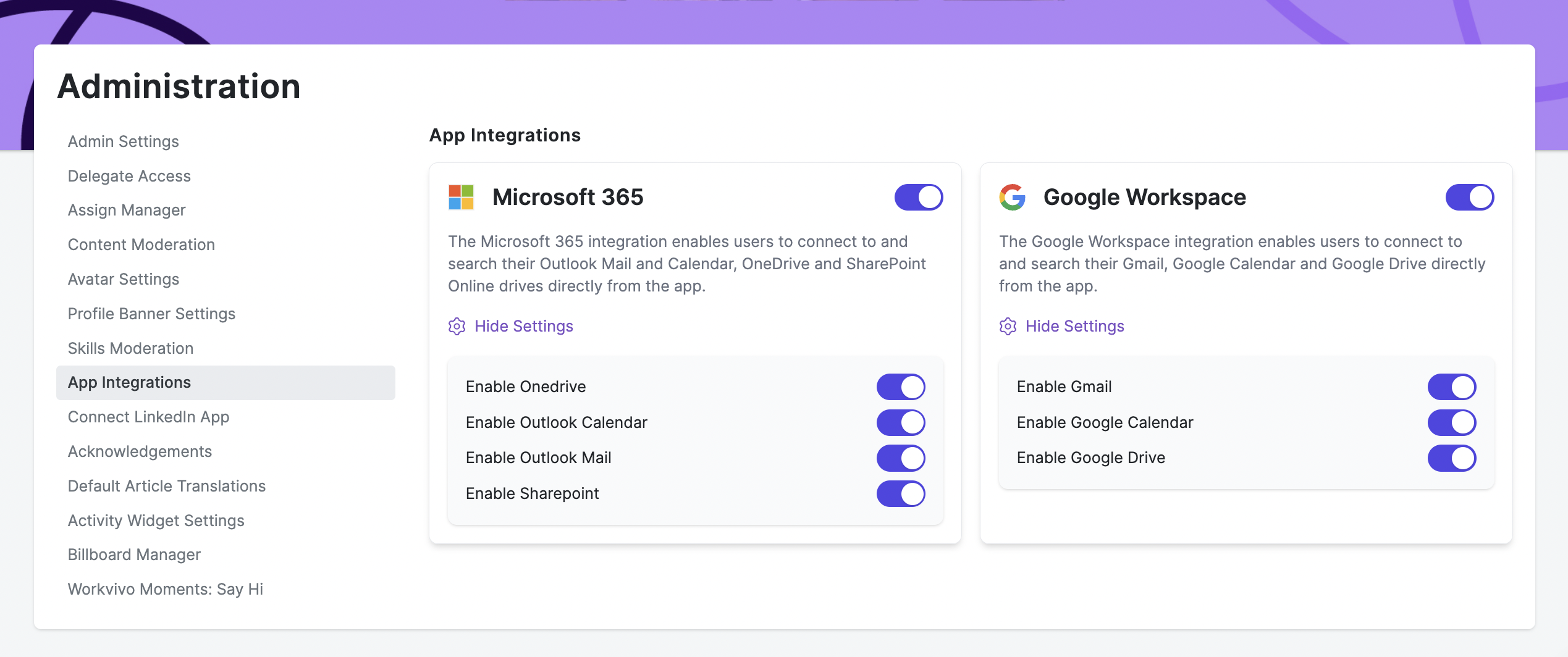 If an entire suite or individual feature is disabled at an organization level, users will not see it in 'Resources' on the top navigation menu or in search. If turned off, integrations also won't appear in the "Connected Apps" menu for users.
---
Connecting
You will first need to connect to the productivity suite of choice.
Navigate to your profile avatar and select "Edit your Profile"

Click "Connected Apps"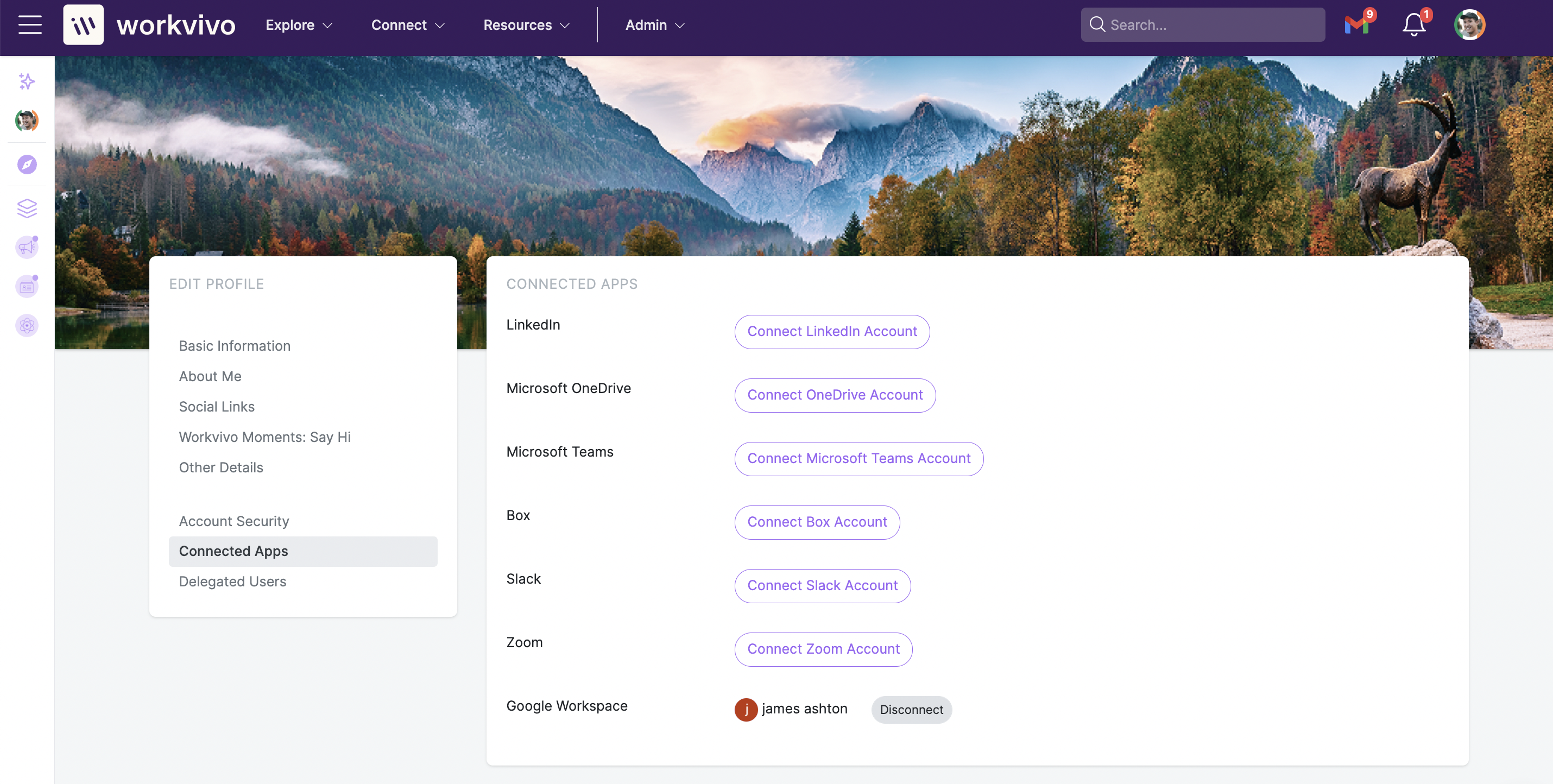 Click the "Connect" button beside either Google Workspace or Microsoft 365.

This will bring you through an authentication process where you will be asked to log in to your account

After logging in, you'll be directed back to the "Connected Apps" screen

You will see that you are now successfully connected


Google Workspace or Microsoft 365 will appear in the 'Resources' tab on the top navigation bar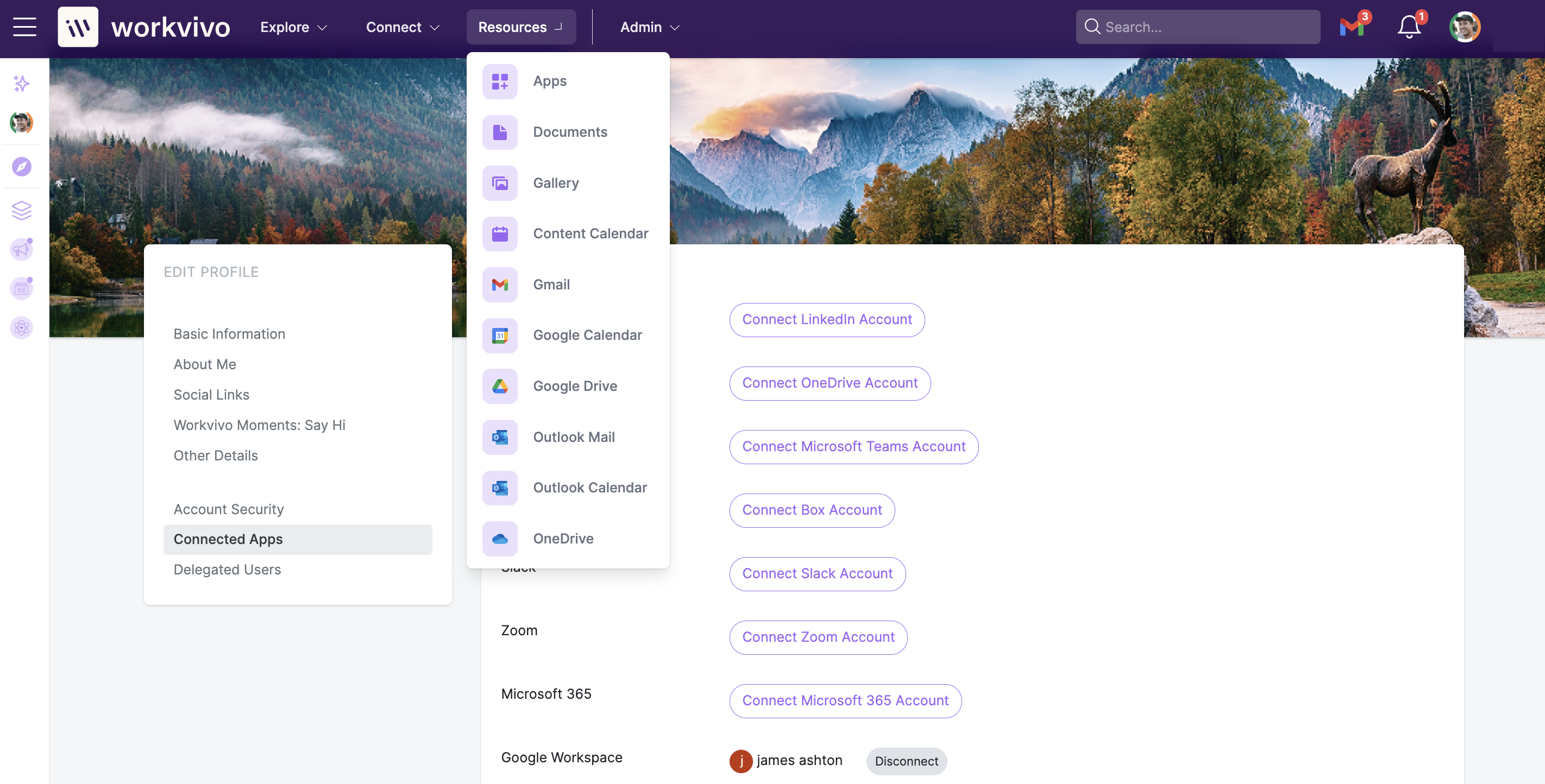 ---
Google Drive
Directly from Workvivo, you have the ability to:
Search for a file stored on Google Drive

Open a file stored on Google Drive

Preview a file stored on Google Drive
Please note that some file types cannot be previewed. If this is the case, it will prompt you to download the file in the required format.
My Drives - the list of drives displayed on Workvivo matches the drives you have access to on Google Drive

---
Workvivo Search
Through Workvivo's system search, you can search for files across your connected Google Drive and One Drive (including Sharepoint). Filters can be used to search for specific content within each integration.
Typing in a search term without any drives selected will search across all connected drives and internally within Workvivo. You can refine your search results by clicking on the filter for the drive. You can also pre-select your filter before searching, limiting your search to just one productivity suite.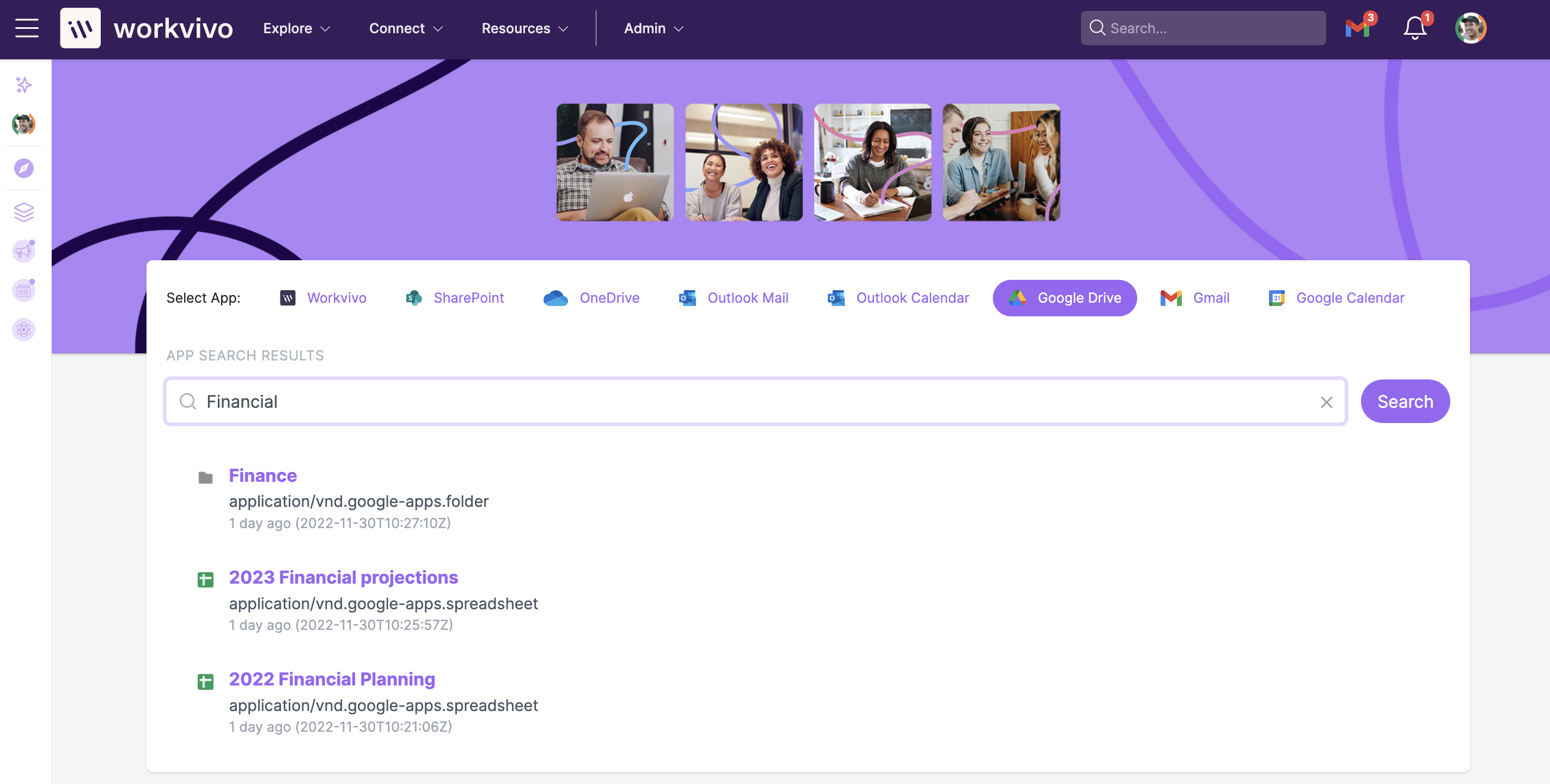 Filters for all product suite integrations will be available in Workvivo search. If you select one of these filters and you're not connected, it will prompt you to connect.

Note: Search functionality across drives is currently only available on desktop, this will come to mobile in the near future.
---
View Calendar
Clicking on an Event will open the event details in another window, from here you can:
Open the event directly in Google/Outlook Calendar

Copy a URL link to the event to share elsewhere

Join a virtual meeting directly

Only events scheduled for today or tomorrow are displayed in Workvivo. New events will appear on Workvivo shortly after their creation via your calendar app or acceptance via email.
The list of calendars displayed on Workvivo matches the list underneath "My calendars" and "Other calendars" on Google Calendar or Outlook Calendar, with the exception of Reminders and Tasks.
Note: Events adhere to the timezone you have set on Workvivo.

---
View Email
Once connected, you will be able to navigate and view your email account. Folders and labels will also be copied over to allow you to filter the content.
New emails will appear in the same mailbox on Workvivo as they appear on your email account
Note: A red bubble icon will also appear on the Mail icon in the top navigation bar when a new email is received (Gmail only)
You will also be able open the email directly from this screen by selecting "Open App"
If you're already logged into your email on the open browser, clicking on an email will open Gmail or Outlook in a new tab

If you're not logged in to Gmail or Outlook on the open browser, clicking on an email will open a new tab asking you to log in