With Workvivo's External Spaces, you can invite external contributors to receive and share information and content with your teams through a dedicated External Private space on Workvivo.
---
Device(s): Desktop
Roles / Permissions: Admin, Space Manager
---
External contributors
External contributors are invited to the platform using their email address. They will only have access to the content of the space they are invited to so everything else remains confidential.
We have seen some great examples of external spaces across our customers. Here are just some of the use cases:
People development / leadership training spaces where a third party / coach is invited to the space

New joiner space - keep new joiners engaged before they start by sharing a welcome video from your CEO, an explanation of your culture and values, FAQ docs, an overview of their first day and what to expect

Canteen space - external caterer share menus and photos of the specials each day

Health & Fitness Advisors sharing tips and hosting challenges

Community space for Higher Education or Government Admin bodies - sharing events, job vacancies, appointments and bereavements with members of the wider community

External provider or contractor engagement e.g. outsourced call centre - the customer wants to make these people feel like a part of the culture, receive kudos from leaders and participate in campaigns

Field technical support space - information and materials in one place to support field teams - comms on device or app updates, workflow mgmt. system changes, system downtime alerts, support to resolve login issues, etc.
---
Setting up an External Contributor Space
As a System Admin or Space Manager, you can set up an external space.
Go to Workvivo on desktop and from the navigation bar, click "Spaces"

From the Spaces section, click "Create New Space" on the left-hand side

The Create Space window appears and from here you can add details including Name, Description, Categories

Choose Community Space

Select "Yes, external users…"

The space is automatically changed to be a Private space

Choose who can post to the space – all members or just owners, space admins and moderators

Once created, you'll see that the space has an 'External' label and a yellow border around the Space Icon.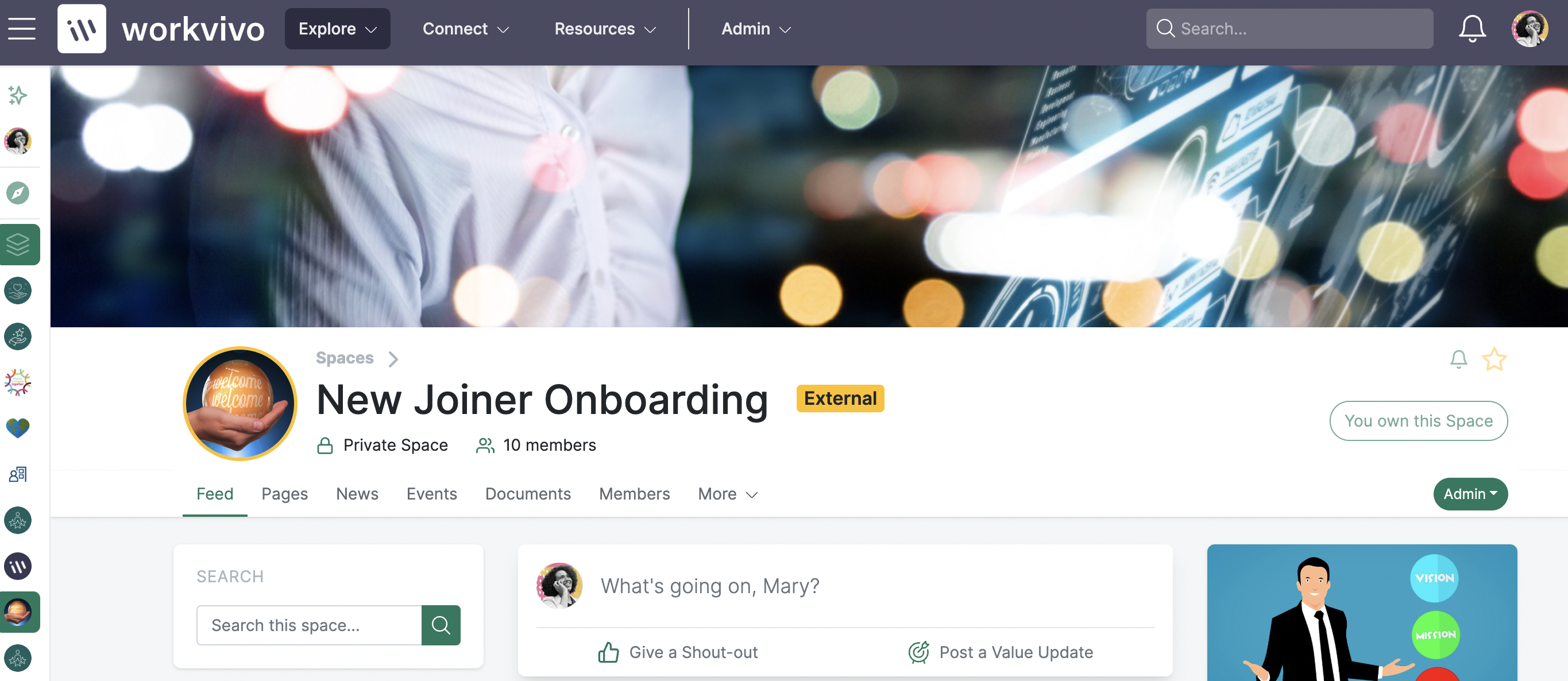 ---
Inviting External Contributors to the Space
As a Space Owner or Space Admin, you can invite external contributors to the space.
Open the space and in the Space Navigation section, select "Invite Members"

Select the External Contributors tab

Add email addresses (one per line)

You can customise the message they receive in their invitation

Click "Send"

External contributors will receive an email inviting them to the space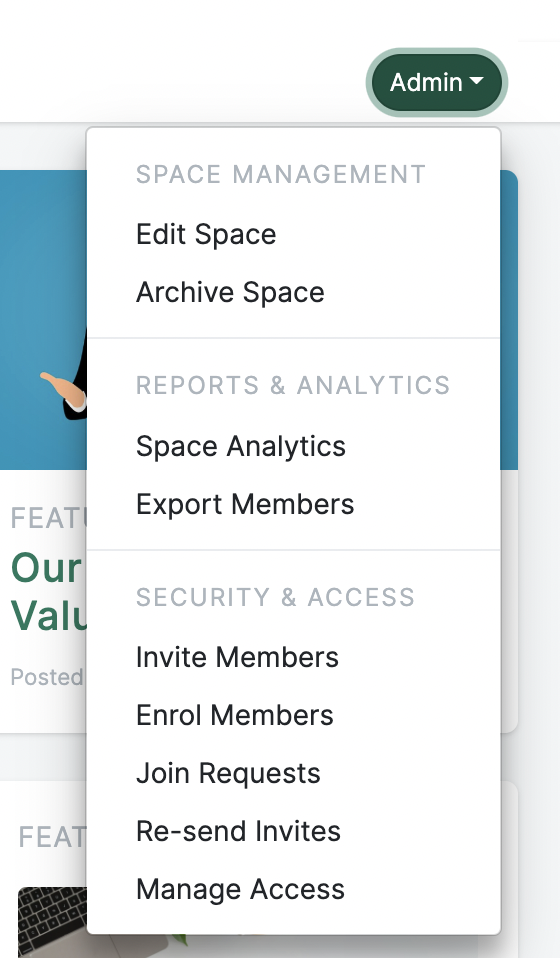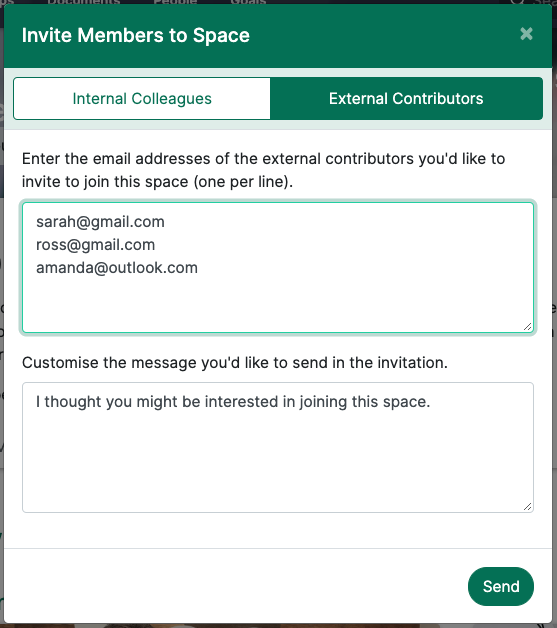 ---
Removing an External User
If an external user needs to be removed from a space for any reason, the Space Owner or Space Admin can open the Manage Access section, search for that person and click "Remove".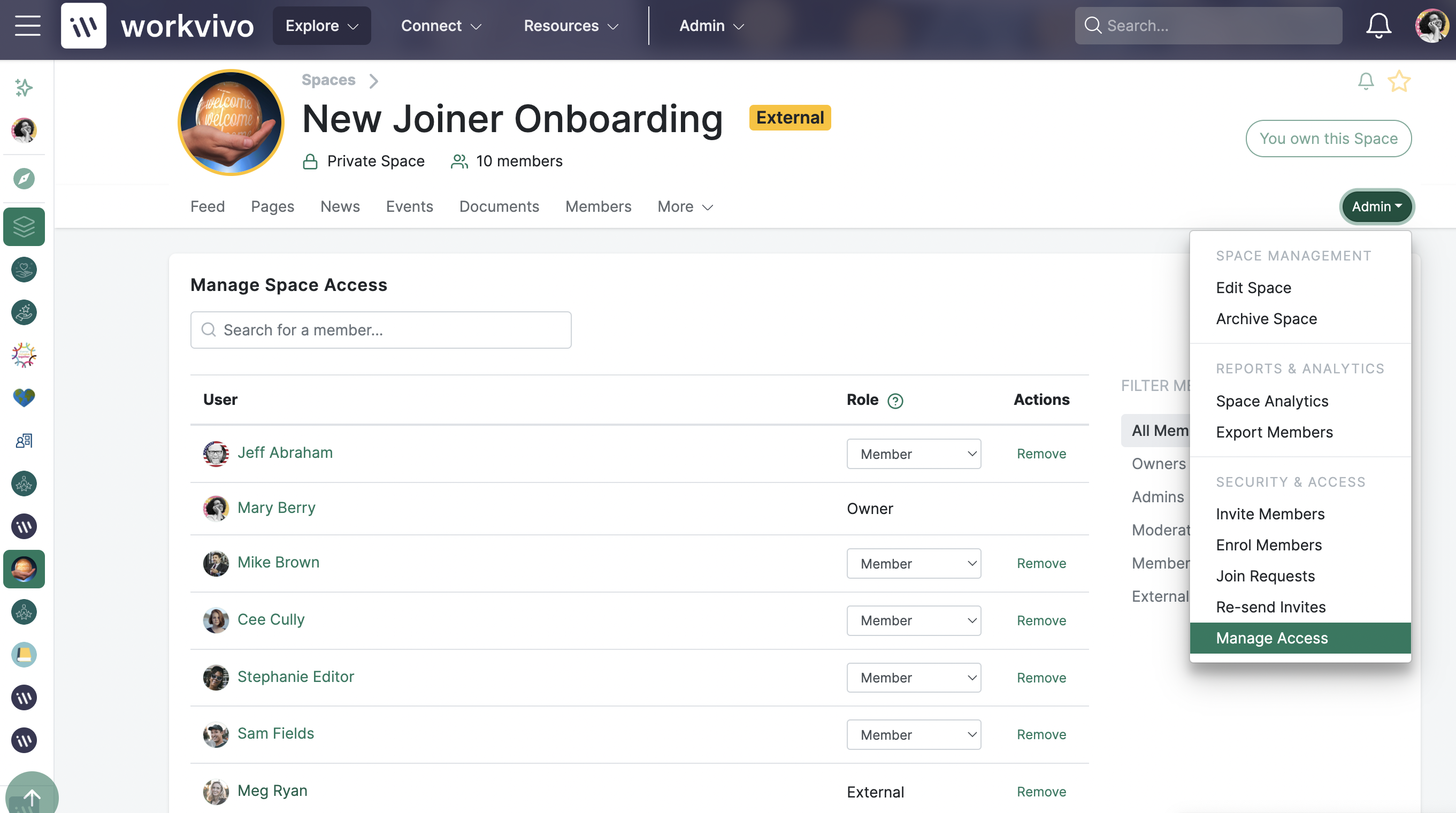 If you were unable to answer your question from reading this article, please contact your Customer Experience Manager.