Workvivo TV is Workvivo's in-built digital signage solution which enables customers to amplify the reach of their internal communications by displaying Workvivo content on screens across their organization.
Sitting alongside web and mobile, Workvivo TV is the third channel of the complete communications platform. It is the perfect solution for ensuring that your most important communications reach as many employees as possible and ideal for organizations with many frontline employees.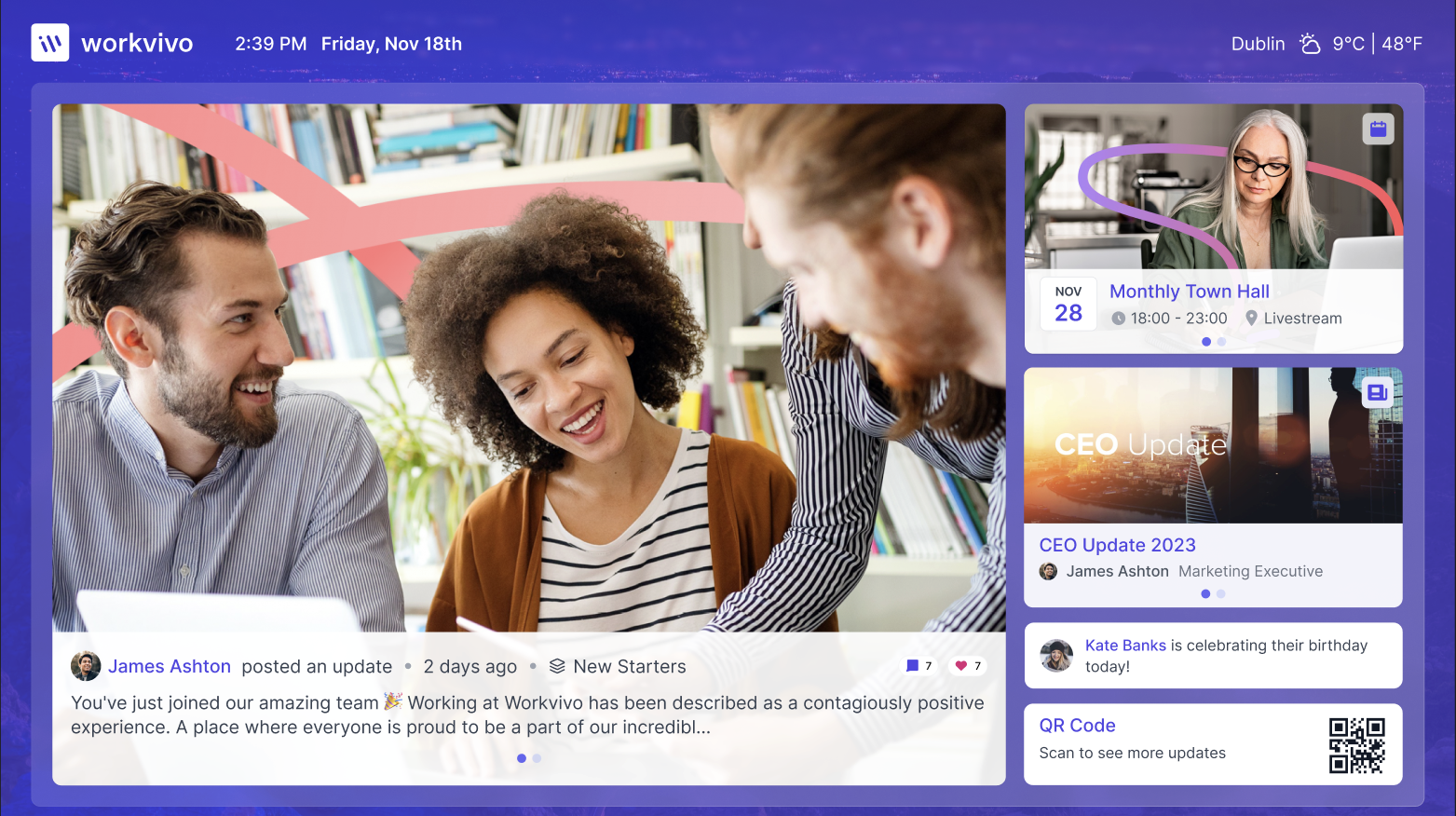 Note: Workvivo TV is an add-on feature to the business Workvivo package. To learn more, please reach out to your Workvivo CX Manager or submit a request on our Help Center.
---
Device(s): Desktop for setup, TV screen for displaying (see requirements below)
Roles / Permissions: System Admin, or Dashboard Manager
---
Please note for a non-Admin to authenticate Workvivo TV, they must have the TV Dashboard Authenticator role
---
Viewing your Workvivo TV Dashboards
What you see on screen is referred to as a Dashboard. Dashboards are highly configurable and easy to set up.
Click the "Admin" tab in the top navigation bar.

Click on "Workvivo TV"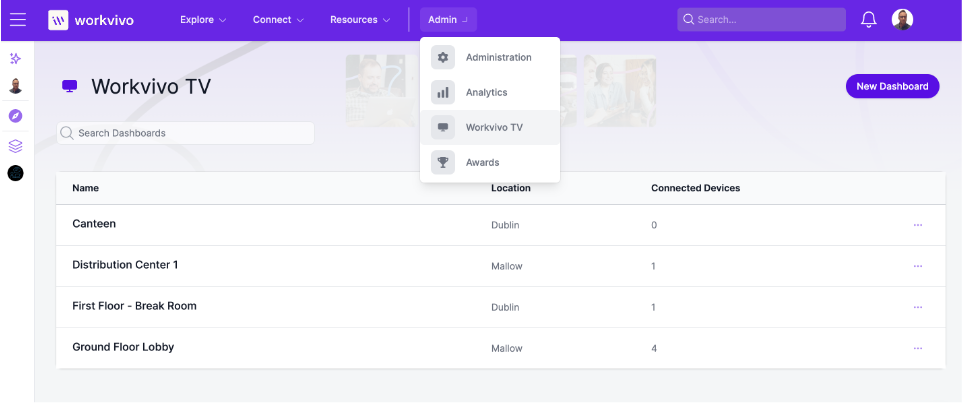 Creating a Workvivo TV Dashboard
To create a new Workvivo TV Dashboard, simply click the "New Dashboard" button on the main screen, this will take you to the "Dashboard Details" screen.
Dashboard Details:
In the details tab you will have the ability to modify the appearance of your dashboard. Configuration options include:
Overview
Dashboard Name

- The name given to the dashboard (example: Canteen).

Timezone

- Set a timezone for your dashboard, all content on the screen will reflect that timezone. This is important when advertising upcoming global events such as town halls.

Weather Location

- Display weather information for any town or city location, this will display the current weather conditions and temperature on screen.

Language

- The language selector allows you to set a language for each dashboard ensuring that everyone can enjoy the same great content in their local language.

Design
Background Color

- The color picker allows you to match the color of the dashboards to your exact brand color by entering its HEX code. Alternatively you can select from a choice of 10 pre-configured colors.

Background Image

- Upload a background image to further reinforce your company's brand.

Display Options
Depending on the content you want to broadcast to your screens you have the ability to hide Likes & Comments as well as hiding when the content was posted.
---
Connecting a device to Workvivo TV
To connect a device to your Workvivo TV dashboard:
Enter the following URL:

https://yourcompanyname.workvivo.com/tv
Note: if your Workvivo domain ends in .us instead of .com - use

https://yourcompanyname.workvivo.us/tv

instead of the above.

Substituting your own Workvivo URL here

When the URL loads, an authentication screen will appear

There are two ways to authenticate:

QR Code

: Simply scan the QR code using a mobile device, preferably with the Workvivo App installed.

Security Code

: Follow the link to the Workvivo website and manually enter the six digit code.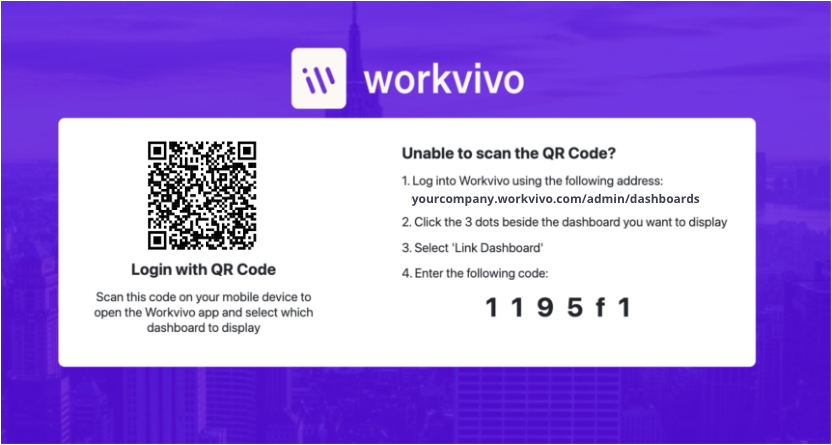 Login with QR Code
Provided you have a QR scanner installed on your mobile device, open the QR Scanner and point the device's camera at the TV screen.

If you have the Workvivo App installed on your device, it will automatically open.

If you do not have the Workvivo App installed on your device, your web browser will open and you will be directed to log into Workvivo.

Providing you have the appropriate permissions, you will be presented with a list of available Workvivo TV dashboards.

Select the one you want to display.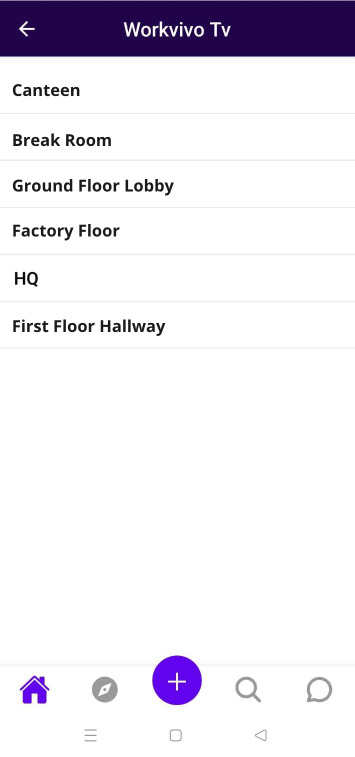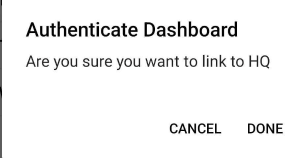 The Workvivo TV Dashboard will now display on the screen.
Login with Security Code
If you decide not to log in using the QR code method, you simply need to enter the URL on screen which will take you to the Workvivo TV dashboards admin screen

Click the three dots on the dashboard you wish to connect to and choose the "Link Dashboard" option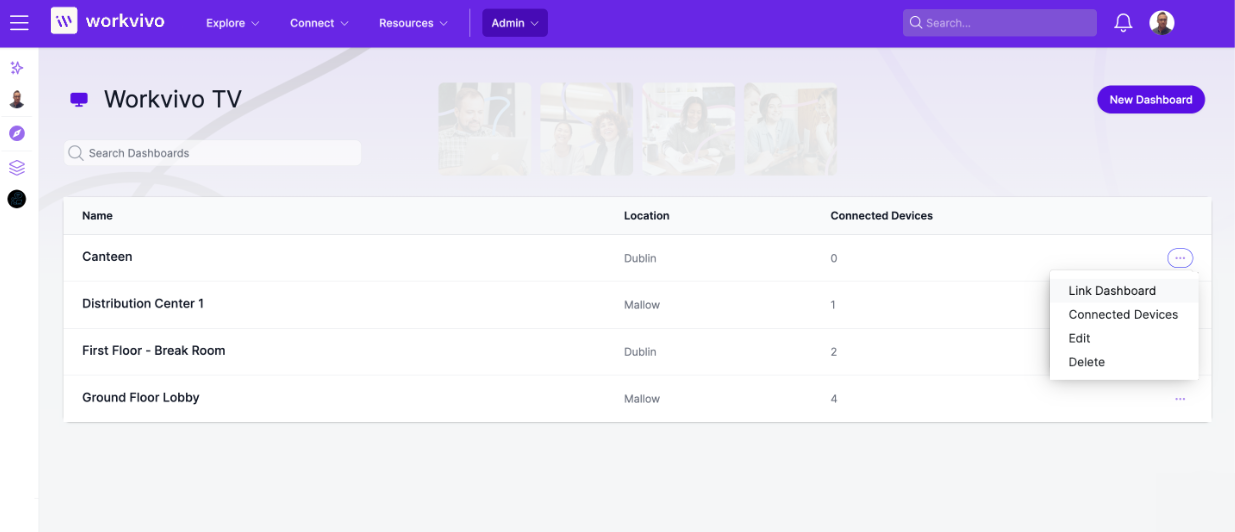 You will be prompted to enter a 6 digit code, this is the code which is currently displayed on the screen opposite the QR code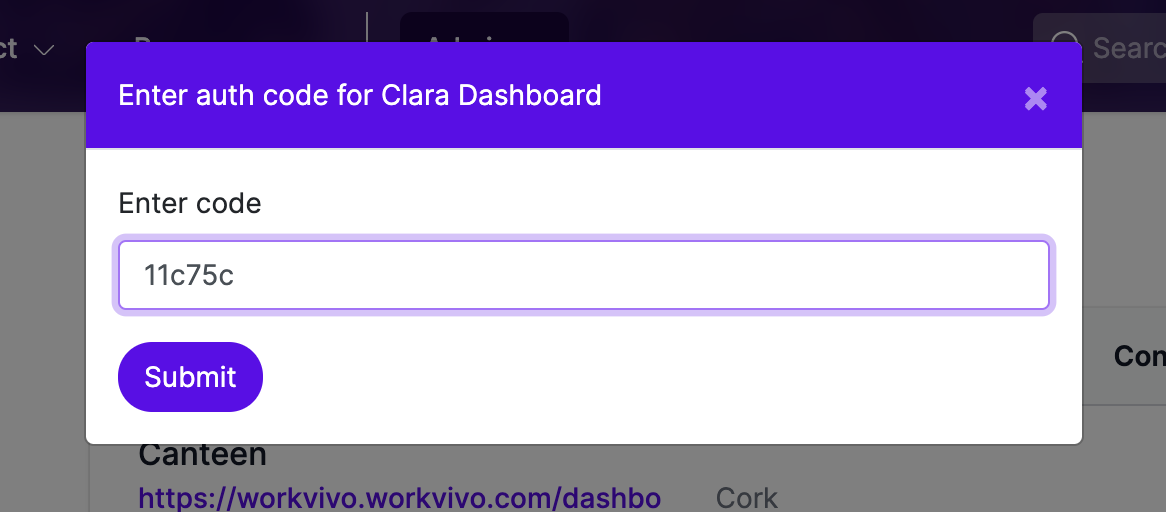 Once the code has been entered, the selected dashboard will display on screen.
Trouble Shooting
Cookies - In order for Workvivo to display on your smart TV, you must ensure that Cookies are enabled. All devices are different, but this is typically controlled via the TV's settings menu. If you do not have cookies enabled, you will be presented with the following screen: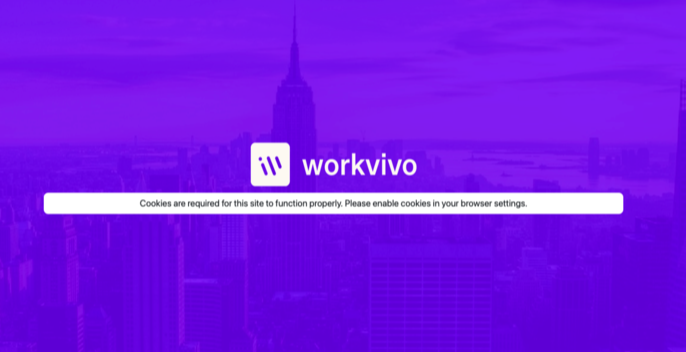 Browser - If available it is advised to use incognito mode to avoid any caching issues.
Please Note: Some older devices may not support cookies and therefore will not be compatible with Workvivo TV.
---
Connected Devices
The connected devices table is very helpful for managing Workvivo TV at scale. The table displays information such as:
IP address of the device

Date of first connection

Last active date

Connection status
for each physical device displaying that particular Workvivo TV Dashboard.
By default the name of the dashboard will be set by the device and may contain identifiable information such as the device make and model or the browser information.

It is recommended that you rename each connected device to something that makes them easily identifiable. You can do this by clicking on the three dot icon and selecting the "Rename" option. An example of a good name could be: "Samsung TV in Dublin Reception".
Should you ever need to revoke access to a specific device you can do this easily by clicking on the three dot icon and selecting the "Revoke Access" option.
Note: If a device has failed to connect to Workvivo TV in a week or more, the device status will display "Disconnected" and may require you to log back in on the device.
---
Timeout Threshold
Your device will poll Workvivo for updates every 30 seconds. If your device has not received data back within 7 days, the status for that connected device will be updated to "Disconnected" indicating to your administrator that authentication is required.
The 7 day limit is put in place to ensure that organisations can turn off their devices over the weekend or for an extended holiday period without the need to authenticate all devices on their return.
Please note that Workvivo is unable to advise you if a TV device is powered on or off.
---
To see how content can be added to Workvivo TV and for some Image Guidelines and Recommendations check out this article here
Templates can also be used to curate playlists of content, check out this article here to learn more.