Once the TV dashboard(s) have been created by following the steps outlined in this article, content can be added to display a tailored summary screen.
---
Content Selection
There are two options for displaying content on the summary screen:
Autofeed

- Allows you to display the latest updates, articles and events for a global audience or from one or more spaces/ teams. This is the perfect option for highly localized content or for showing content from special purpose spaces related to campaigns or competitions.

Manual Selection

- Allows you to handpick the updates, articles and events that are displayed on your screens. This is a great option for communicating the most important corporate communications across the organization, but must be maintained as content can expire.
1. Autofeed
To automatically feed content to Workvivo TV:
Click the Autofeed option (this is the default).

Select an audience. The audience can be global, and/or a combination of spaces and teams.

If selected a summary of the spaces/ teams will display on screen.

Exclude Accounts
If you are feeding content automatically from spaces/ teams but still want to have control over content from specific accounts, you can do this by listing the accounts to exclude. Note: This functionality is not available if using the manual content selector.
To exclude a user account:
Click on the "Select Exclude Accounts" input field

Select one or more user accounts to exclude

Click "Ok"

Review excluded accounts

2. Manual Selection
To manually select feed content to Workvivo TV:
Click the "Use Selected Content" toggle to on.

Click the "Add Content" button, a pop up will then appear.

There are two ways to manually add content to the summary template
Add Link - Allows you to manually paste a URL from anywhere in the application.
Select Content - Allows you to search for content.
Add Link
Select the content type. This can be an Activity Feed Item, Article or Event.

Provide a title, this will help you better identify the content.

Enter the URL, this must be content within Workvivo.

Provide an expiration date, content will remain on the screens until manually removed or the content expires.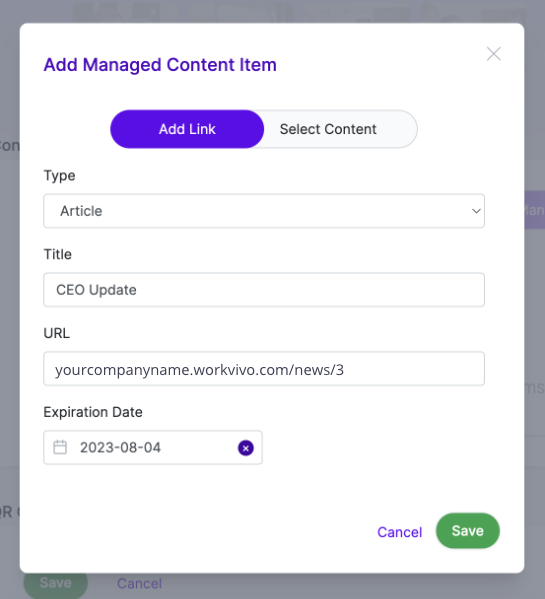 Select Content
Scroll through all the latest content chronologically or search for specific pieces of content.

View a preview of the content or click the view button to be taken to the update, article or event.

Click the green + icon
Once the + icon is clicked, the URL will be copied and automatically populated in the "Add Link" screen.

Fill out the remaining details including title and expiring date.

Click Save.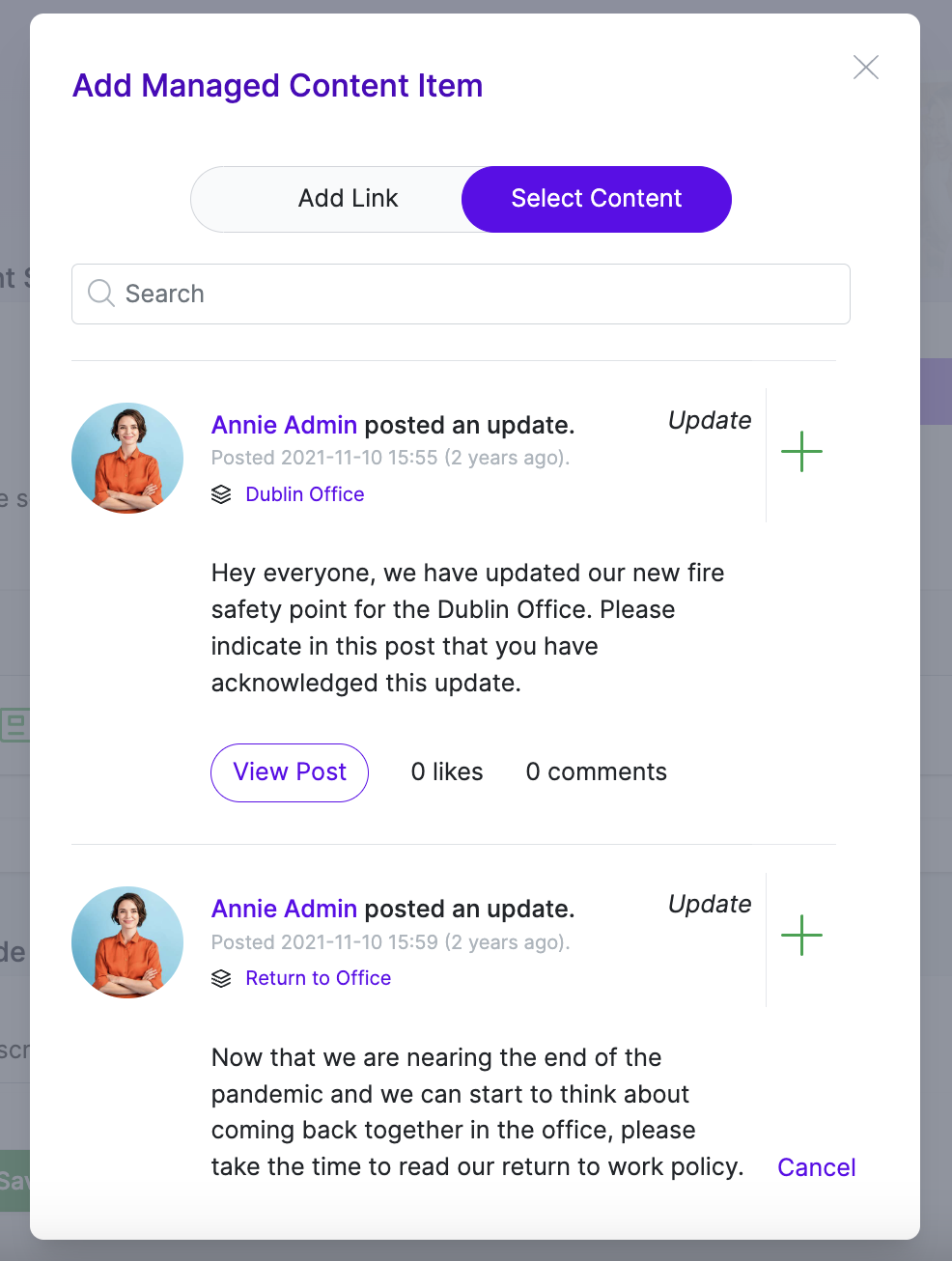 You can view all content, their status and expiration date from the content table. The type of content is easily identifiable by their icon.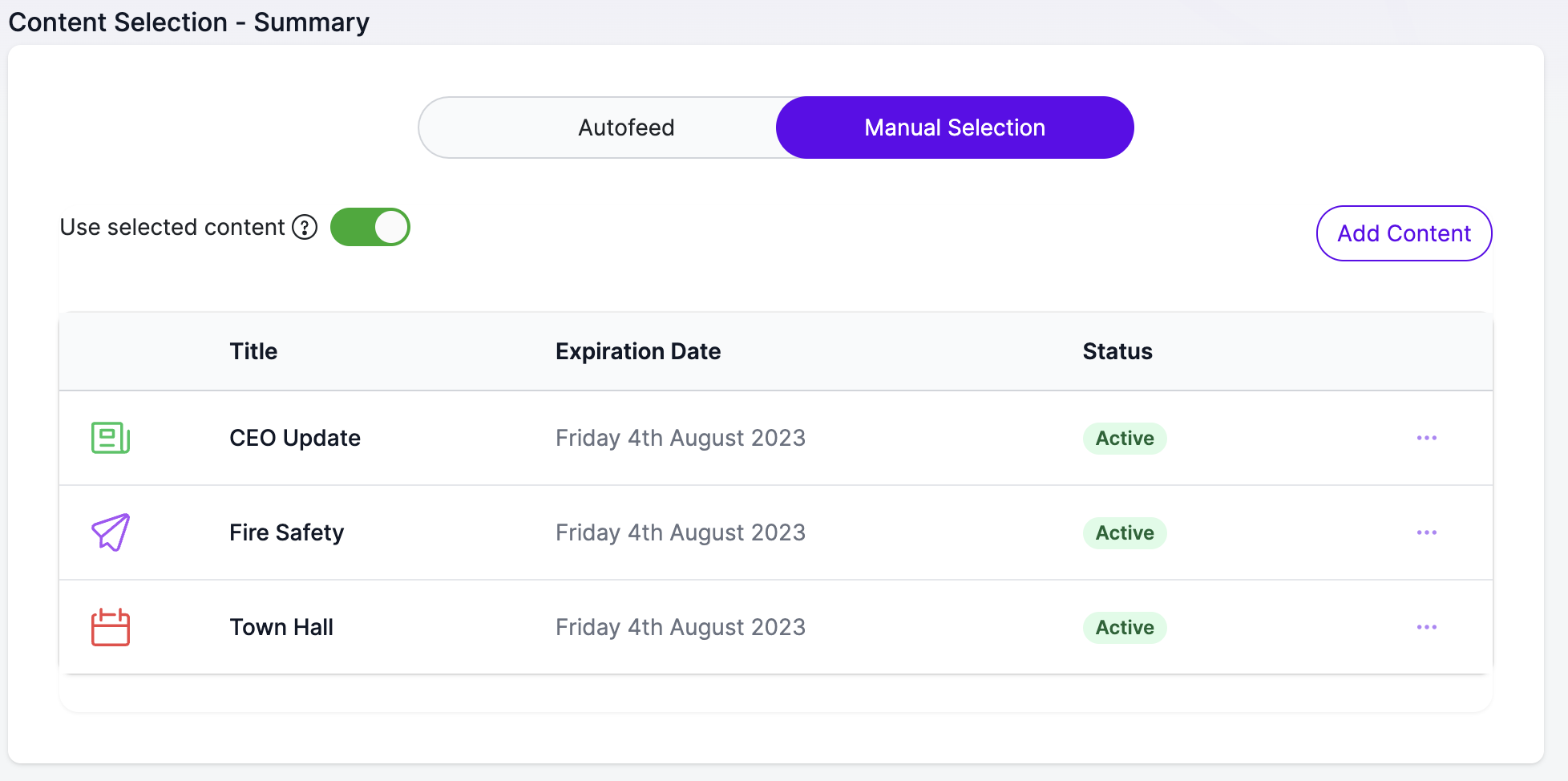 Please Note: A maximum of 5 activity feed items, 3 news articles and 3 events can be selected and displayed.
---
QR Code
The QR code is a powerful tool for promoting content and driving behavior. Common use cases for the QR code include:
Driving downloads of the mobile app

Running competitions

Linking to Awards nominations
To generate and display a QR code, provide the following:
Description (this will be displayed on screen to provide more content to the employee)

Link (this can be a URL for any content and does not need to originate within Workvivo)

Once a URL is entered a QR code will be automatically generated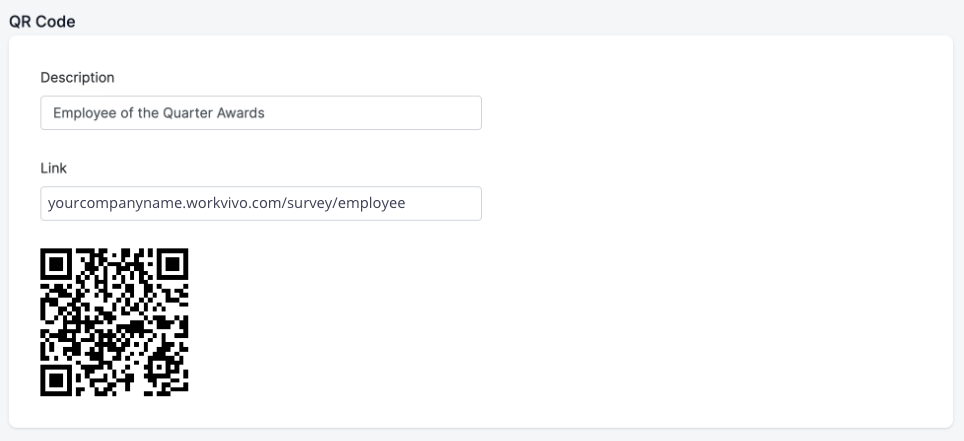 ---
Image Dimensions and Guidelines
Background Images
Dimensions: 500px x 1000px

Format PNG, JPG
Activity Feed Images
For best results when displaying a post with a single image, choose a landscape oriented image as portrait oriented images will always display blank space to the left and right of the image.

For posts containing multiple images, both landscape and portrait oriented images are acceptable.
Article Images
Follow the standard article image guidelines

Dimensions: 800px x 330px. Safe Space for text and important elements of an image: 490px x 330px (centered)
Event Images
Follow the standard article image guidelines

Dimensions: 500px x 330px. Safe Space for text and important elements of an image: 500px x 255px (centered)
Supported Content Types
Workvivo TV supports the following activity feed content types:
Standard Updates

Value Updates

Shout Outs

Polls

Acknowledgments

Say Hi's

News Articles

Events

Anniversaries/ Birthdays