To broadcast a Teams' meeting or webinar to Workvivo, you will need to have a paid Microsoft 365 account that has the option to allow livestreaming of meetings and/or webinars enabled, and the Customised Streaming Preview app enabled for your account. Contact your Microsoft 365 administrator if you are unsure of whether this option is enabled for your account.
Please notes, Microsoft Teams currently has the following limitations for RTMPS broadcasting:
Live events are not supported (only meetings and webinars)

Only the meeting organizer can go live

Scheduled meetings only are supported - you can't broadcast from an instant meeting

Meeting registration must be enabled for the Teams meeting or you won't be able to broadcast to an RTMPS feed

If you share your screen, only the shared screen will be visible in the broadcasted stream - no video cameras will be displayed until screen sharing is stopped

Note: Microsoft Teams support for broadcasting meetings to livestreams is currently in preview in Microsoft Teams itself and as such is not recommended for important broadcasts.
We recommend using Zoom, or another app such as OBS or Wirecast for any important streams.
---
Device(s): Desktop only to broadcast the livestream
Roles / Permissions: Livestreamer
---
Going live on Workvivo from Microsoft Teams
To go live on Microsoft Teams, make sure the meeting in question falls into the criteria above. If it does, you should see an "Apps" option in your Teams meeting.
Click the "Apps" button and search for "Customised Streaming" as shown in the following screenshot: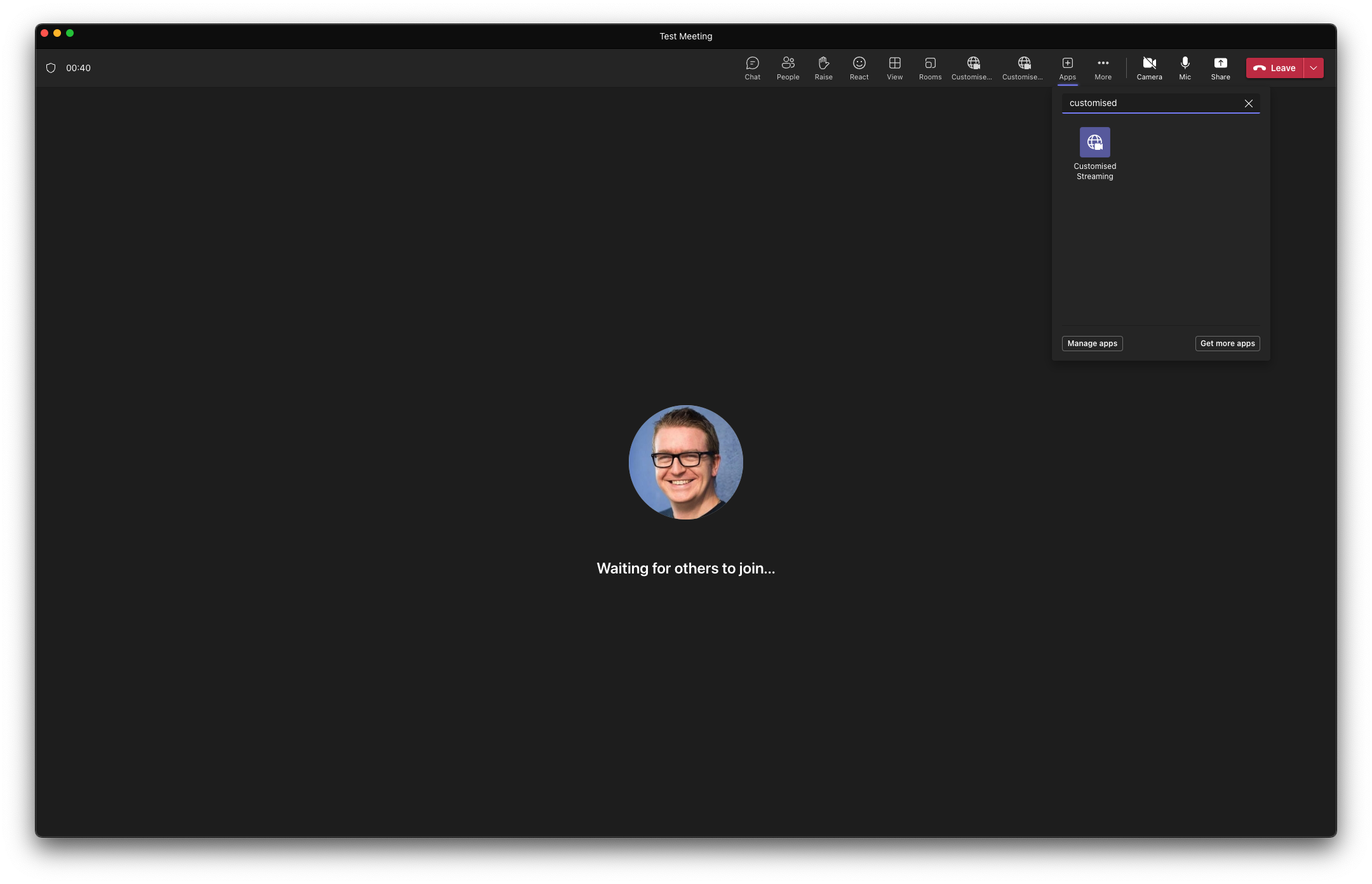 If you don't see this option, it means one of many things:
that the Customised Streaming app is not enabled for your account, OR

livestreaming is disabled for your organization, OR

you are not the meeting organizer, OR

you are in a live event, not a meeting or webinar, OR

the meeting is an instant meeting, not a scheduled one, OR

registration was not enabled for the meeting
If you're sure the issue is not related to any of the above, please contact your Microsoft 365 administrator for further assistance.
After clicking on "Customised Streaming", add it to the meeting by pressing the "Save" button in the dialog that appears.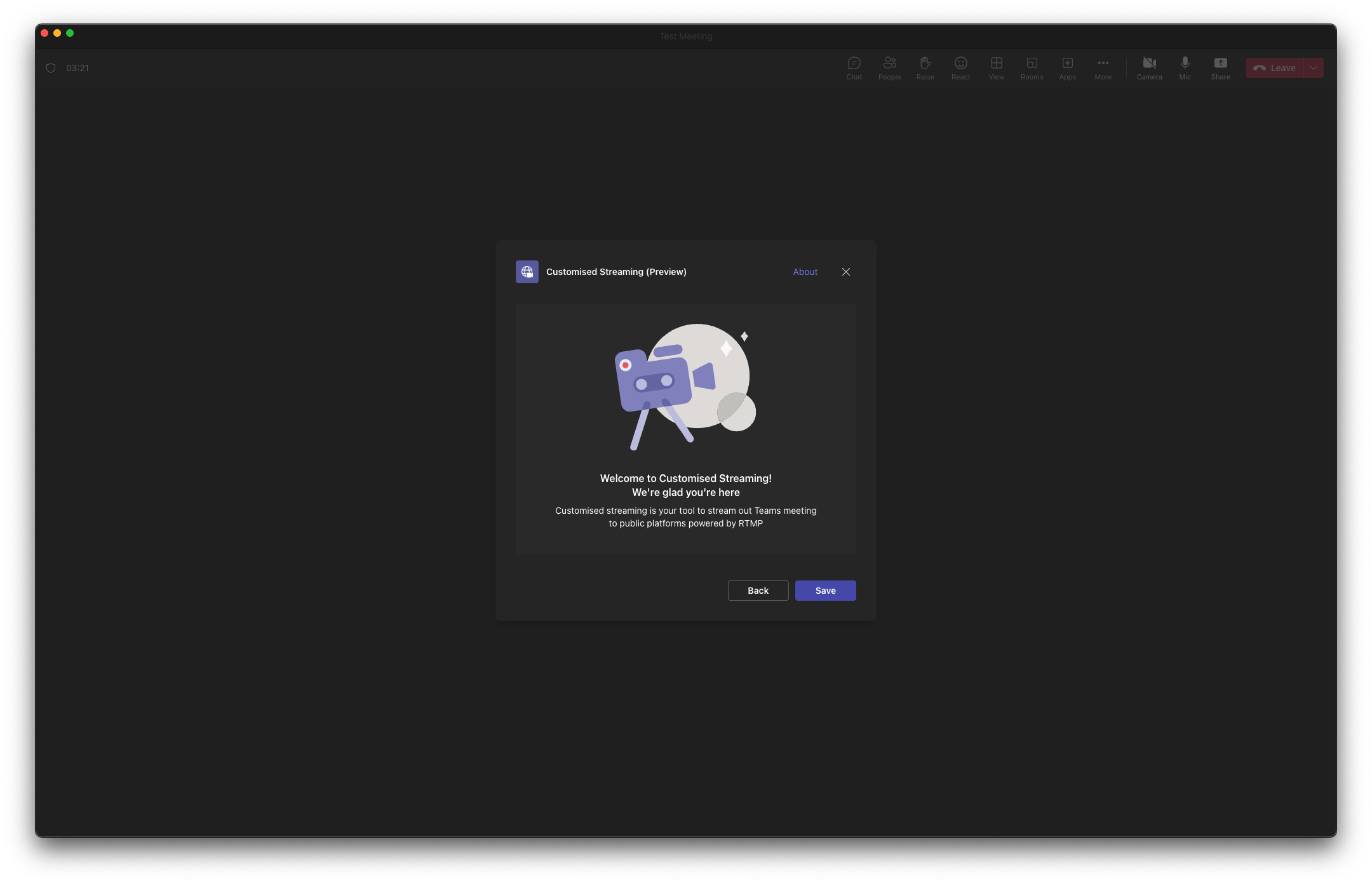 Now, enter the following details from Workvivo:
Add the RTMPS URL into the "Stream URL" field

Add the Stream Key into the "Stream key" field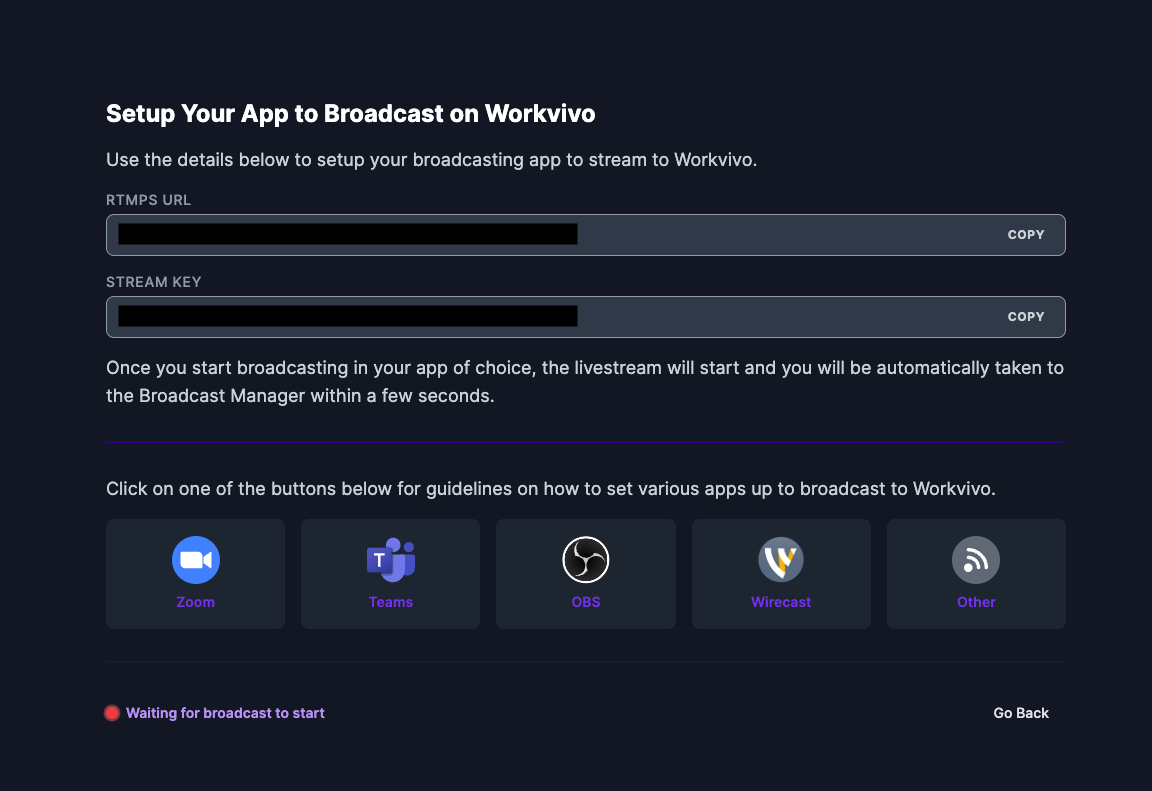 When you are ready to go live, press the "Start streaming" button. Press "Allow" in the dialog that asks to confirm streaming meeting content, your stream will be live within a few moments.

Please note that it is not uncommon for Microsoft Teams to present the error "Something went wrong, please try again." when you try to livestream.
It is unclear why this happens but is likely due to the fact that the feature is in preview in Microsoft Teams. Again, we highly recommend using a different platform to broadcast important meetings on Workvivo.
If you get this error, you may need to leave the Teams meeting and start it again and retry the steps above.
---
Ending the Stream
To end the stream, press the "Stop streaming" button in Microsoft Teams, or end the call.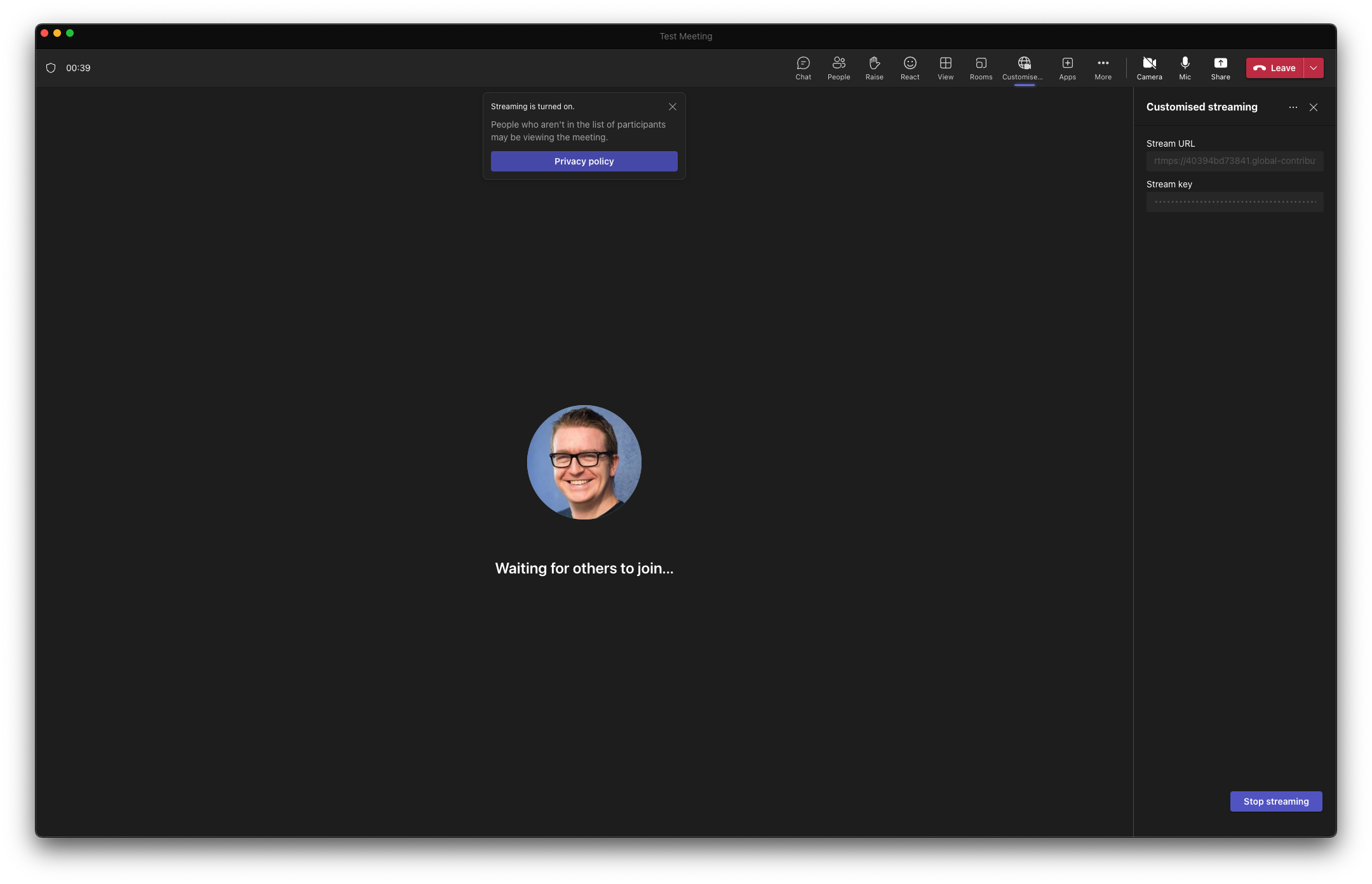 This will automatically end the Workvivo livestream. You can also use the "End Stream" button in the host view of the livestream on Workvivo. Note that stopping the stream from Workvivo will likely result in an error message "Something went wrong, please try again" displaying in the Customised Streaming window in Microsoft Teams. You can safely ignore this, it just means that the meeting is no longer being broadcast to Workvivo.