Broadcast live to colleagues in teams, spaces or even the entire company with interactive chat and engagement!
Technical Requirements:
When planning a livestream to

>5,000 people

, please let Workvivo know at least one week in advance so that we can make sure your livestream is as seamless as possible along with the breakdown by audience and location. You can contact support@workvivo.com to notify us of the above.

Your technical team may need to open certain ports to allow livestreaming to




work on your corporate network.

This includes ports 433 and 8443 for both HTTPS and WSS Protocols.

Please check that you have a strong internet connection to ensure you have a successful livestream as lagging may occur if the connection is weak or is interrupted. You can check your internet speed using an online speed test such as speed.cloudflare.com.

For 720p streaming at 30 frames per second, we typically recommend at least 5.7Mbps consistent upload speed.
For 1080p at 30 frames per second we recommend an upload speed of 7.4Mbps.
For 1080p at 60 frames per second this should increase to 11Mbps.
If you want to increase the video resolution to 4K at 30 frames per second, your upload speed shouldn't drop below 25Mbps.
Note: If you are hosting a livestream on mobile, the stream may become disrupted when moving between larger areas such as different office buildings.
---
Device(s): Web, Mobile
Roles / Permissions: Livestreamer
---
How to enable the Livestream feature
To start a livestream, you need to have the Livestreamer role.
A system admin will need to contact your Customer Success Manager to enable the Livestreaming capability for your organization and to assign the 'Livestreamer' role to their user account.
Once livestreaming has been switched on for your organization, any system admin can then grant this role to other users too.
Assigning Livestreamer role to other users
Open Admin > Administration and find the user you wish to grant the livestreamer role to

Select Edit and click on Security from the side menu

Click on Grant Role and find 'Livestreamer' from the drop down menu. Click 'Grant'

This user can now start a Livestream from both web and mobile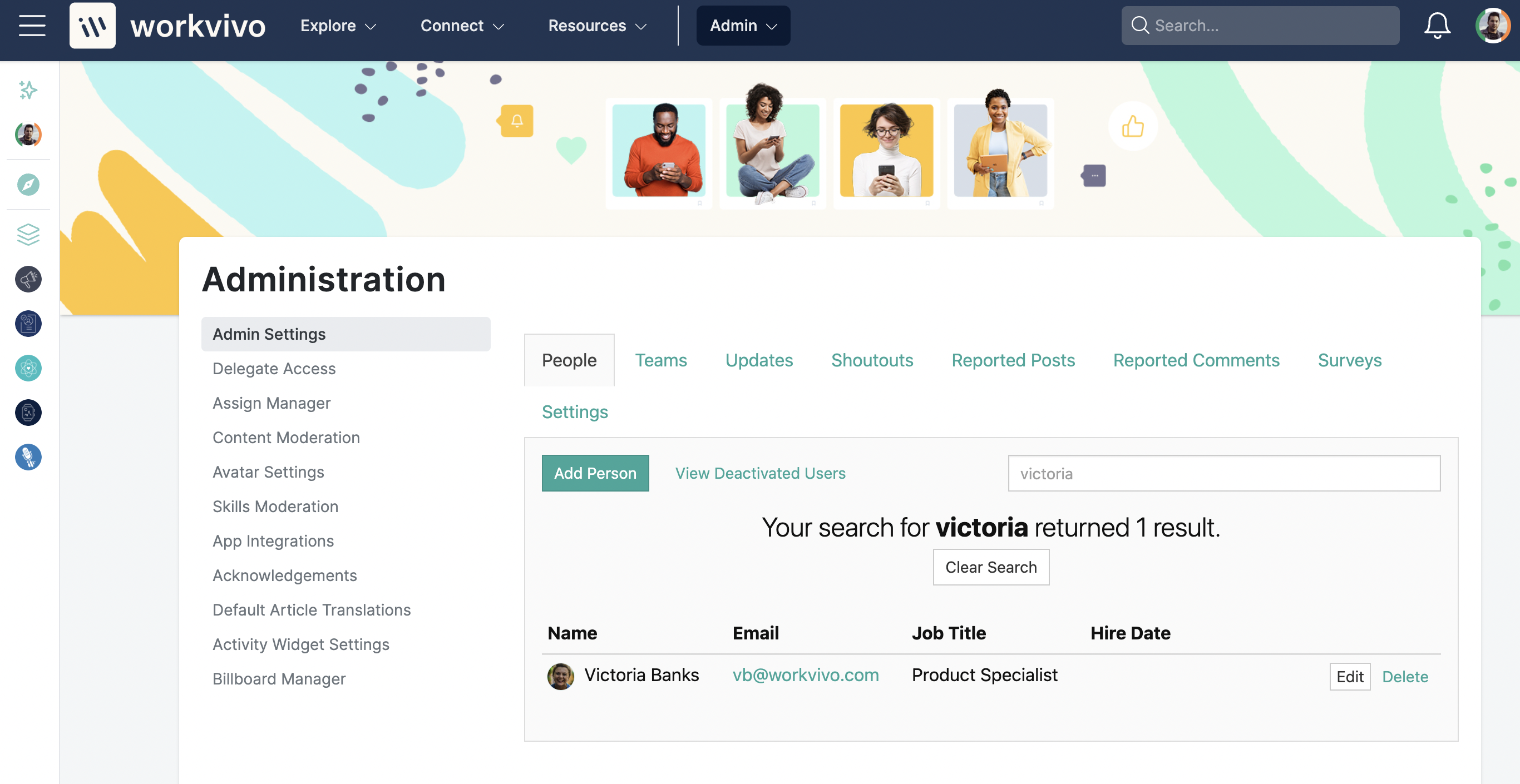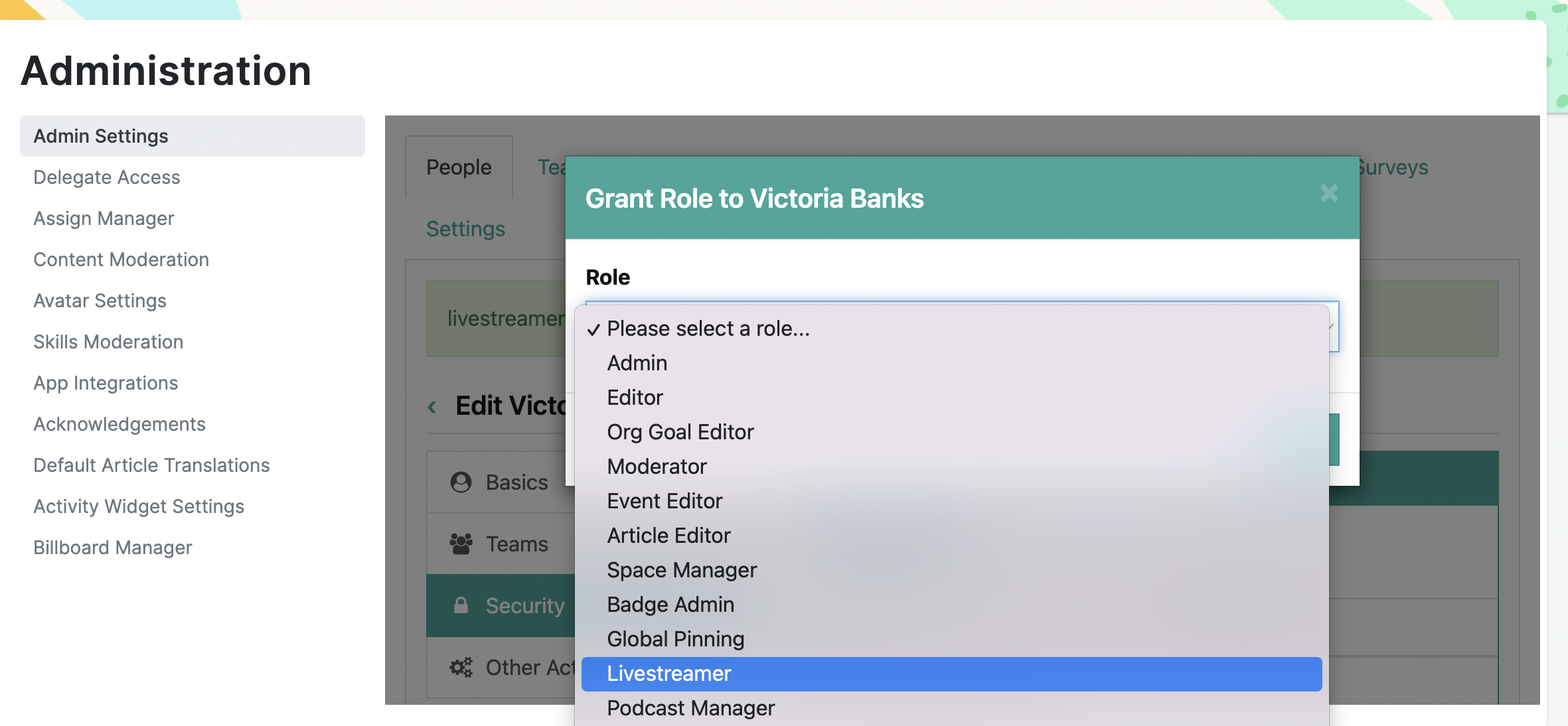 The user will now see the 'Go Live' option on the top of the main activity feed.

---
Starting a Livestream on Web and Mobile
Web
Click start livestream and select the device for both mic and camera.
On the next screen there are some options along the bottom of the screen.
The 'info' allows you to edit the name of the livestream. This is what displays when the livestream is posted so you might want to edit this to make it more relevant.

Select an audience for the stream. This audience can be everyone, spaces, teams or your followers.
Hosts
If you have the 'livestreamer' permission on your account you can start a Livestream and be the main host.
You can also use the delegate feature to delegate into another account if you wish to host the Livestream as a particular alias such as 'Internal Comms' or if you are hosting the Livestream as the CEO.
External Co-Hosts
Co-hosts: Invite additional livestream hosts if you wish for it to be a dual-hosted livestream

.

Please note the co-host must be added to the platform in order to be a co-host. You can invite an external user to be a co-host as long as they have been added as an 'external user' to the platform.

Inviting external co-hosts requires an additional setting, please submit a request via the Help Center to enable this setting.
How many co-hosts can I have? What is the max?
The maximum amount of co-hosts is 14 hosts but we recommend 4 for image size. This will allow for the best viewer experience.
How many people appear on screen?
If there are two hosts there be will be a split in the middle with one host either side of the screen, for three and for four hosts it will display as per the images below.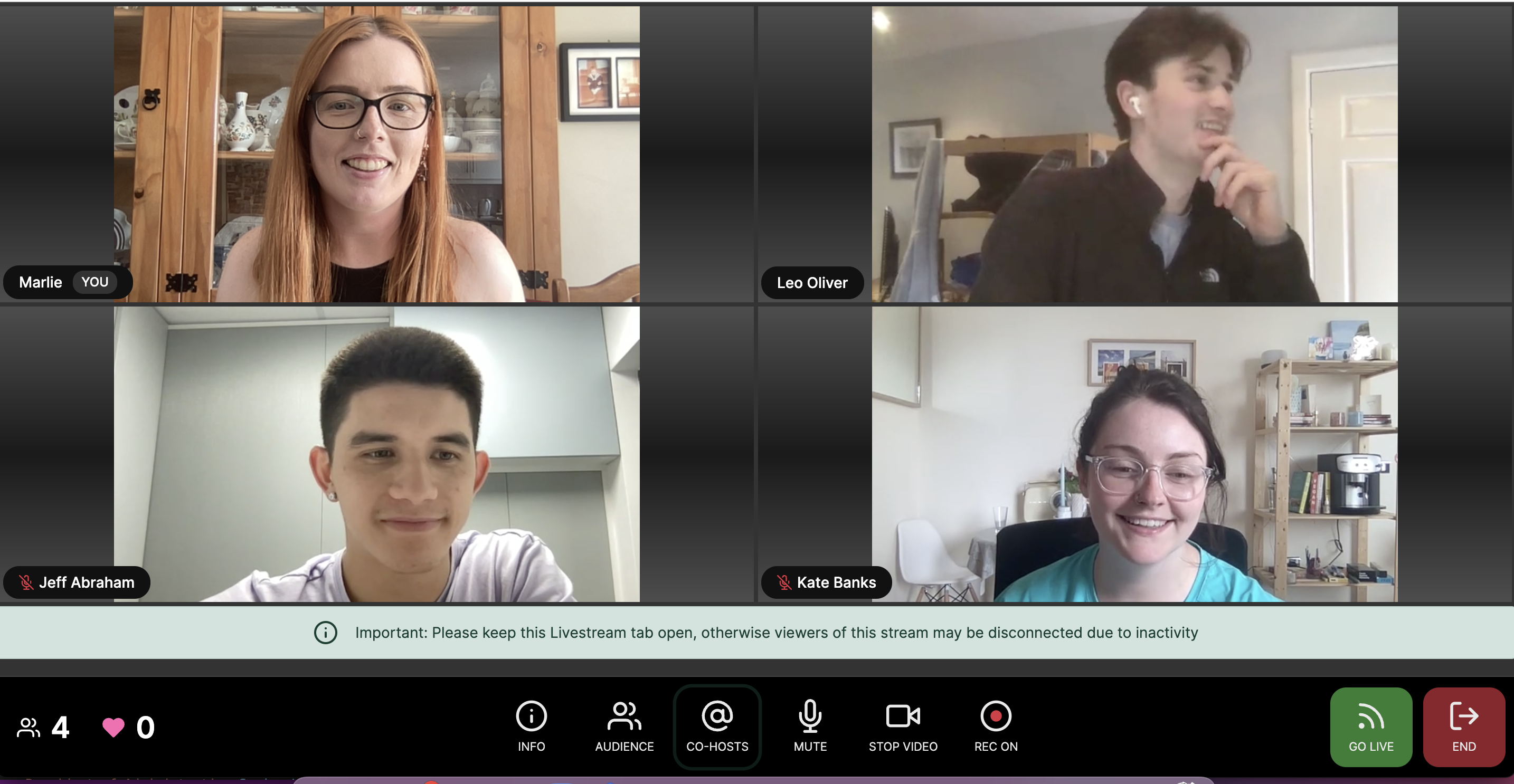 Is it possible to make myself smaller?
It's not currently possible to alter the image sizing on livestreams.
Can I add more co-hosts midway through?

Yes you can add more co-hosts midway through the live.
Recording
By default, recording is ON. Once the livestream ends, the recording is posted to the activity feed of that audience automatically. It takes approximately 20-30 seconds for the livestream to appear as a post on the feed.

You can turn recording off by clicking on the 'Rec' button.

Livestream Comments
After the livestream has ended the comments made during the livestream are not visible on the activity feed.

Please submit a request via the Help Center if you wish to retrieve this data.
---
Mobile
Starting a livestream from mobile
From the activity feed click on the livestream video icon in the top right hand corner

You may be prompted to allow access to your mic and camera

Don't worry you won't be going live just yet!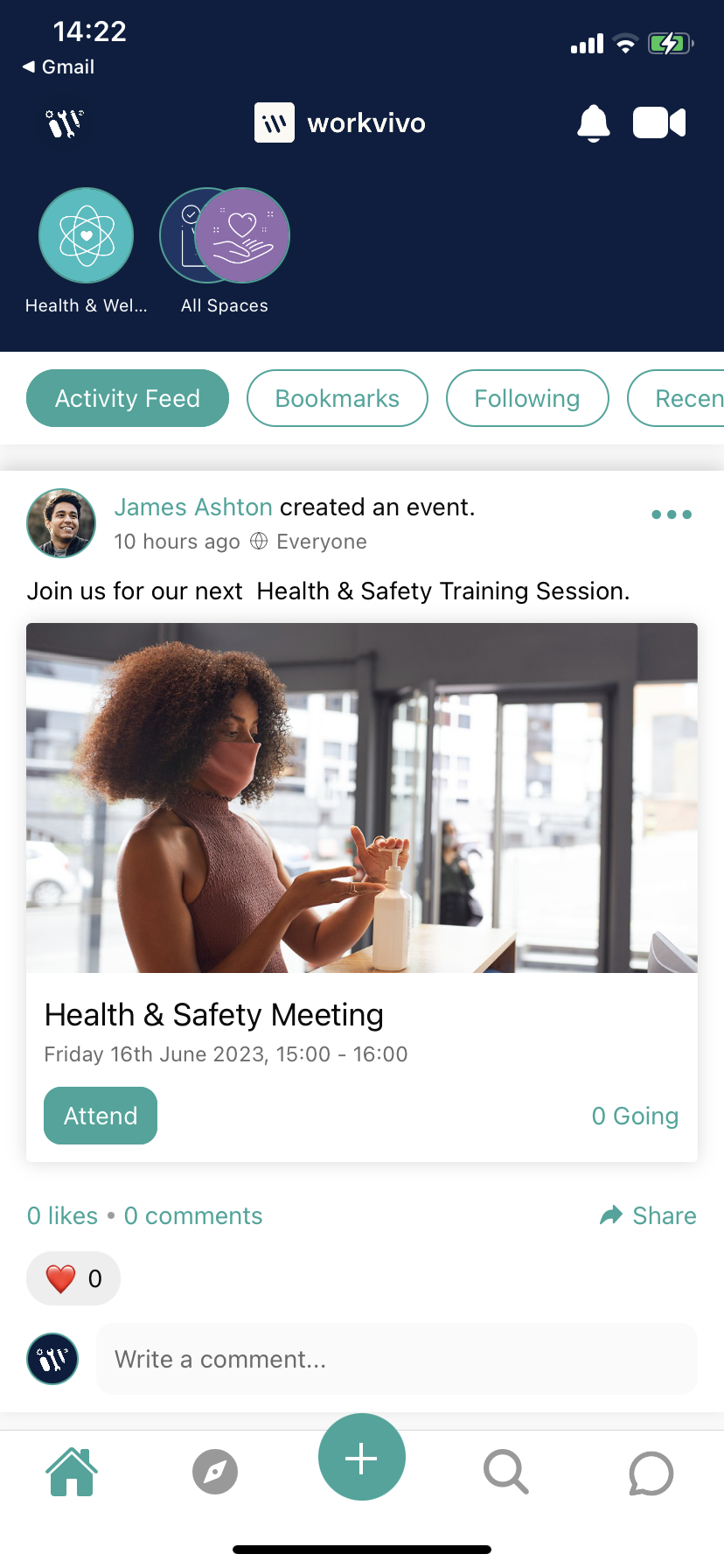 4. Similarly to web you will have a number of icons along the bottom of the screen to help you set up your stream before going live.
5. Once you are happy with the settings on your stream you can click 'go live'.
If users have opted in for livestream notifications and email notifications at a global level, they will receive the notification that you have gone live.
Note: Depending on your mobile device you are using the layout might look slightly different.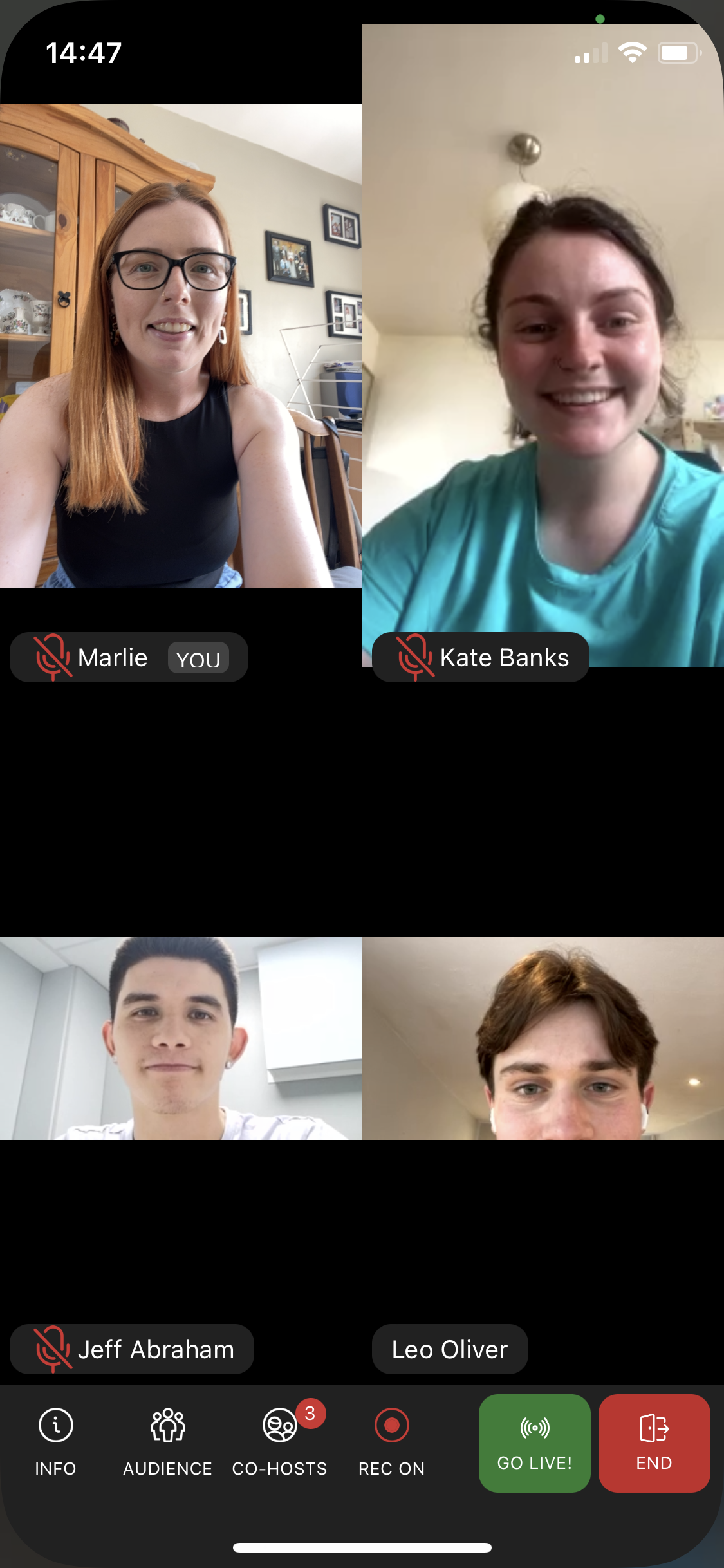 Orientation
Livestream needs to be on portrait on mobile - see example above.
---
As people join the stream you can see how many people are watching. Employees can like and comment in an interactive feed!
Top Tips and things to remember when Hosting a Livestream
You need to have the Livestreamer role.

Remember to give Workvivo at least one week's notice when planning to livestream to more than 5,000 people.

Your technical team may need to

open certain ports

to allow livestreaming to work on your corporate network (ports listed in the "Technical Requirements" section).

Ensure you have a strong internet connection (>11 Mbps) to prevent lagging.

Livestreams are recorded by default and posted to the feed.

Reduce background noise and stay close so the audience can hear you.

Switch off your camera if you are not speaking so the focus remains on the speaker.

Always test in advance.

Have no more than 4 hosts on camera.

It is best to end the livestream on the third party provider (Zoom, MS Teams, Wirecast, OBS) before ending the broadcast on Workvivo.

Use portrait mode only on mobile.
---
Click here to learn more about how employees can View a Livestream.
Check out this article to see how you can Link a Livestream to an event.
---