Ensure that important content and information gets to its target audience wherever they may be by promoting space content - employees no longer need to navigate to the space to see what's the most important post that's pinned for example.
---
By default, only global posts (posts published to Everyone) can be pinned on the main activity feed and only global articles can be added as Hero Articles to the Featured Story widget.
With Space Content Promotion, System Administrators can select spaces that can:
pin a post on the main activity feed for their members, or

add an article to the Featured Story carousel
Once a space is enabled for content promotion, the Space Owner/Admin can promote a pinned post to the main activity feed.
Note: Please note that Space Content Promotion is limited to one promoted post a time and or promote an article to the Featured Story widget.
When pinning multiple posts within a space the most recent pinned post will be the one to display on the activity feed.
---
Device(s): Desktop
Roles / Permissions: System Admin and Space Manager
---
How to enable Space Content Promotion
Contact your Workvivo Customer Experience Manager to enable this feature.

Once enabled, click on 'Space Content Promotion' from

the administration menu

.

Use the search bar, category drop-down or sort function to find your space or simply choose from the list of spaces on screen.

To enable the pinning of a space post on the main activity feed of a space's members, switch on the toggle (green position).

To enable a space to promote articles to the featured stories widget on their members homepage, click the toggle to the right (green) position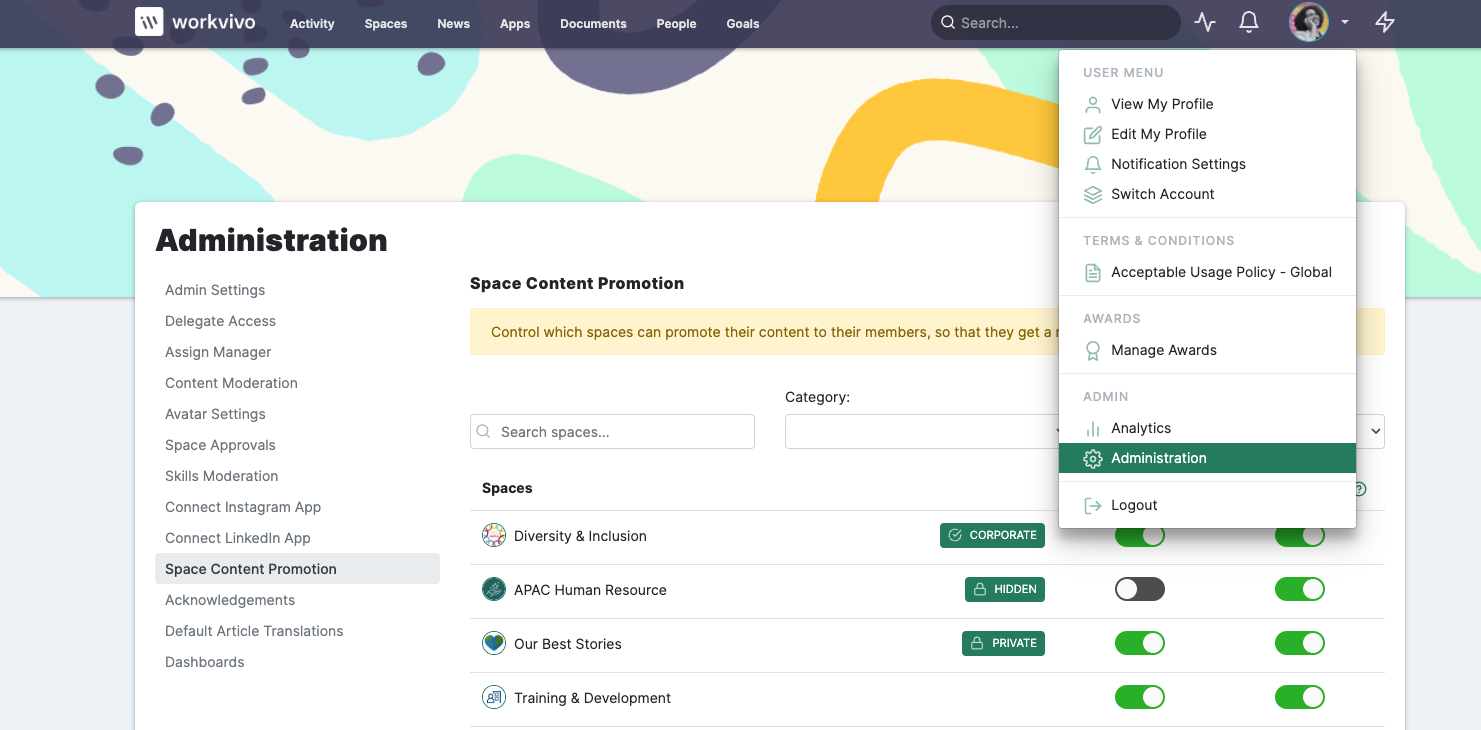 ---
Promoting Space Content
Find a post within a space that you would like to promote on the main activity feed for the members of that space

Select 'pin post' from the menu

Choose the time scale you would like it pinned for and toggle on 'Pinned Post Promotion'

Click 'Pin'

It will now be pinned in that space's feed, and on the main activity feed for all members of that space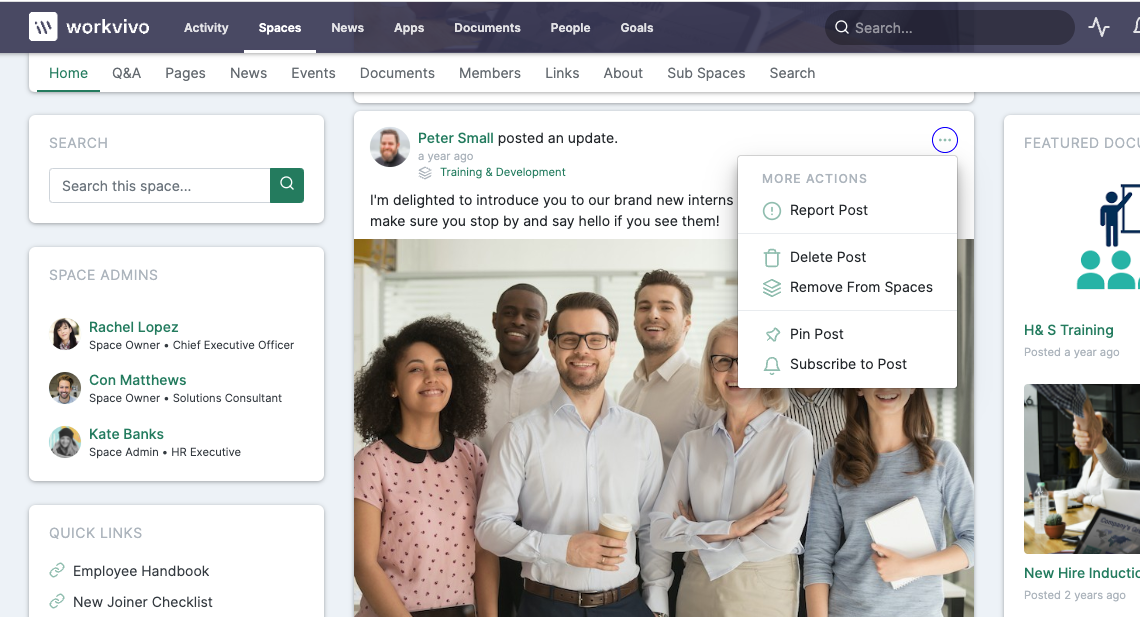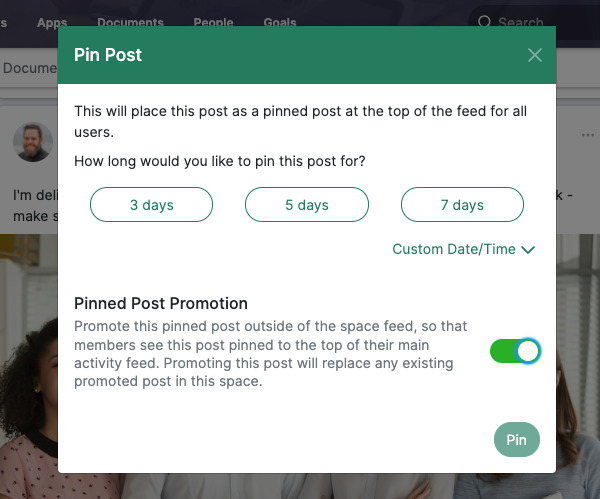 Note: By promoting this post it will replace any existing promoted post in this space.
---
Editing Promoted Space Content
By clicking on the 'pin' symbol at the top of the space feed this will allow you to manage pinned posts as well as promoted space content.

Click edit next to the content- you can remove the post as a promoted piece by sliding the green toggle to the left and then hit pin.

You can also use the arrows to move the pinned posts up or down.

If the promoted post is moved down this will move it within the space feed as well as the main activity feed.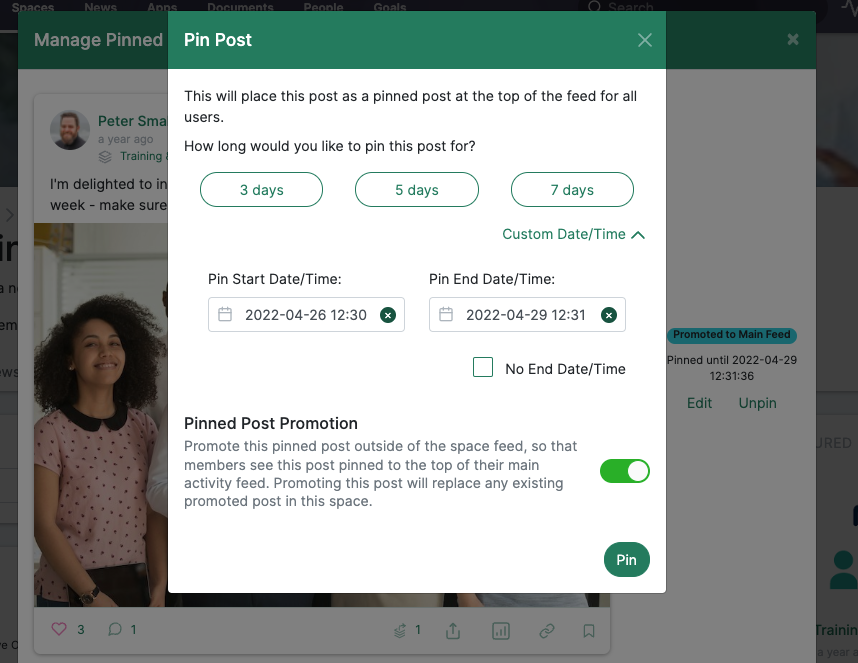 ---