There are many configurations possible when it comes to setting up spaces.
Choose quality over quantity when deciding on a list of Spaces to create and once you have defined that list, take a look at the design decisions that will help guide your space set up.
---
Popular Spaces
When deciding on which spaces to create, consider "What communications are regularly issued to staff through different channels today? What communications and information deserve their own space?"
Common spaces we have seen across customer Workvivo platforms are:
Corporate
Sustainability

Wellbeing

PR / Press Office / News to Share

Social Responsibility

Inclusion & Diversity

Employee Benefits

Health & Safety

Leadership Updates

Core Values / Strategy
Community
Sports & Social

Staff Recognition

External Events - sharing events that staff / customers are welcome to join

Life at COMPANY

Innovation

Job Opportunities

Data Protection / Security

Buy & Sell

Pets

Workvivo Tips

Canteen
---
Key Design Decisions
To guide your Spaces Planning and Design activities, there are some key decisions to make for each space:
Should this space be a Corporate or Community space?
If Community, should the space be public or private (or hidden)? Can anyone see the content if they open the space or is the content restricted to space members only?
Is membership optional or mandatory? Can people opt out of / leave the space if they join or are enrolled to the space?
Who will own this space? These people set the direction for the space and are key content contributors. We recommend 1-3 people are promoted to Space Owner/Admin to ensure regular content.
Who can post content to the space? Just the space owners/admins or every member of the space?
What types of content will space owners / admins need to create?
What categories should be assigned to this space?
Who should be a member of the space? Everyone in the organization / department(s) / locations) / groups of individuals. Is auto-enrolment per Team required?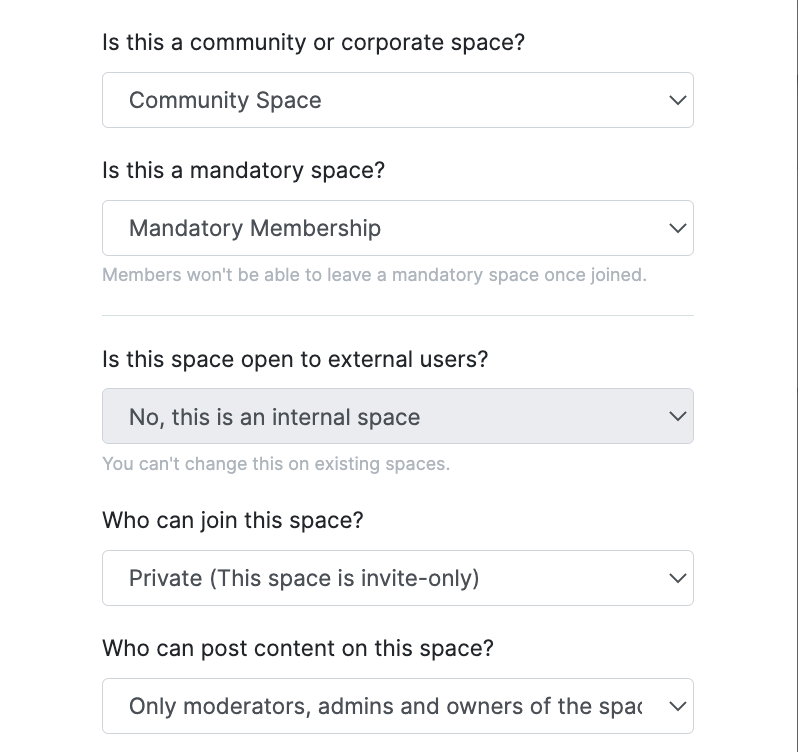 ---
Sample Use Cases
Use Case 1: Certain people want to share content with a wide audience, but the content is not mandatory to be seen
Let's take the Press Office team as an example -
Set up a Community public space

Restrict posting to Space Owners/Admins only
Make the space Optional

Enrol relevant teams (departments / locations / everyone)

Promote the relevant members to Space Owner / Admin i.e. the Press Office account or individuals behind this - so that they can post in the space
Use Case 2: Certain people want to share content with a wide audience, but the content is mandatory to be seen
Let's take leadership an example - and the CEO Connects or EI Strategy space
Set up a public space (Corporate if top-down, Community if management / functional)

Restrict posting to Space Owners/Admins only
Make the space Mandatory

Enrol relevant teams (departments / locations / everyone)

Promote the relevant members to Space Owner / Admin e.g. CEO, CHRO - so that they can post in the space
Use Case 3: Certain people want to share content with a wide audience, but the content is not mandatory to be seen, and others can also contribute to the space
Let's take a Wellbeing Challenge as an example -
Set up a Community public space

Do not restrict posting so that all members can post

Make the space Optional (so people can opt out if not interested)

Enrol relevant teams (departments / locations / everyone)

Promote the relevant members to Space Owner / Admin e.g. Wellbeing Champions