Maximize your time and schedule posts in advance.
Top Tip: Scheduling a post is also a great way to preview your update before it's published! The post is essentially in 'Draft' mode until it publishes
---
Device(s): Desktop and Mobile
Roles / Permissions: Admin / Editor or Post Scheduler permission
---
Scheduling a Post on Desktop
If you are an Admin / Editor or have been assigned the Post Scheduler role, you can schedule your updates.
Click on What's Going On? to post an update

Enter your text, upload an image / video or choose a GIF, select your audience

Instead of clicking 'Post', click on the down arrow besides the Post button

The option to schedule a post will appear, click "Schedule Post"

Choose when you would like your post to be published

Click "Schedule Post" to save. The posting screen closes and the post will publish at the scheduled date and time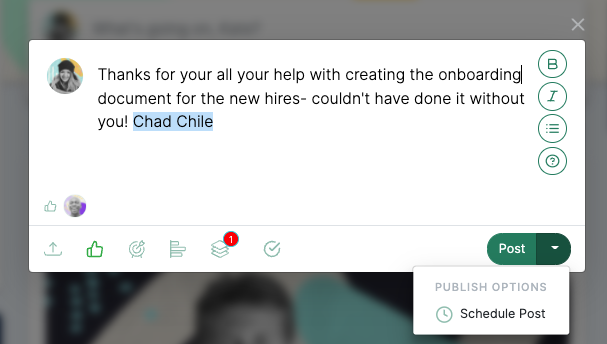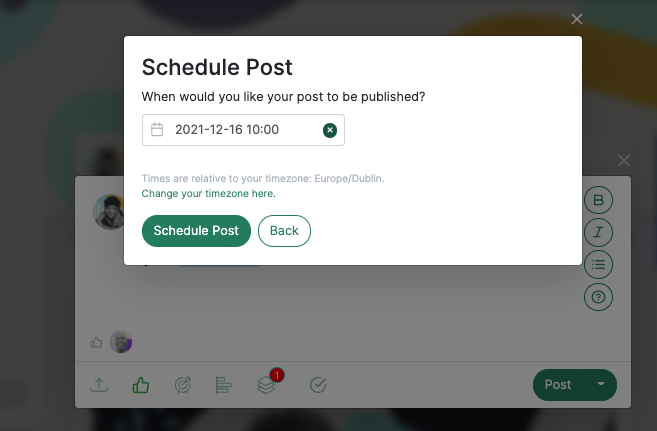 ---
Previewing and Editing Scheduled Posts
If you want to edit your scheduled post:
Go to the main activity feed on desktop

Click on the clock button to "View Scheduled Posts".

Your scheduled posts will appear. Tip: This is a great way to preview content before publishing

To edit the post or change the Scheduled publish time, click on the three dots and choose the desired option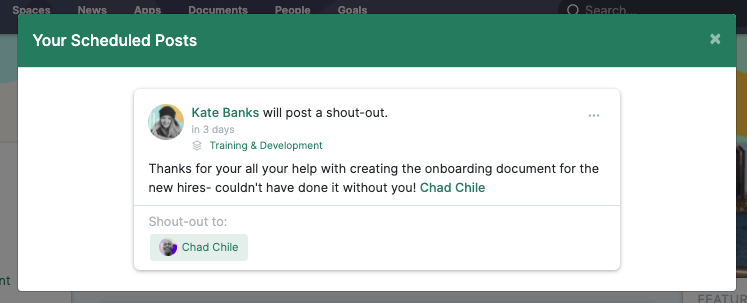 ---
Scheduling on Mobile
Similar to the above you can schedule posts on the mobile app. To do this:
Open the "Post an Update" editor

On the bottom of the screen, you will see a clock button, click on this

You will get the option to select a date and a time for your post to publish