There are 4 ways to add people to spaces:
Users can opt in themselves if it's a Public space ("Join Space") or they can click "Request to Join" if it's a Private space

Users can be invited by Space Owners/Admins via a notification

User groups can be auto-enrolled through Default Space setup (where Everyone or specific departments/locations can be enrolled by default and any new joiner to that team is also added going forward - check out our article here

)

Users can be enrolled at an individual level by a system Admin or the Space Owner/Admin if they have this permission (

check out our article

here

)
---
Device(s): Desktop
Roles / Permissions: Space Owner/ Space Admin
---
Inviting colleagues to join a Space
As a Space Owner or Space Admin, you can invite colleagues to your space using the "Invite Members" function. This is number 2 above and there are a couple of ways to invite colleagues to a space.
Open the space and in the Admin Space Management menu:
Option 1: select "Invite Members" and s

elect colleagues from the drop-down list e.g. Mary Blake selected below

Option 2: paste a list of their email addresses with no divider i.e. no commas, space or semi-colons (see example below)

You can customize the message invitees receive in their invitation

Click "Send"

Colleagues will receive a notification that they have been invited to your Space.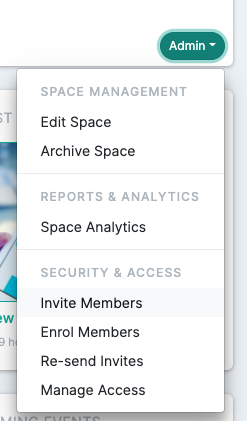 ---
Can I invite people using an alias?
It is not possible to invite colleagues to a space using an alias - you need to invite individuals, either by selecting their names from the drop-down or by using their email addresses.
To understand why an alias can't be used:
If a user is invited to a space, they receive a Space Invite to their email address

If a space invite is issued to an alias email address, all recipients will receive the Space Invite link

If any of the recipients click on this link, however, they will not be directed to the space as the Space Invite is associated with the alias email address itself
---
Resending Space Invites
You can resend individual invites or choose to resend all pending invites with the push of a button.
You will find this functionality in the Space Admin panel under the 'Invited Members' section. Go to Pending to see the invites that are pending.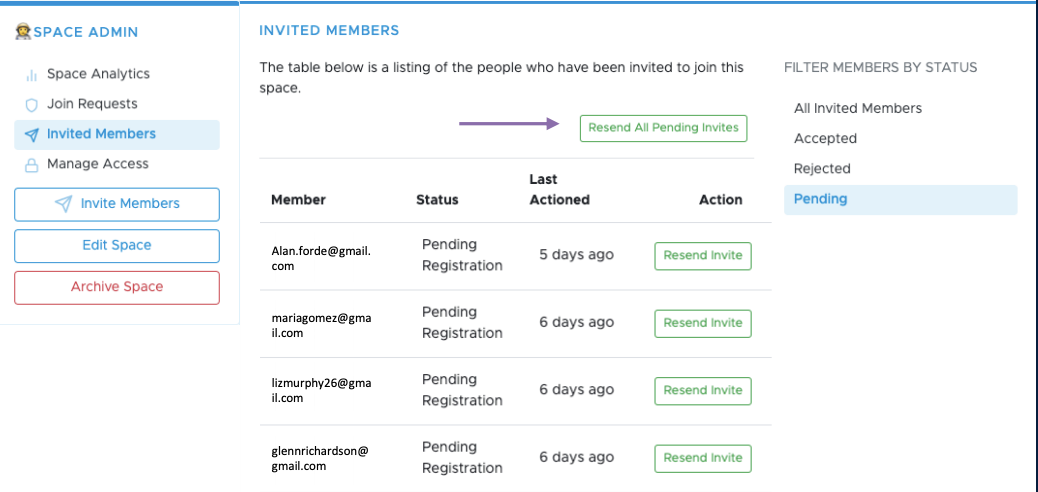 ---