With our newsletter feature, we are empowering admins with a captivating way to curate published content or exclusive updates and deliver it straight to an employee's email inbox.
This feature brings you a way to craft a digest of the latest news, events, and developments, ensuring employees never miss a beat.
---
Device(s): Web
Roles / Permissions: Admins and Newsletters Manager Role
---
Using Newsletters
Workvivo newsletters promote effective communication, enhance employee engagement, foster collaboration, and strengthen the organizational culture. It is a valuable tool for keeping employees informed, motivated, and connected, ultimately contributing to the success of the organization.

On web, admins can easily access newsletters from the Admin Menu in the top navigation bar.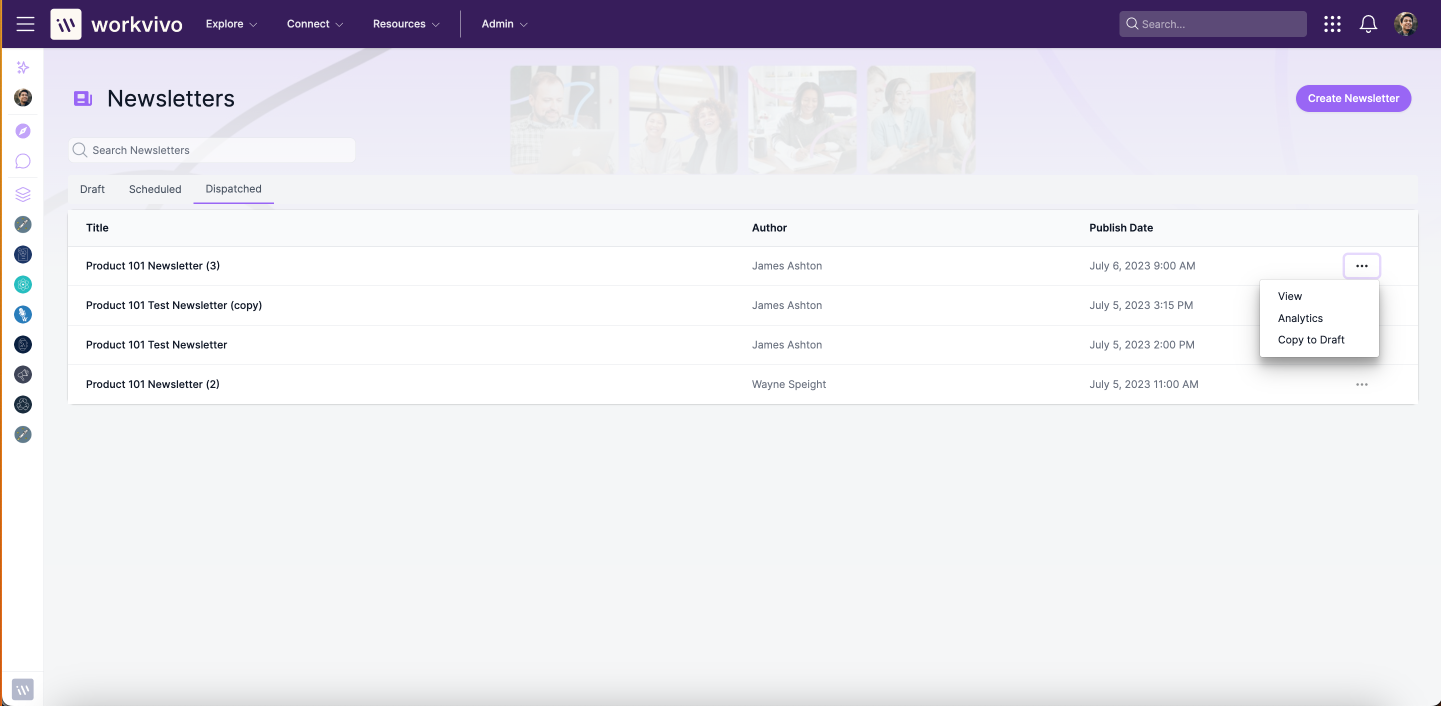 This will open the Newsletter Menu with three tabs:
Draft - Newsletters that are saved to draft (No publish date)

Scheduled - Newsletters that are already scheduled to be sent out at a future date

Dispatched - Newsletters that have already been published
Each tab allows a number of actions:
When a newsletter is in Draft - it can be edited and copied to draft

When a newsletter is in Scheduled - it can still be edited before its published date and copied to draft

When a newsletter is Dispatched - it can be viewed, copied to draft and you will also be able to see analytics
Searching:
Admins also have the ability to search for Newsletters via the search box here. This will search based on the Newsletter Title.
---
Creating a Newsletter
To start creating a newsletter, Admins can select the "Create Newsletter" button on the top right of the newsletter menu.

This will open up a modal prompting you to add a newsletter title as well as selecting the audience.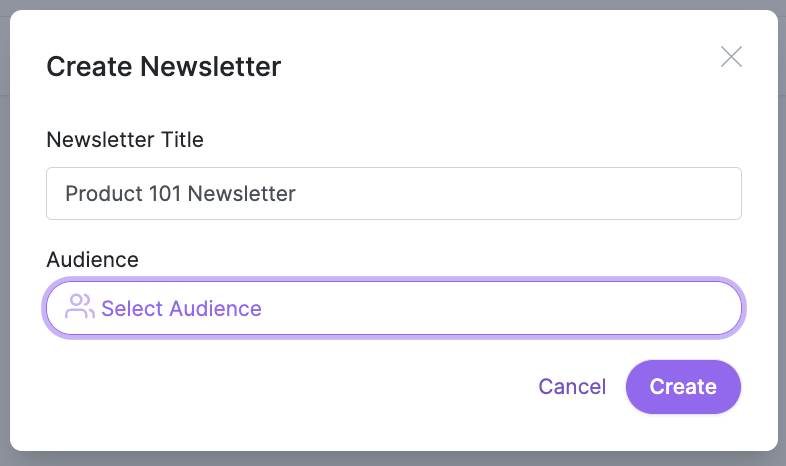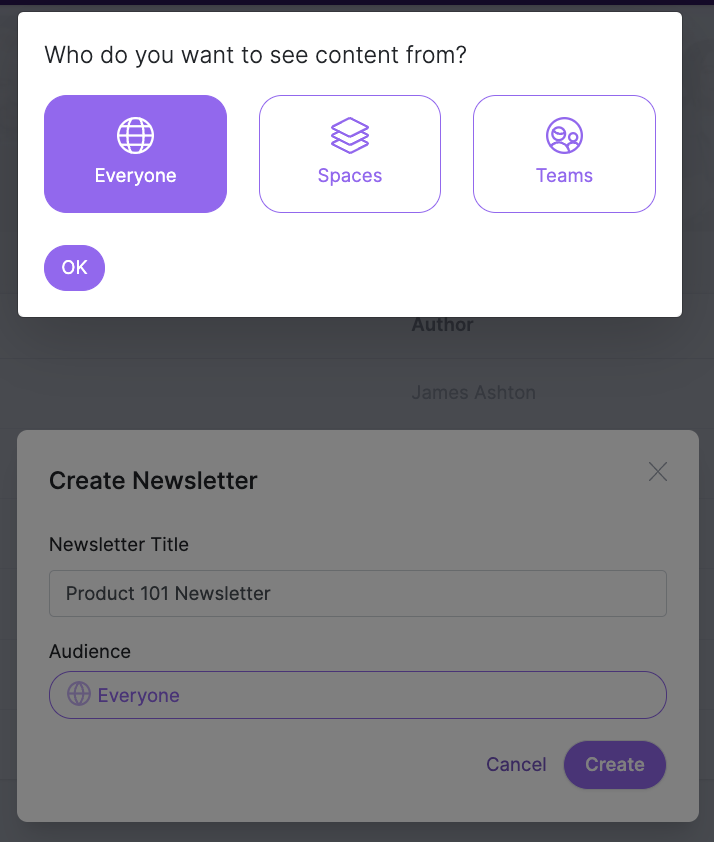 Notes on Audience selection:
The Audience selected here will determine who receives the newsletter and what content can be added

Admins will need to be members of teams or spaces to add content posted to those audiences

Audiences cannot be edited once you press create
Adding Content:
You can add content to your newsletter:
Newsletter Title - This carries over from the previous step

Email Subject - This will be the Title of the email the user receives

Introduction - This is an optional text box that allows you to add an intro to the newsletter

Banner Image - By default it will use the organization's Workvivo banner, but you can upload a custom banner image (please note the dimensions documented)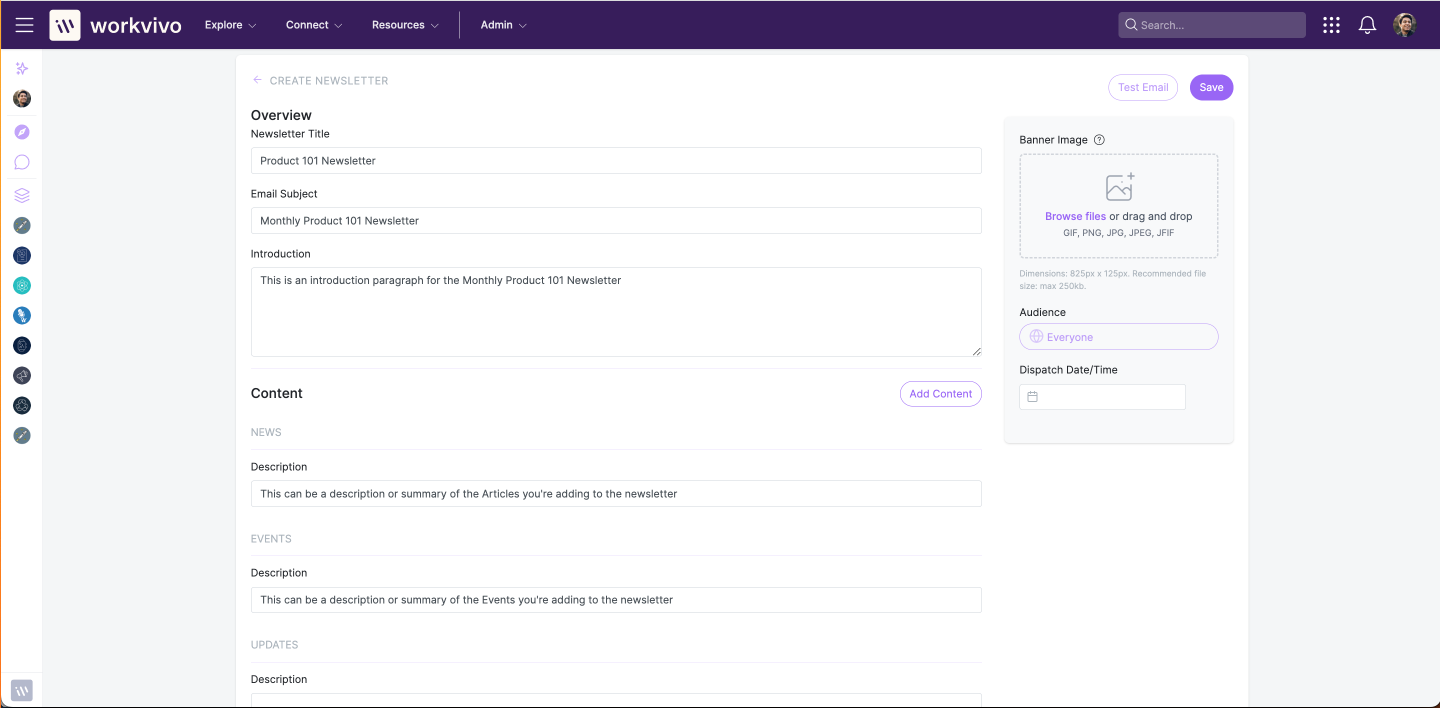 To add content, please select the Add Content button.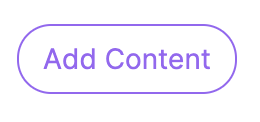 A modal will pop up allowing you to multi select the content you want to add to the newsletter. You can search for content or filter by content type.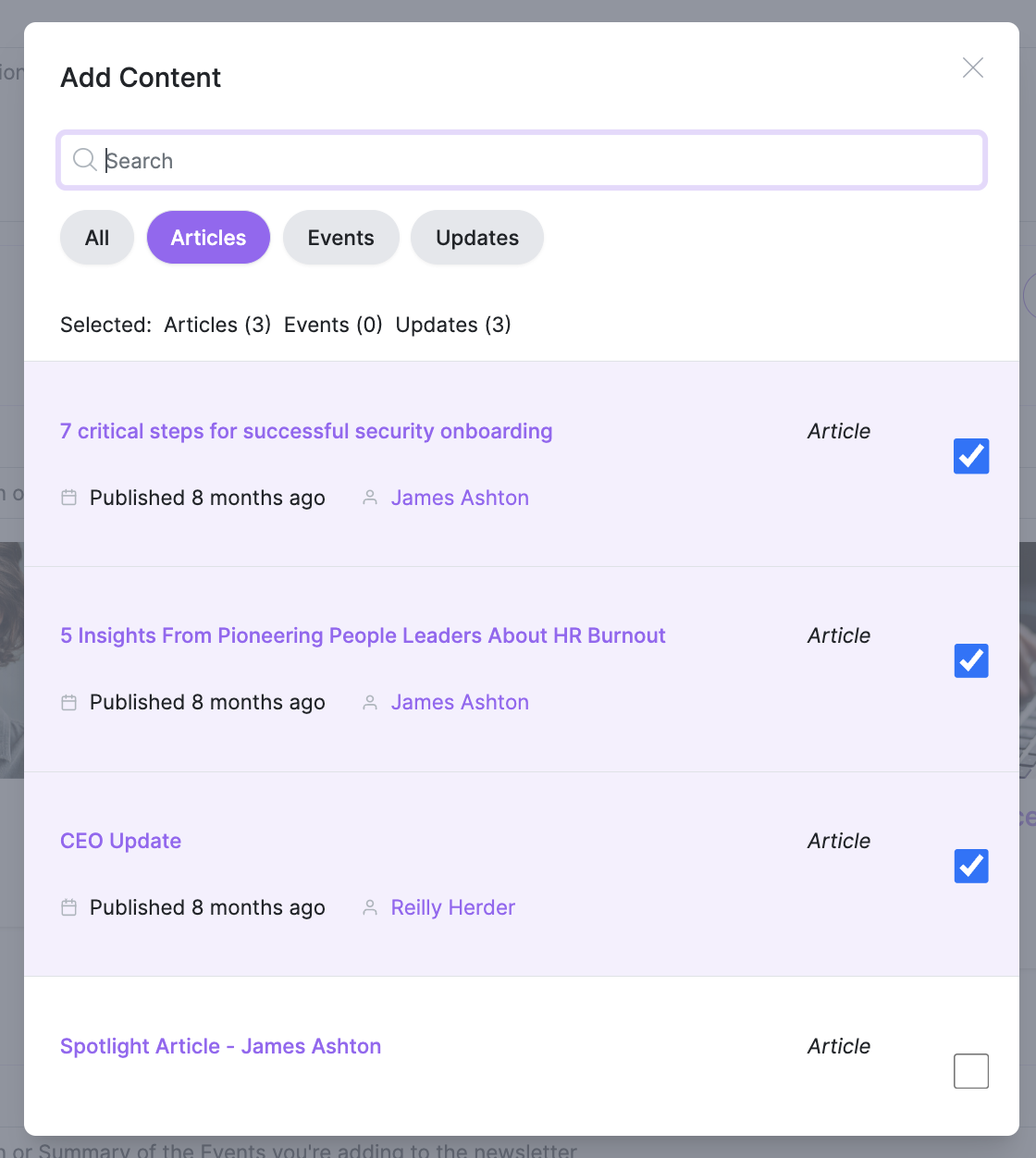 Note: There is a limit of three Articles, three Events and three Updates that can be added to the newsletter.
Currently we do not support the addition of shoutout/kudos, anniversary or birthday posts, questions and polls. These will be added in a future iteration of the feature
Within each section you also have a Description box - this is mandatory. You can leverage this to summarize or add more information about the content you had added.
Once you have all your content added, save the newsletter. This will save to Drafts.
Sending a Test Email:
As a way to preview the newsletter via email, select the Test Email button.

From here you can add a number of colleagues to send the test email to.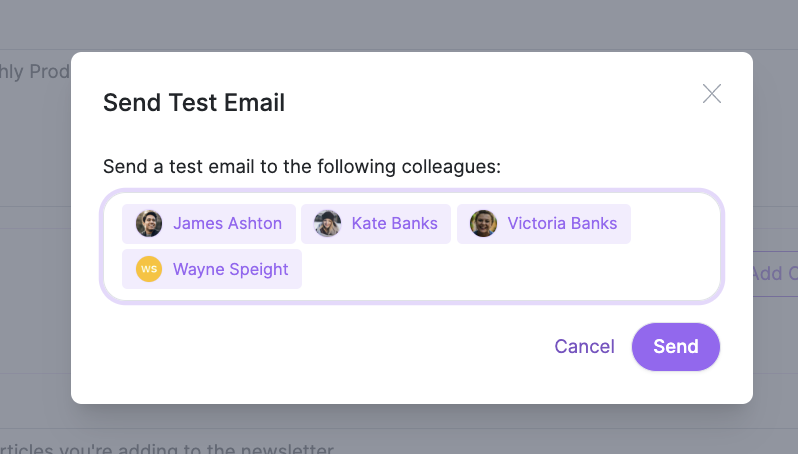 ---
Publishing a Newsletter
When you're ready to publish the newsletter, please set a Dispatch Date and Time.
To publish now, select a date/time in the past and press Save

To schedule, select a date/time in future and press Save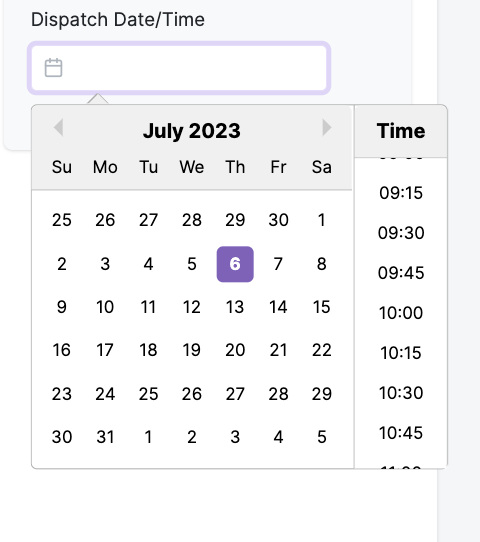 Published Newsletter:
Once the newsletter is published it will move to the Dispatched Tab on the Newsletter Menu. From here you can:
Copy to Draft for future newsletters

View the Newsletter you published

View Analytics (Coming Soon)
Here is an example of a published newsletter with three Articles, three Events and three Updates added:
Note: Newsletters are only supported in English language
---
Mobile View
This is how a published newsletter will display on mobile: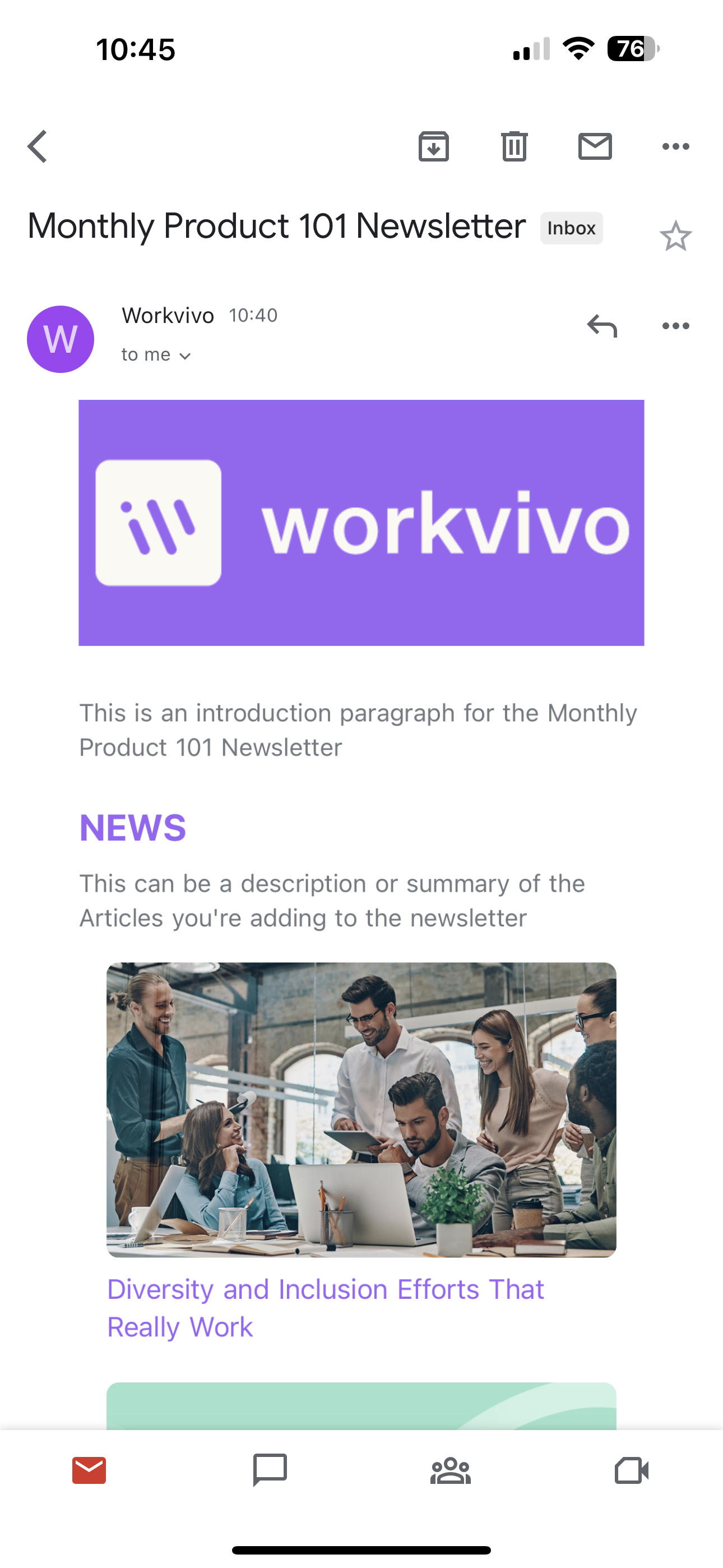 ---
Notifications
Every user is opted in for email notifications for Newsletters by default. Should you wish to opt out of these email notifications, that can be configured in the notification settings.
Notifications Settings can be found through the Settings icon on the notification drop down on desktop, or by clicking Settings in the hamburger menu on the mobile app.

---
Analytics
Analytics will allow you to measure the engagement metrics of a specific newsletter. Please note, analytics is available for Dispatched Newsletters only.
Engagement: The total number of interactions that the post received
Article Opens: The total number of times an Article was clicked within the newsletter
Event Opens: The total number of times an Event was clicked within the newsletter
Update Opens: The total number of times an Update was clicked within the newsletter
Email Sent: The Total number of emails that have been sent
Email Delivered: The total number of emails that have been delivered
You also have the ability to export the report.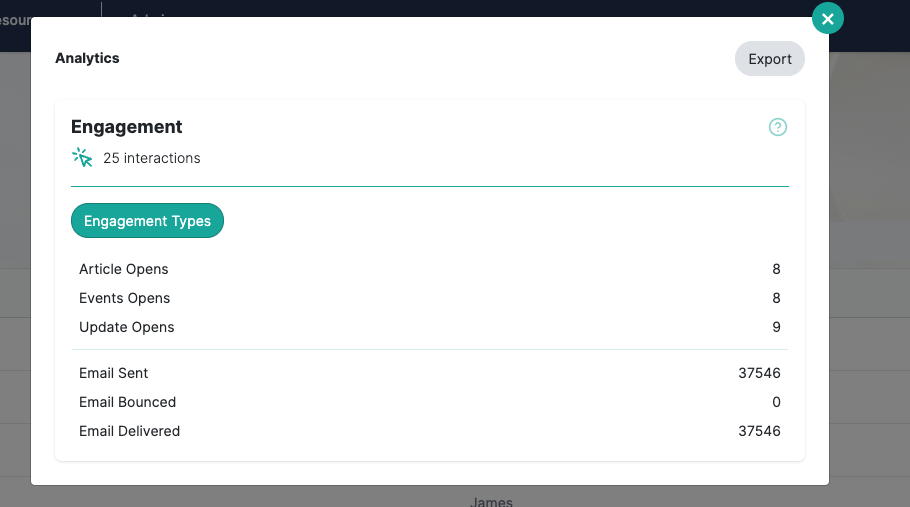 Availability: This is now available to all organizations, please contact your Workvivo CX Manager to enable the feature