You can add a custom question for all existing members and all new users joining your space - useful to assess how much they would like to contribute or how they would like to participate in a space.
For example, if you set up a D&I Community Space, you could ask new members how they found out about the space.
Question: Please let us know how you found out about this Community?
Answer options (randomized):
New hire orientation

The intranet

Workvivo

Community member or leader

Event

Other
Acknowledgement:
I acknowledge that by agreeing to join this D&I Community, I'm pledging to be an advocate for diversity and inclusion and will help foster a more inclusive culture.
---
Roles / Permissions: Space Owner/Admin can setup, all space members presented with screen
Device(s): Desktop and Mobile, setup on Desktop only
---
Setting up a Custom Question and Acknowledgement in Spaces
Open Edit Space

Turn on the Space Question and Acknowledgment options

Input your question

Add your answers (at least 2)

Input the acknowledgement statement

Activate the question and acknowledgement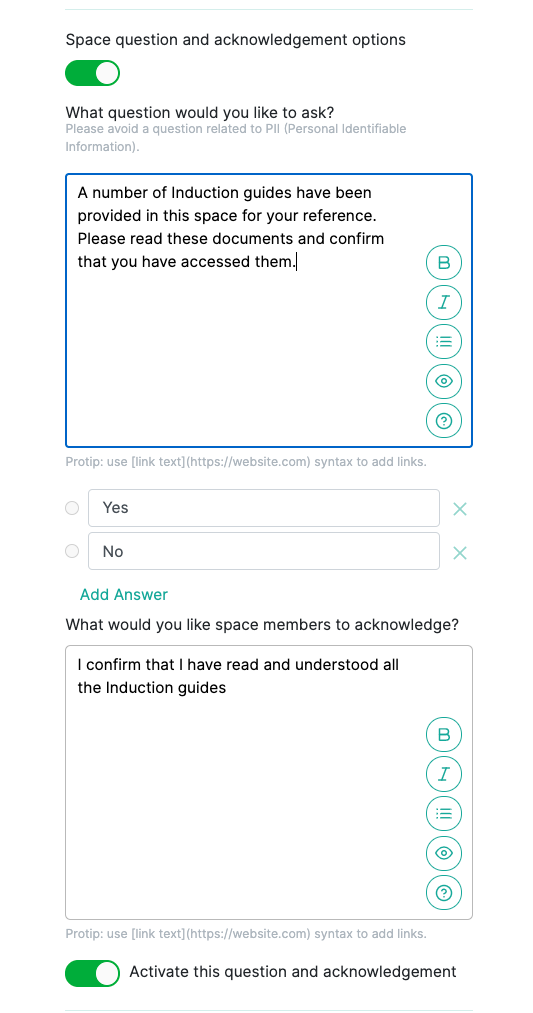 Answers are captured in the Members report. To get the report, go to:
Edit Space

Export Members

Download the report from your email




---
User Experience
The experience for colleagues will be as follows:
If you are a current member of the space, the next time you open the space, you will be met with the pop-up window. You may choose to answer later and close the screen.

If you are not a member, you will receive the pop-up when you click 'Join Space'. You may choose to answer later and close the screen.

Space Owners are not prompted or asked to answer the question.