Promote peer recognition and your employee recognition scheme through Workvivo's many capabilities.
---
Awards
Some great Awards we have seen are:
Quarterly and annual employee awards (nominations and or voting) - the nominations can be linked to your Values
Lockdown Legends - one company launched a #LockdownLegends award process and it went down a treat! The global 'Lockdown Legends' programme is a peer recognition scheme designed to celebrate colleagues who have demonstrated a resilient, positive attitude during this unprecedented year - going above and beyond to support the business and each other whilst adapting to the new norms of work life during the Covid-19 pandemic.
Hidden Hero nominations - Other clients are running similar Awards or initiatives, with many publishing a monthly news series on 'Hidden Heroes' - an initiative in which the organisation honours the Heroes who have made an exceptional, if hidden contribution to the organisation or community during COVID-19.
Fun / Culture-based Awards e.g. Best Background Star award nomination for something that adds entertainment on video calls such as pets, children, or background scenery
Seek nominations for Positive Male Role Model as part of International Men's Day in November
Read more about Awards here.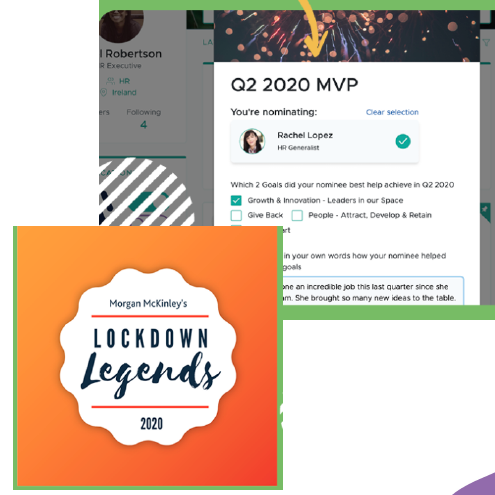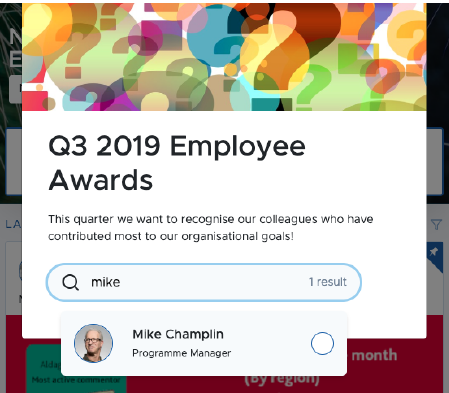 ---
Shout-outs / Kudos
Launch a quarterly kudos campaign - encourage colleagues to give others a shout-out with a personal note explaining why they deserve a shout-out
World Kindness Day, November - ask colleagues to leave a comment under the post, tagging a colleague who has done something kind for you or another colleague recently
Read more about Shout-outs here.
---
Badges
Replace your physical recognition wall with Workvivo badges.

Create a badge for the Award and assign it to the winners and recipients.

Badge recipients get a notification when badges are assigned but make sure everyone else hears this too. Do a round up post every month to highlight new badge recipients.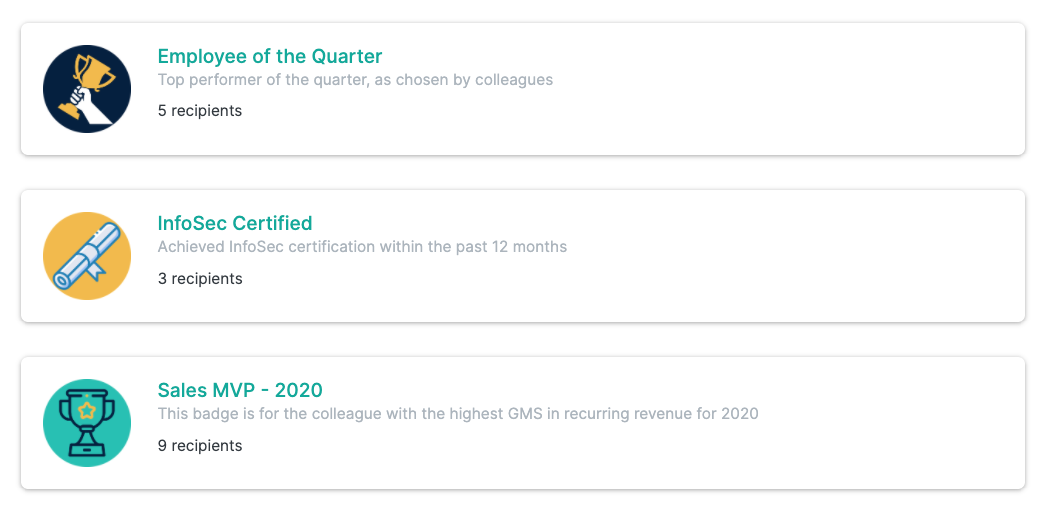 Read more about Badges here.
---
Workday Shout-out Integration
If you have Workday for your organization, we can work with your IT team to set up the Workvivo Workday integration. When you post a shout-out on Workvivo, the shout-out contents (value, text, recipient and sender) are all added to the Feedback section of your colleague's Workday profile. Magic!