Anyone can ask a question in a Space they are a member of.
Questions are a great way to share knowledge, collaborate with others, onboard new joiners and generate interaction on the platform.
They also stand out much more in the activity feed than a question in a text update or comment does.
Questions are typically related to business roles or operations.
Examples:
Technical teams often ask questions in their spaces as the Q&A functionality mirrors popular websites/forums like Stack Overflow

Facilities teams use Q&A for listing FAQs e.g. where can I order equipment? what do I do if I lose my key card?

HR teams can use Q&A to help onboard and support new joiners and answer commonly asked questions e.g. how do I apply for another role?
---
Device(s): Desktop and Mobile
Roles / Permissions: Every user can ask a question to a space
---
Asking a Question from the Main Activity Feed
From the activity feed, click on the Question Mark icon in the "What's going on?" message box and the Ask a Question window opens.

Give your question a title and type your question.

Attach any relevant images or files.

Select your audience by clicking on "Select one or more spaces...".

Select a space from the list.

Click the back arrow to return to your question text and click "Post" to post your question.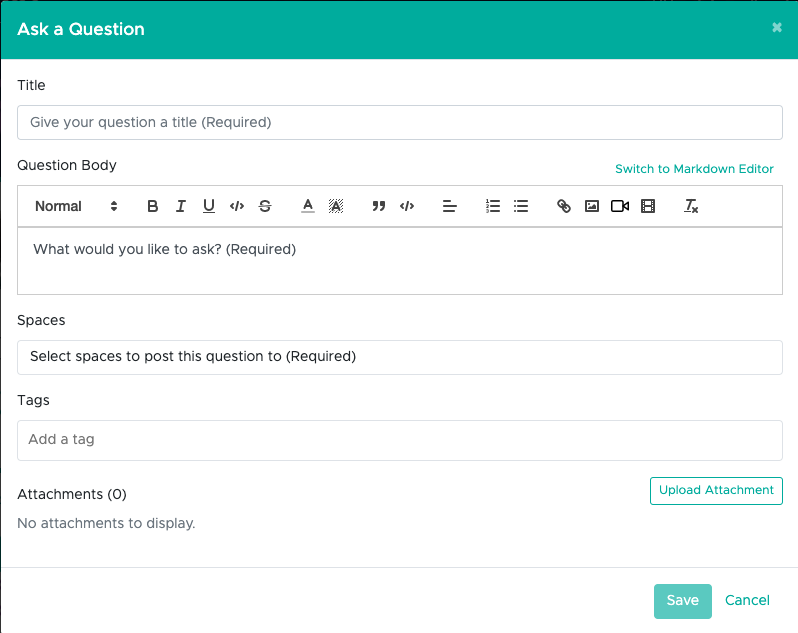 ---
Asking a Question from a Space
Alternatively you could open the Q&A section from a space you're a member of and click "Ask a Question".



---
Up-voting Questions & Answers
Arrows Explained
Users can show their interest, support or empathy with a particular question by up-voting it.
Once a question is answered, users can also show they find the answer helpful by up-voting that too.
Users can also express their preference by down-voting a question or answer.
---
Answering Questions
Anyone who is a member of the space can see the question and attempt to answer it.
Once a question has an answer, the answer appears for all to see under the question post.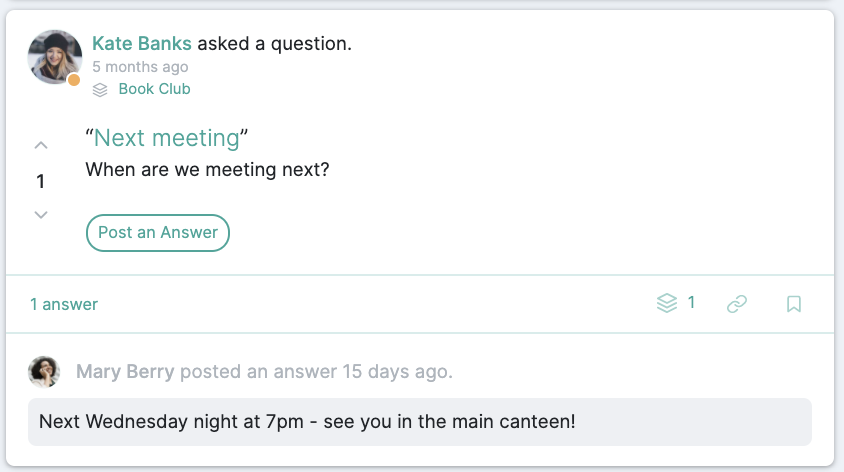 ---
Marking Answers as Accepted
If the answer solved the query / problem, the person who asked the question or a System Admin can mark the Answer as 'Accepted'.
Once an answer is marked as accepted, this answer is seen as the source of truth / most helpful response by others.
If it's marked as 'Not Accepted', it means that answer didn't help that person or it wasn't correct so colleagues can continue to provide answers to help their colleague.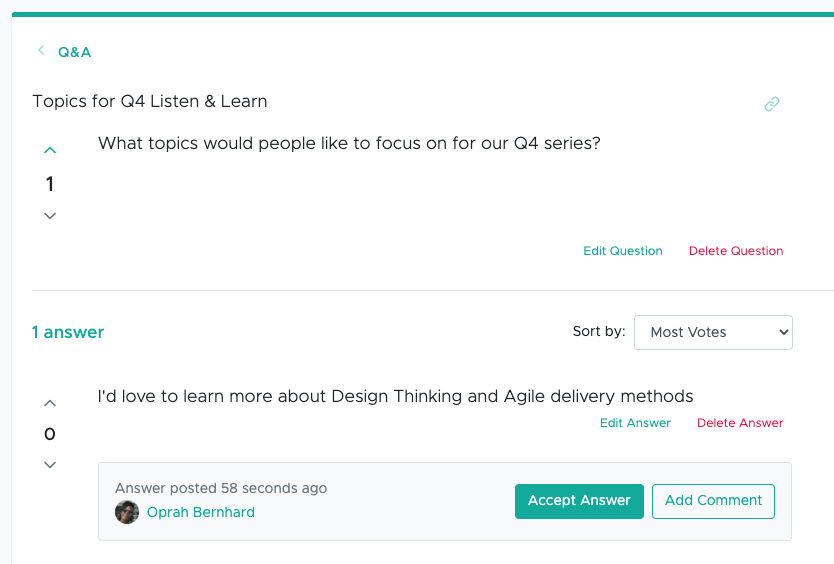 ---
Managing Q&A
The Space Owner / Admin can delete a question or answer if they deem it unsuitable or of it was created in error.
The question creator can also edit or delete their own question by opening the Question and viewing it on the Q&A screen.
The person who posted the Answer can also edit or delete their own answer from the Q&A screen.
To open a Question, click on its title in the post on the activity feed or from the list in the Q&A section of the space.
To edit, click "Edit Question"

To delete, click "Delete Question"