Onboarding Screens
On a user's first login to Workvivo they will be met with a series of Onboarding Screens.
Here they can start to customize their profile and select their preferences.
These screens include:
Welcome screen (mandatory screen)
This screen can be customized for your organization if you wish. Provide:
Image: 900px x 600px, .jpeg / .png / .GIF

Title Field: text <30 chars="chars"></30>

Description Field: text <200 chars="chars"></200>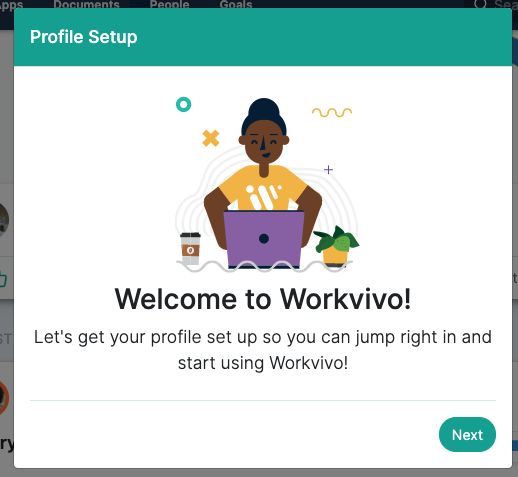 Adding a profile photo (optional screen)
A user can upload a profile picture of their choice by clicking the avatar. If a photo has been uploaded for them already, they can click 'Skip this step'.
If a user skips this step without changing their profile photo, they can upload a profile photo at a later stage on desktop or mobile.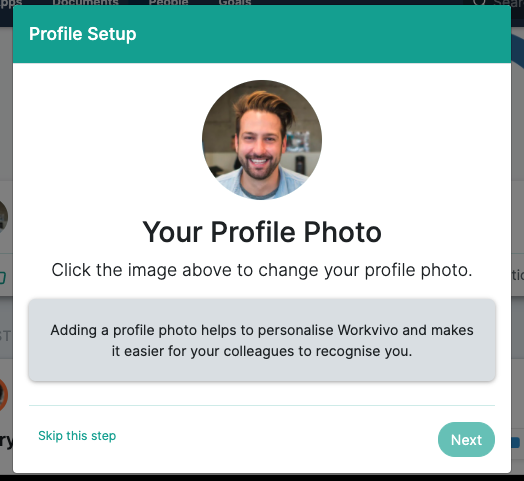 Pick a time zone (optional screen)
A user can select the timezone most relevant to them from the dropdown. They can change this later under Edit My Profile on web.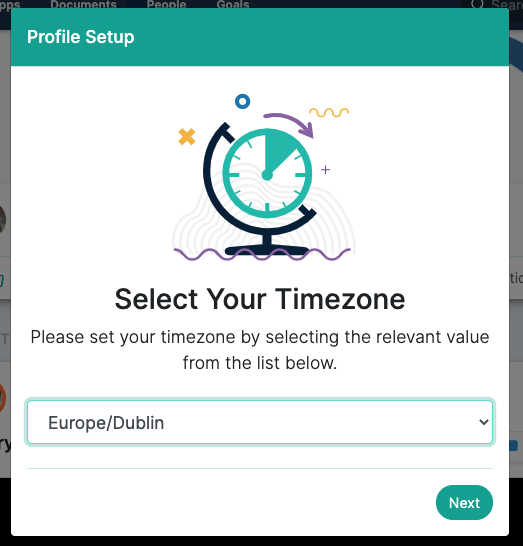 Select notification preferences (mandatory screen)
A user can choose how they would like to receive notifications by selecting the relevant choice on the dropdown. The default setting is typically Mobile Push and Email Notifications.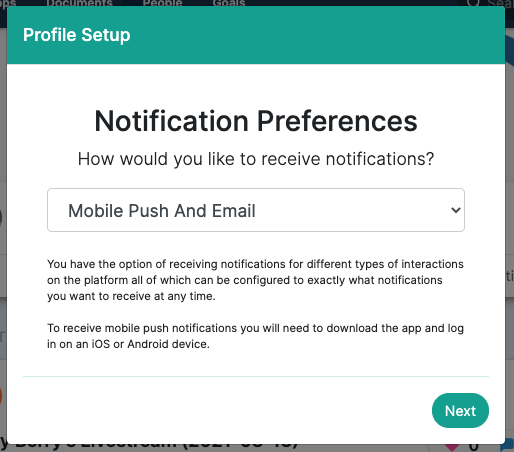 A user can change their notification settings at any time on web or mobile.
Read and accept the Platform Terms & Conditions (Recommended screen)
You can provide an Acceptable Usage Policy that all your employees must read and accept before they can gain access to the platform.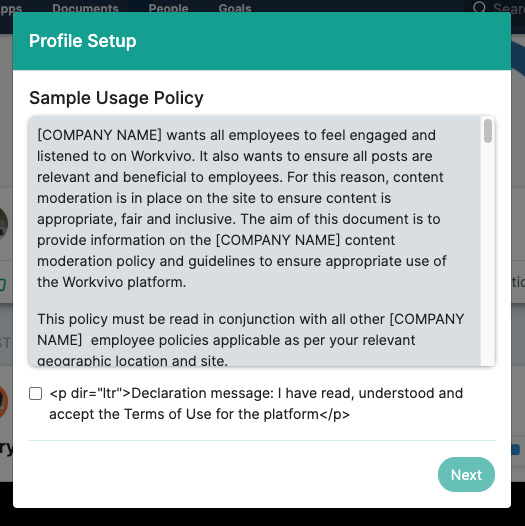 Launch Workvivo (mandatory screen, customizable)
Once the user has completed the onboarding steps, they can click on the launch screen to open Workvivo.
This screen can be customized for your organization if you wish. Provide:
Image: 900px x 600px, .jpeg / .png / .GIF

Title Field: text <30 chars="chars"></30>

Subtitle Field:

text <50 chars="chars"></50>

Description Field: text <200 chars="chars"></200>

Button Text