Pinning global posts to to the top of the main activity feed is a great way to highlight important information and boost a post's visibility.
Global posts are posts shared with Everyone

This could be an update, shout-out, article, or event
Space Owners/Admins can also pin posts within their spaces - this could be an eye-catching message to all new visitors of their space.
Note: It's not currently possible to pin a post where the audience is set to a team.
---
Device(s): Desktop and Mobile
Roles / Permissions:
Global Posts: Admins, Editors and those with the role 'Global Pinning' can pin global posts in the main activity feed

Space Posts: Space Owners and Admins can pin posts within the space they manage
---
How to Pin a Post
To pin a Global post on the main activity feed:
Click on the "More Actions" (...) button beside the global post

Select "Pin Post"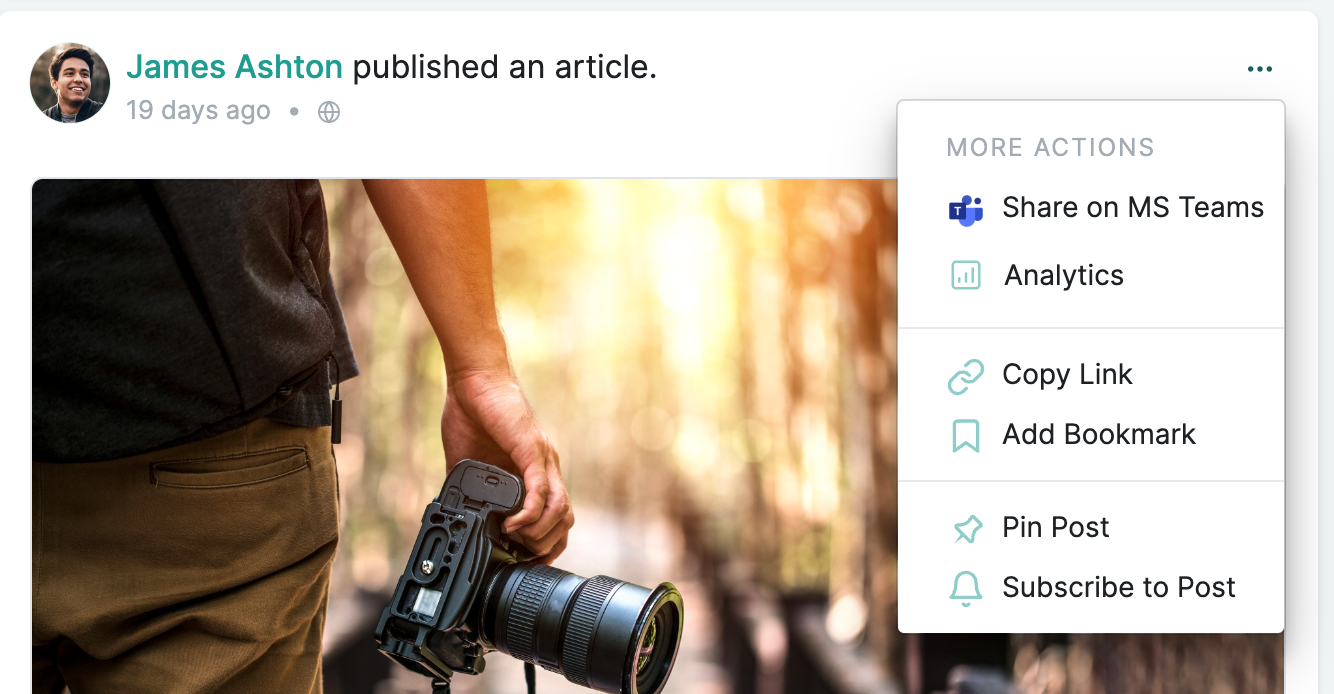 Choose to pin it

for a certain period of time or a custom date/time if preferred (it isn't advisable to pin a post for too long)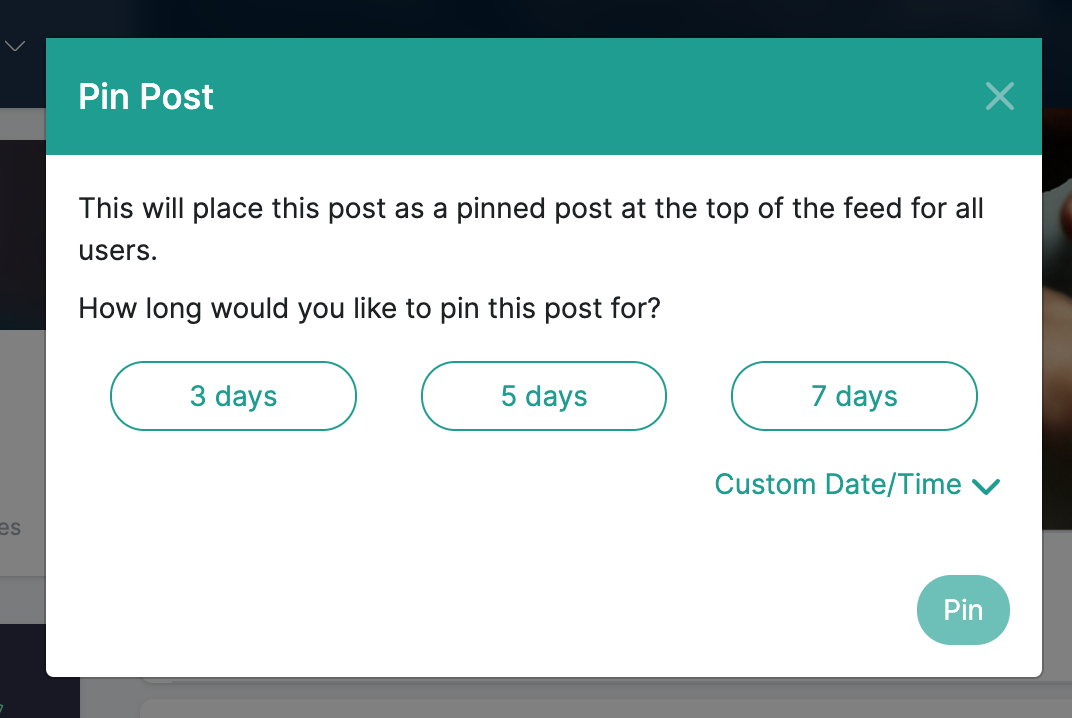 This is how the post will look when pinned on the activity feed: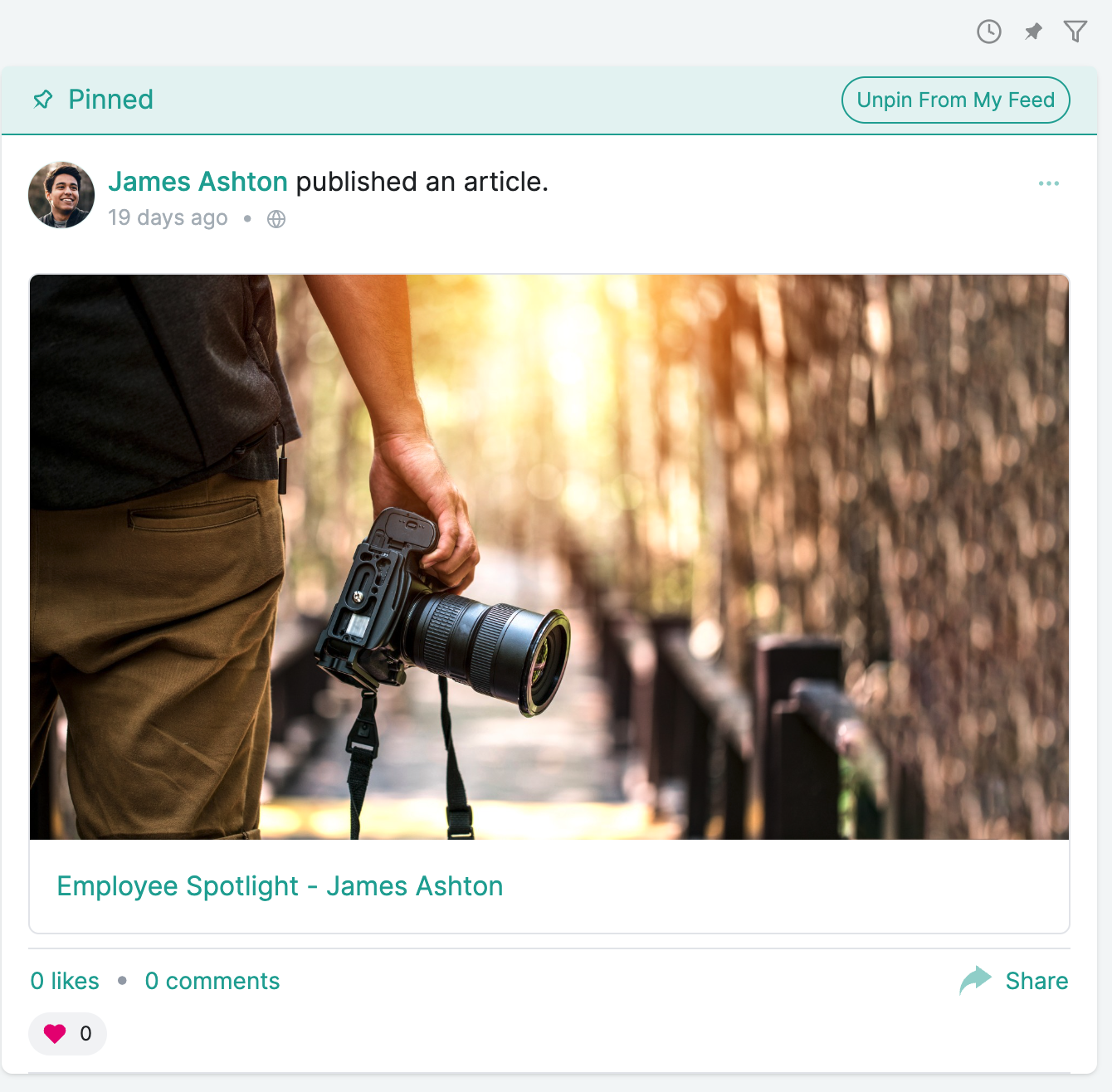 ---
Unpin From My Feed
If you would like to hide the text reading "Unpin From My Feed", you can request to update this to a Pin Logo, shown below.
To update the text to the Pin Logo, please contact your Workvivo CX Experience Manager.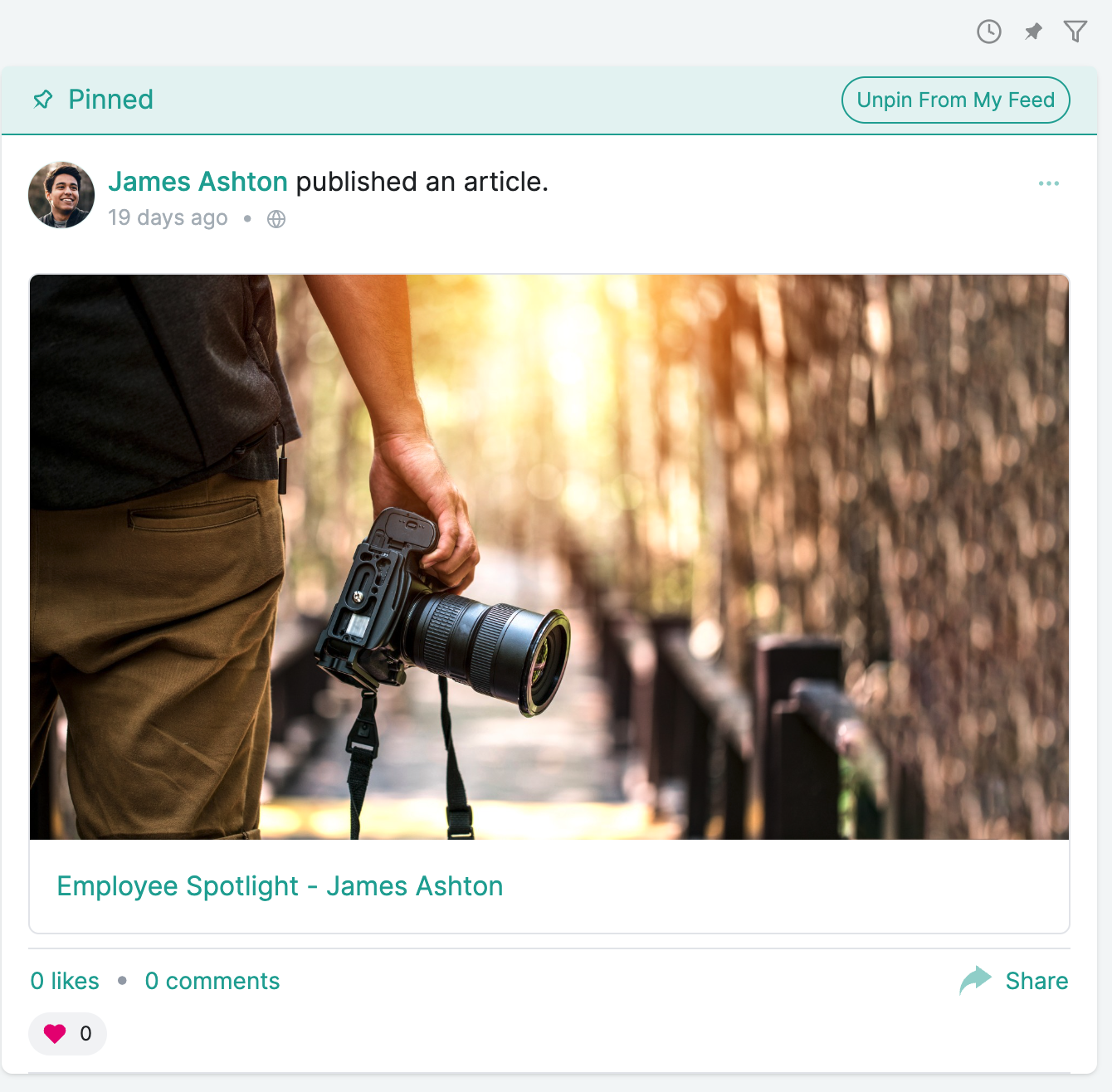 Pinned Posts can be unpinned by Admins, Editors and those with the role 'Global Pinning' for all users by clicking the pin icon to the upper right corner of a pinned post.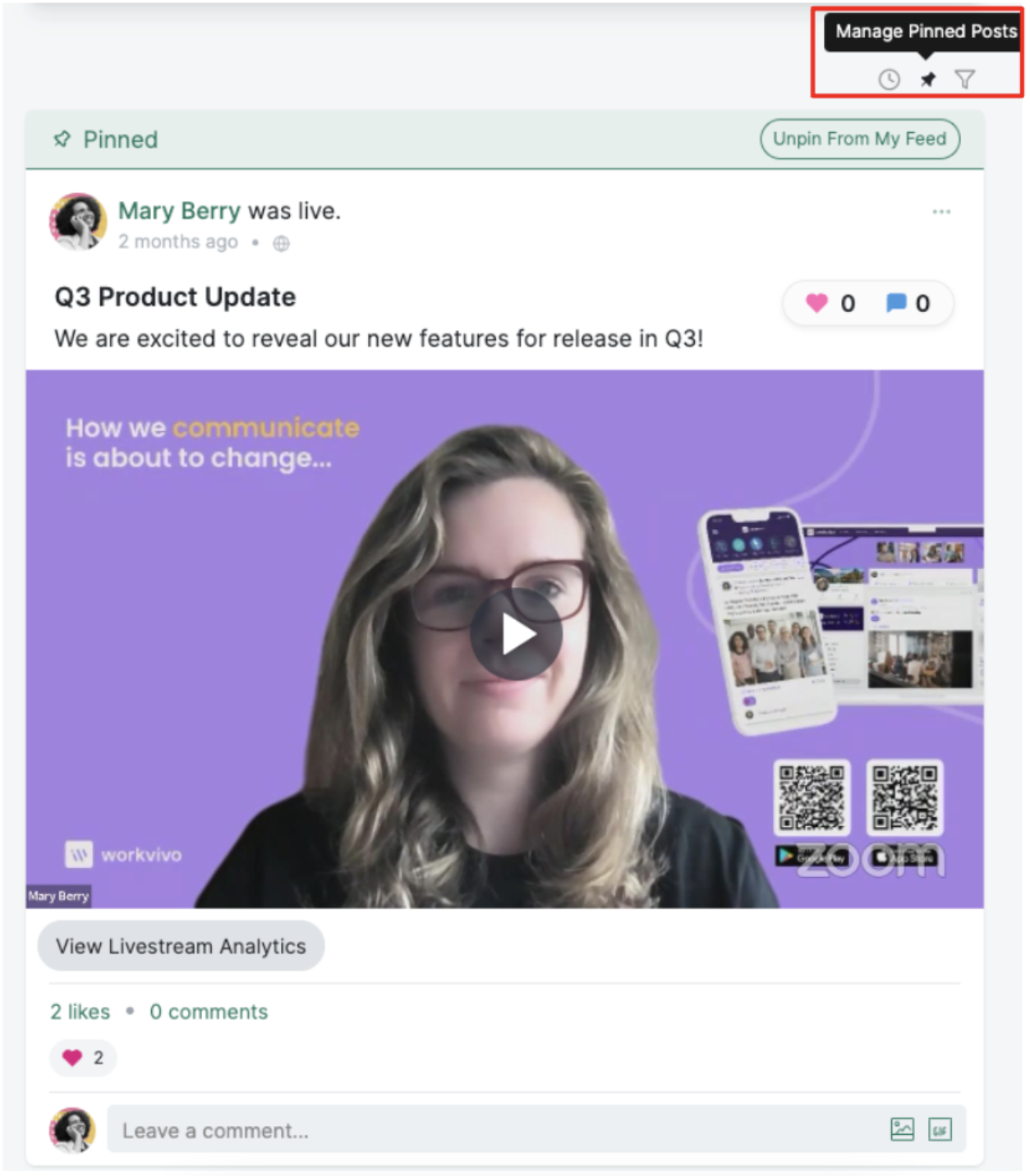 Within the Manage Pinned Posts interface, users have the capability to execute a range of actions, including:
Adjusting the Start Date/Time and End Date/Time of pinned posts.

Reordering the sequence of pinned posts on the activity feed.

Removing posts from the pinned position within the activity feed.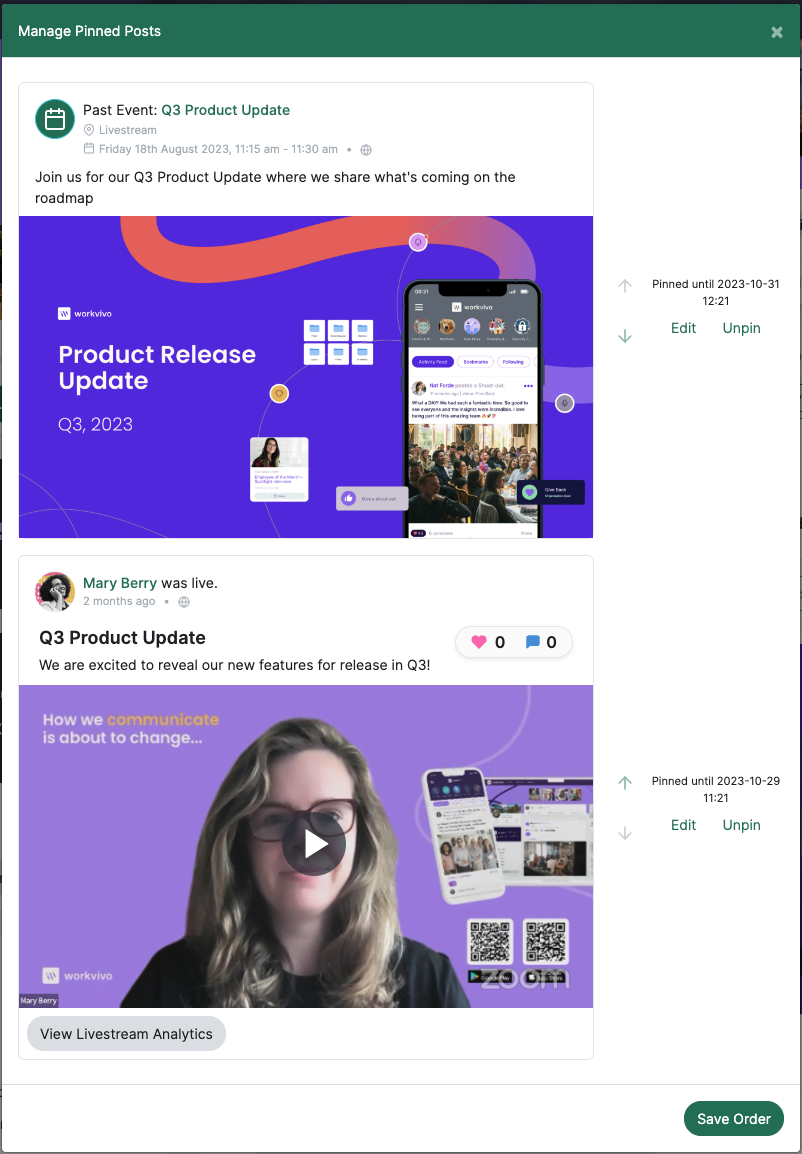 ---
Pinned Post Best Practices
We recommend pinning business-critical posts such as important alerts, business updates, event

reminders, etc. so that all staff will be aware

Pinning posts are also effective for announcing good news and positive stories

As a best practice, we recommend pinning no more than 2-3 posts at a time and for no longer than 3-5 days each

As there may be a number of Admins & Editors, it's important that you coordinate on the pinning of posts
---
For more information on how to view and manage pinned posts check out this article.