The content analytics dashboard is the best way to understand the performance of all content types across the platform. This dashboard allows you to drill down to compare the reach, impressions and engagement of different content and identify the audience, authors and teams that drive the highest results. You can download these reports by clicking the three dots on the top right hand corner above each table.
Note: We released a new-look Workvivo Analytics in spring 2023. The original version of Analytics will continue to be available for the foreseeable future so you can switch between the two easily, as needed.
---
Device(s): Web only
Role(s): Admins
---
Access the Content Analytics Dashboard from Admin > Analytics.

---
Content Engagement Scorecard
The content engagement scorecard is a powerful bird's-eye view of the engagement and interaction on all content posted to the platform (based on the filters applied).

Posts
The total number of posts shared on the platform within a specific time period is shown on the scorecard. Results can be filtered by primary, secondary, or tertiary teams to identify the number of posts created by a specific area of the business. A post can include any content shared on the activity feed, such as events, updates, kudos, and articles.
Interactions and Reach of Posts:
Average Reshares, Comments and Likes per post type - Bar Chart
This chart allows you to understand which types of posts receive the highest engagement. You can apply filters and view the averages calculated within the selected time period and filters.
Reshares, Comments and Likes
The total number of reshares, comments and likes within the defined parameters and filters are outlined here. It is useful for reporting high-level metrics to leadership and demonstrating the level of engagement with the platform.
Reach
The total number of unique users who viewed the content.
Impressions
The total number of times the content was seen by users in the feed.
---
Average Engagement over time
This chart allows you to observe trends and interactions per post over time. You can increase or decrease the content aggregation level by using the arrow buttons. This will allow you to view the chart data by minute, hour, day, week (default), month, quarter, and year.

---
Content analytics rollup table
This table allows you to easily see what the most liked, commented, reshared, opened, or played content within the defined parameters. You can sort by any column header to see an ascending or descending view. The 'Posted On' timezone column will always be UTC.
Note: This table only shows posts that appear on the activity feed and does not include podcasts, main documents, or space documents.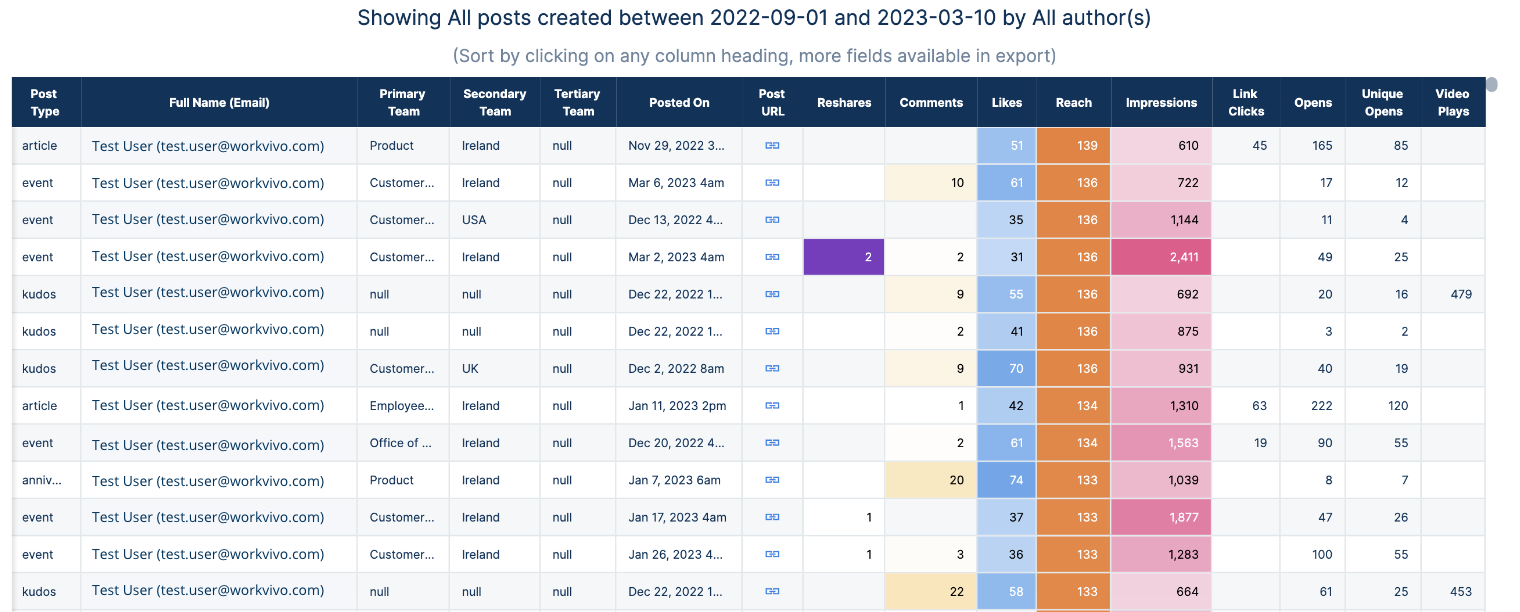 ---
Filtering
All charts on this dashboard can be filtered by date range, post type, audience, and author as well as the author's primary, secondary and tertiary team within Workvivo.
The default time period for these filters is six months prior to the current date.