The activation dashboard provides your organization with a top-down view of activation across all users. This will help you identify the teams or areas within your organization where employees need extra encouragement to log in and activate their Workvivo accounts. Our Analytics Dashboard updates hourly, on the hour. You can download these reports by clicking the three dots on the top right hand corner above each table.
Note: We released a new-look Workvivo Analytics in spring 2023. The original version of Analytics will continue to be available for the foreseeable future so you can switch between the two easily, as needed.
---
Device(s): Web only
Role(s): Admins
---

The activation dashboard is split into two sub dashboards:
Snapshot: This dashboard provides a bird's-eye view of user activation in your organization.
Drill-Down: These tables and charts provide a granular view of activation and onboarding on a team level.
Note: All charts can be filtered by primary, secondary and tertiary teams.
---
Snapshot Dashboard
Activation Gauge Chart
The activation gauge chart displays four key metrics to determine the activation rate of your users.

Activation rate

The activation rate is the most useful metric for organizations to understand how many users have logged into Workvivo out of all the provisioned accounts (user accounts in the People Directory). This snapshot will show you the total number of activated users as of today.

Onboarded rate

The onboarded rate is a useful metric for organizations that have terms and conditions setup within Workvivo - it will confirm how many people have completed their onboarding by accepting the T&Cs for the platform and arrived on the Workvivo homepage.

Mobile app users

This snapshot shows you the total number of users who have ever logged in on the Workvivo mobile app. This is a useful onboarding metric for organizations that have desk-based / knowledge-based and deskless / frontline workers to get a sense of adoption.

Profile picture uploads

This snapshot shows you the rate of profile picture uploads - this is a useful engagement metric for your teams. Bring the people directory to life and set a go-live target for this.
Total provisioned, activated, onboarded over time
This chart displays the number of provisioned users over time and how it compares to the number of activated and onboarded users. Continue to increase the number of employees adopting Workvivo within your organization by following our best practices.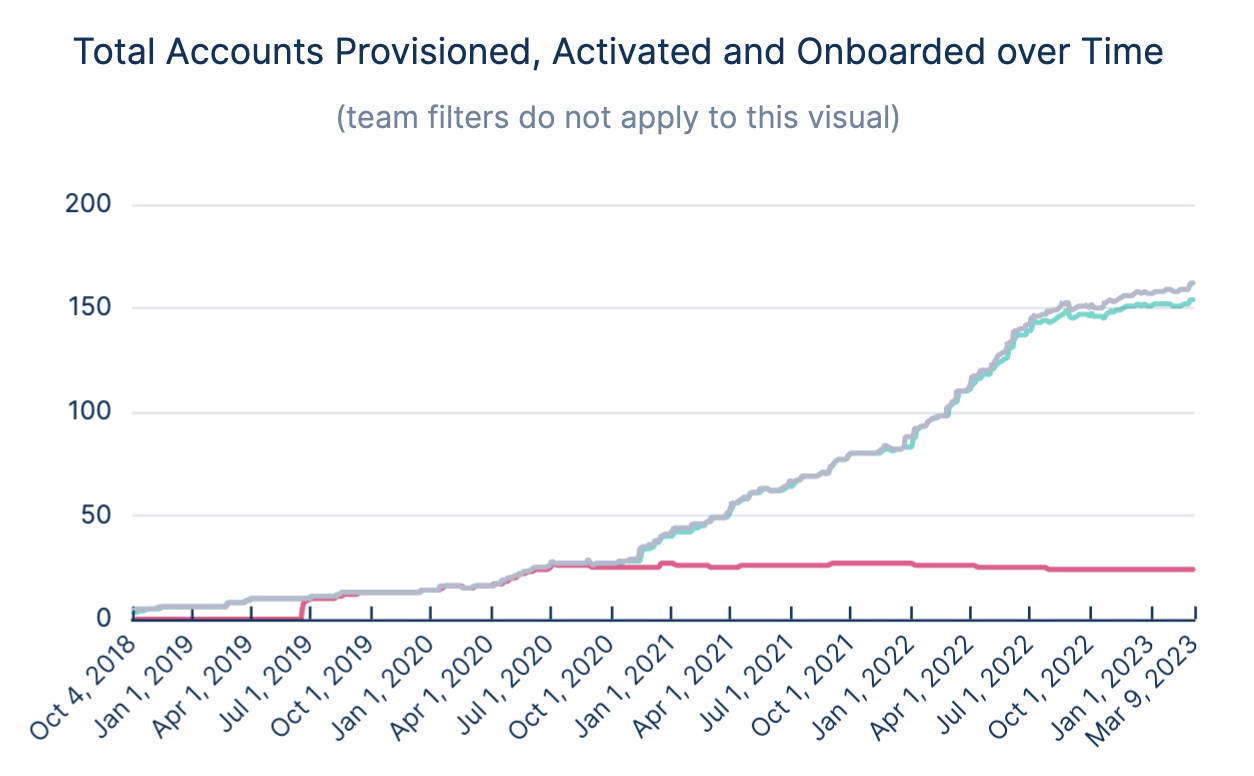 Percentage activated and onboarded over time
This snapshot shows you how provisioned users has changed over time and how it compares to activation and onboarding rates. Continue to grow these rates over time by following our best practices.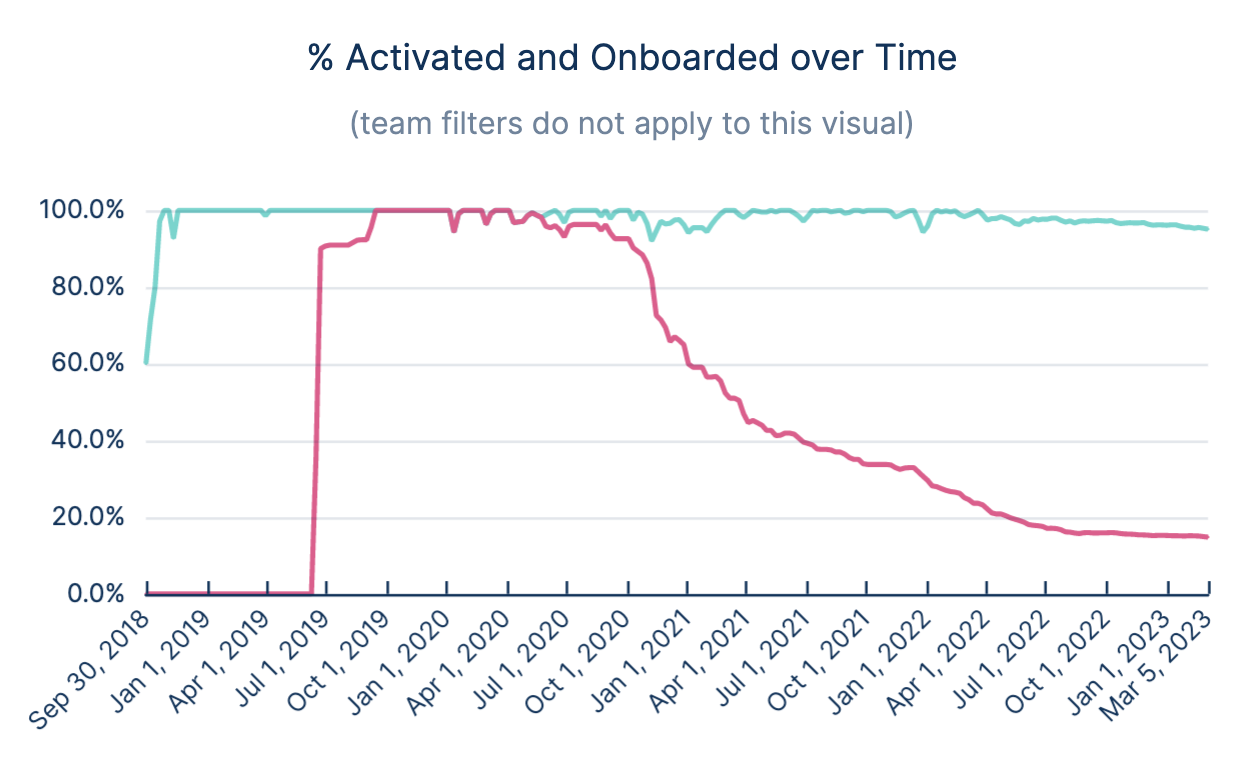 Activated User Report
This table shows a report of all users who have activated their accounts. This report is a useful tool to help target efforts to increase activation.

Not Yet Activated User Report
This report is the opposite of the Activated User Report and displays all users who have not yet activated their accounts.
---
Drill-Down Dashboard
Activation & Onboarding Rate by Team
This chart shows the activation and onboarding rates broken down by team or team type. This table can be exported to Excel in order to inspect the activation data.
Mobile users & profile picture upload rate by team
This drill-down chart shows you which teams have the highest profile photo upload rate or mobile app adoption rate.

Accounts activated over time by team and team type
This drill-down chart shows you the trend of activation over time broken down by team to understand which teams are doing well or which teams need more support. It's most useful when filtered by team(s) or team types.